Customer Reviews
100
reviewers would recommend this product
Write a Review
Ask a Question
01/19/2023
John H.

United States
I recommend this product
New Amazfit GTR 4
Great watch. Looks good and fits my arm comfortably. Nice upgrade from GTR 2 (which I was hoping for). During set up of the watch with the app site, the watch and site do most of the work, BUT it would be nice to have the instructions manual actually have instructions. All it has are powering instructions in 20 languages.
01/19/2023
Anonymous

United States
I recommend this product
Like this watch
I like the features of this watch. It is working great. Still learning things.
01/12/2023
Michael S.

United States
I recommend this product
There Are Surprises With the GTR4
First of all the watch face you may have liked on your earlier watch is probably not available on the GTR4. Second, there are now many, many new faces to choose from, BUT the majority aren't free. This would be okay if you could try before you buy, but you can't. So if you don't like the watch face that looked good at first: Too Bad. This makes finding a watch face you like potentially very expensive. Finally the new watchband is LOUSY. There is no other word for it. Compared to the leather-like band on my old GRT, the new bank looks cheap & it's almost impossible to unlatch if you want to take it off. The new band is so bad, I put my old, worn GRT band on the new watch. On the plus side, the GRT4 has a much better countdown timer. The 'hold the button down' programming is nice. And the charge appears to last longer. Choosing another function is also easier and there appear to be more workouts, although yoga still hasn't made the cut. It would also be nice if the watch could walk and chew gum. I would like to start the freestyle workout (weights for me) AND also be able to use the countdown time between sets. But you still can't. It's one or the other.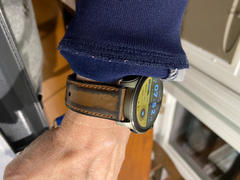 01/12/2023
Anarld T.

United States
I recommend this product
Classically modern
I was very happy with the watch, love the design, look, feel, weight and functionality. Impressed by the functional battery life.