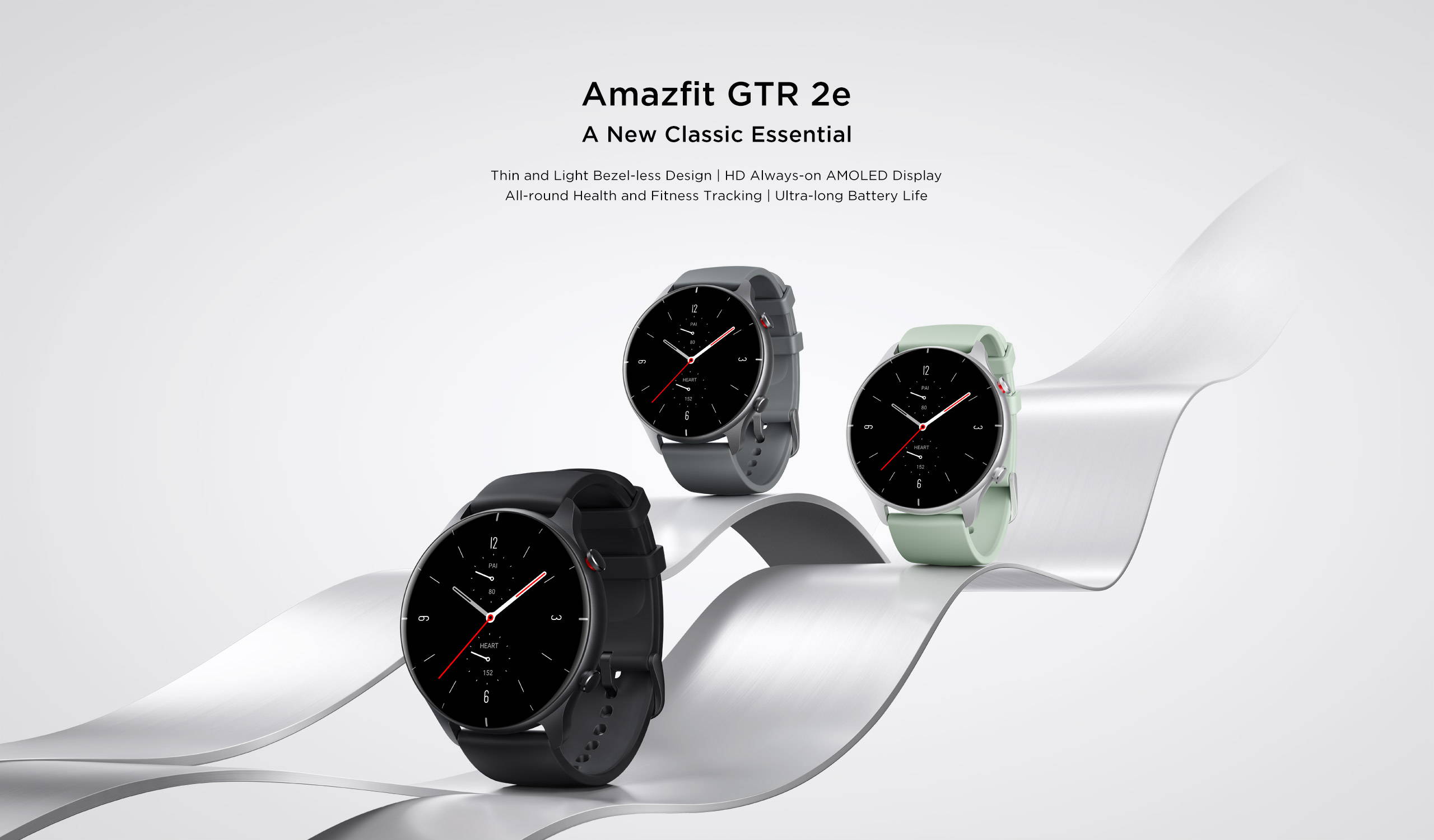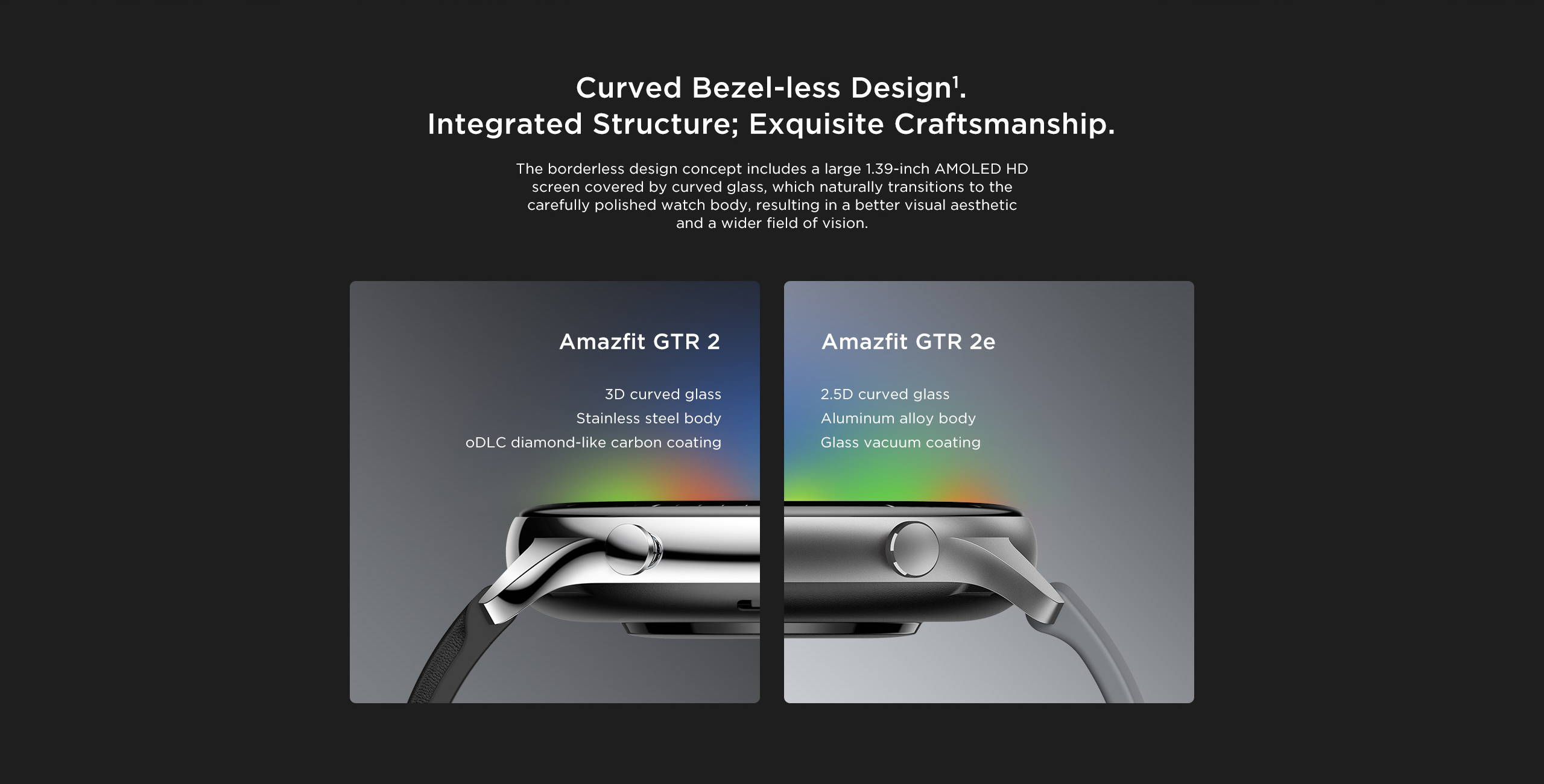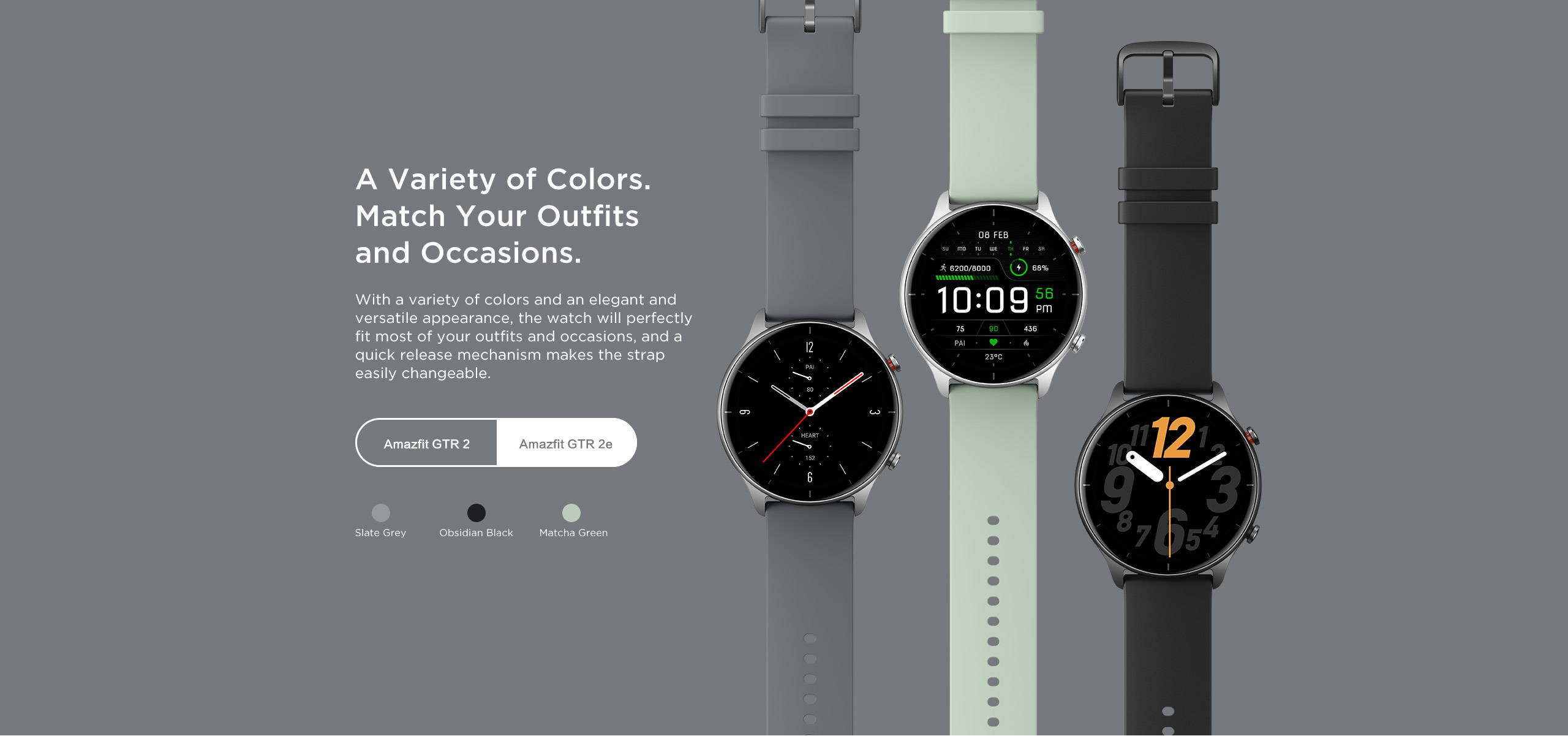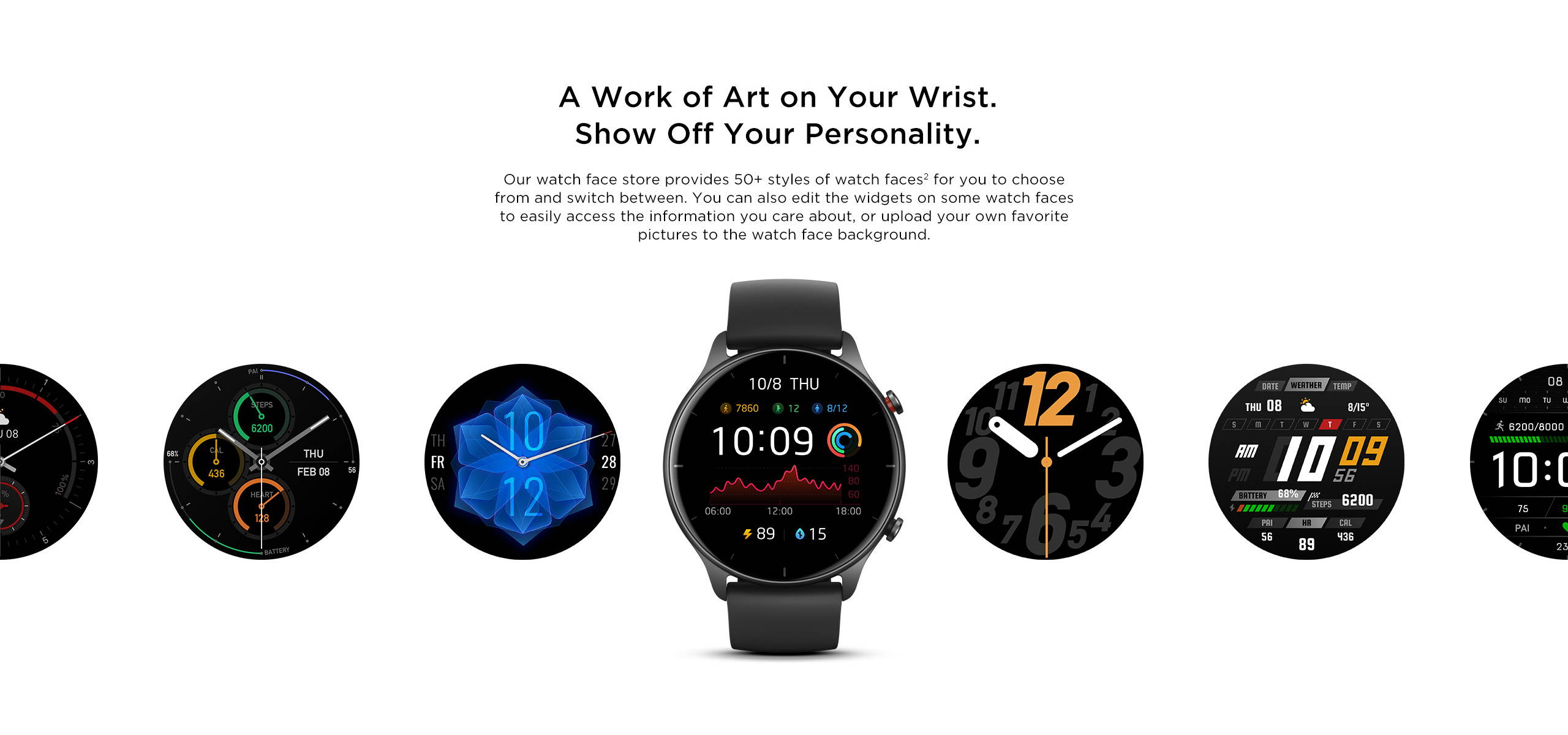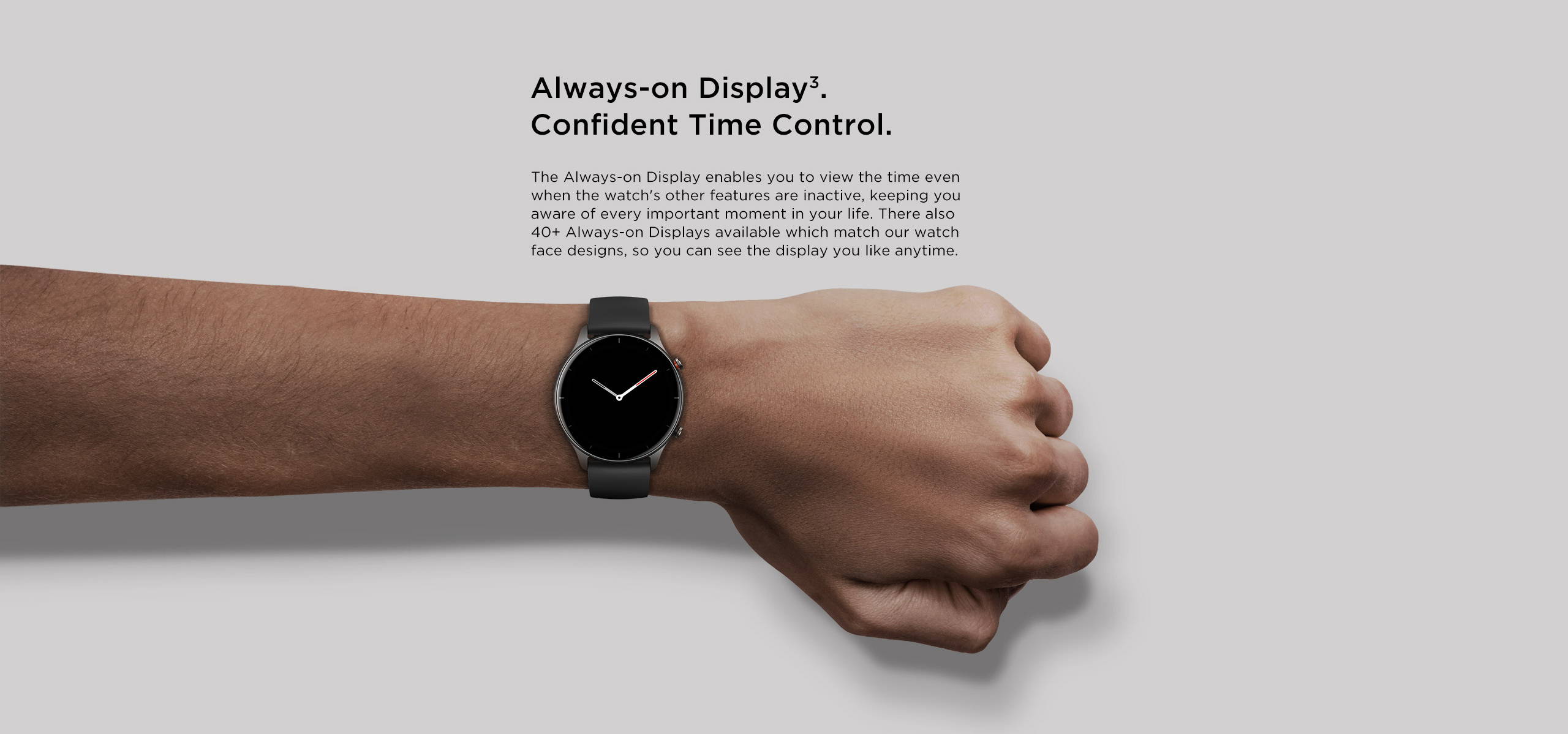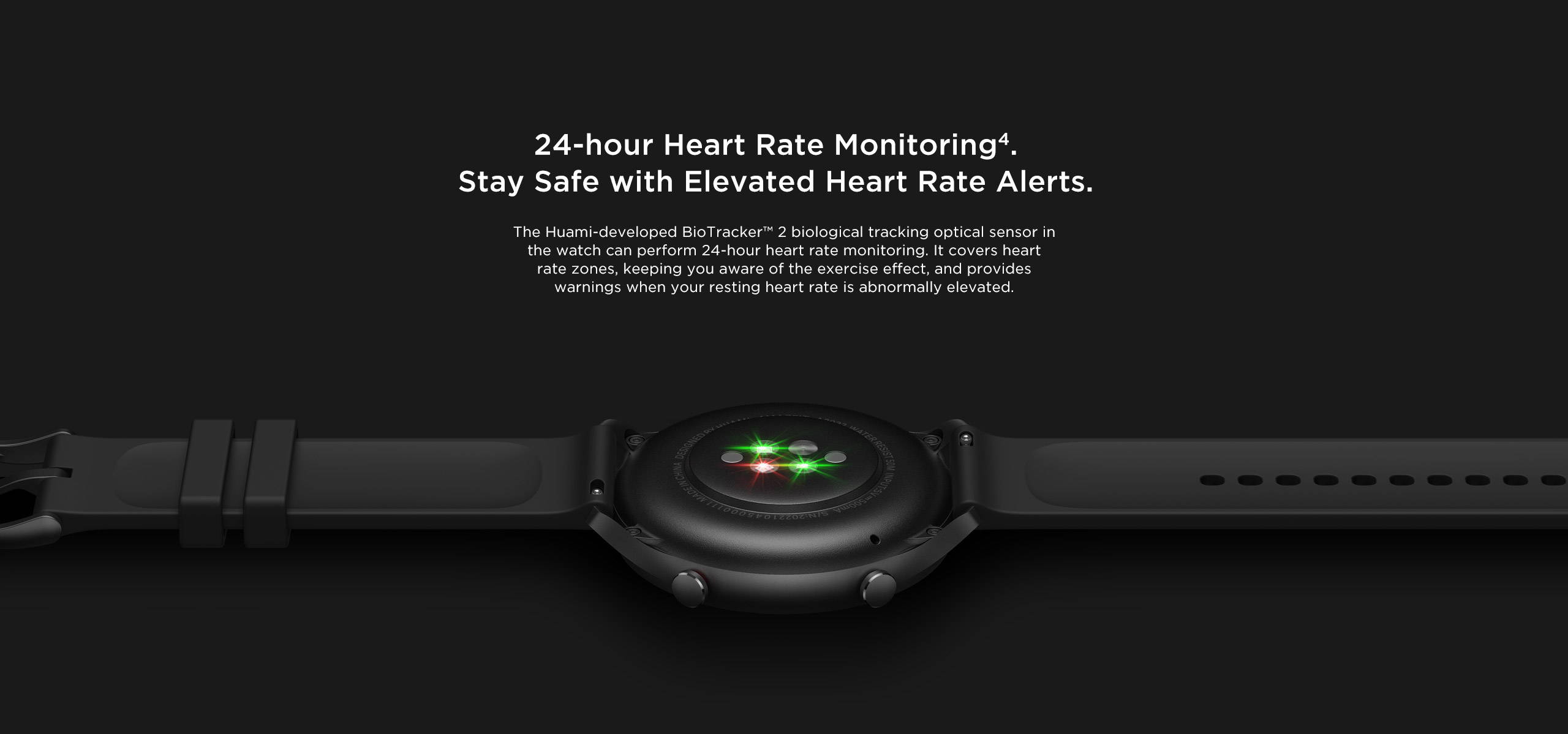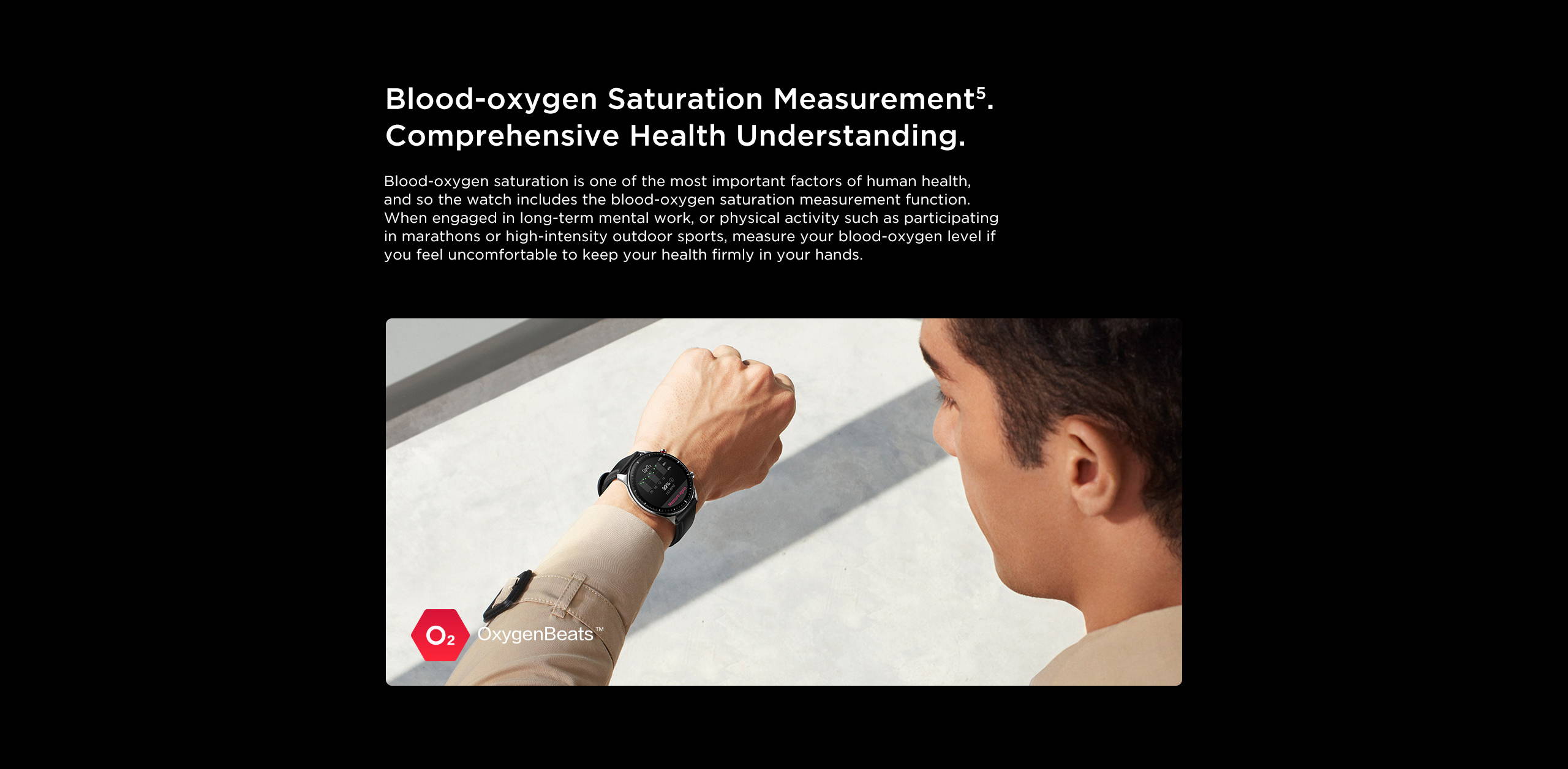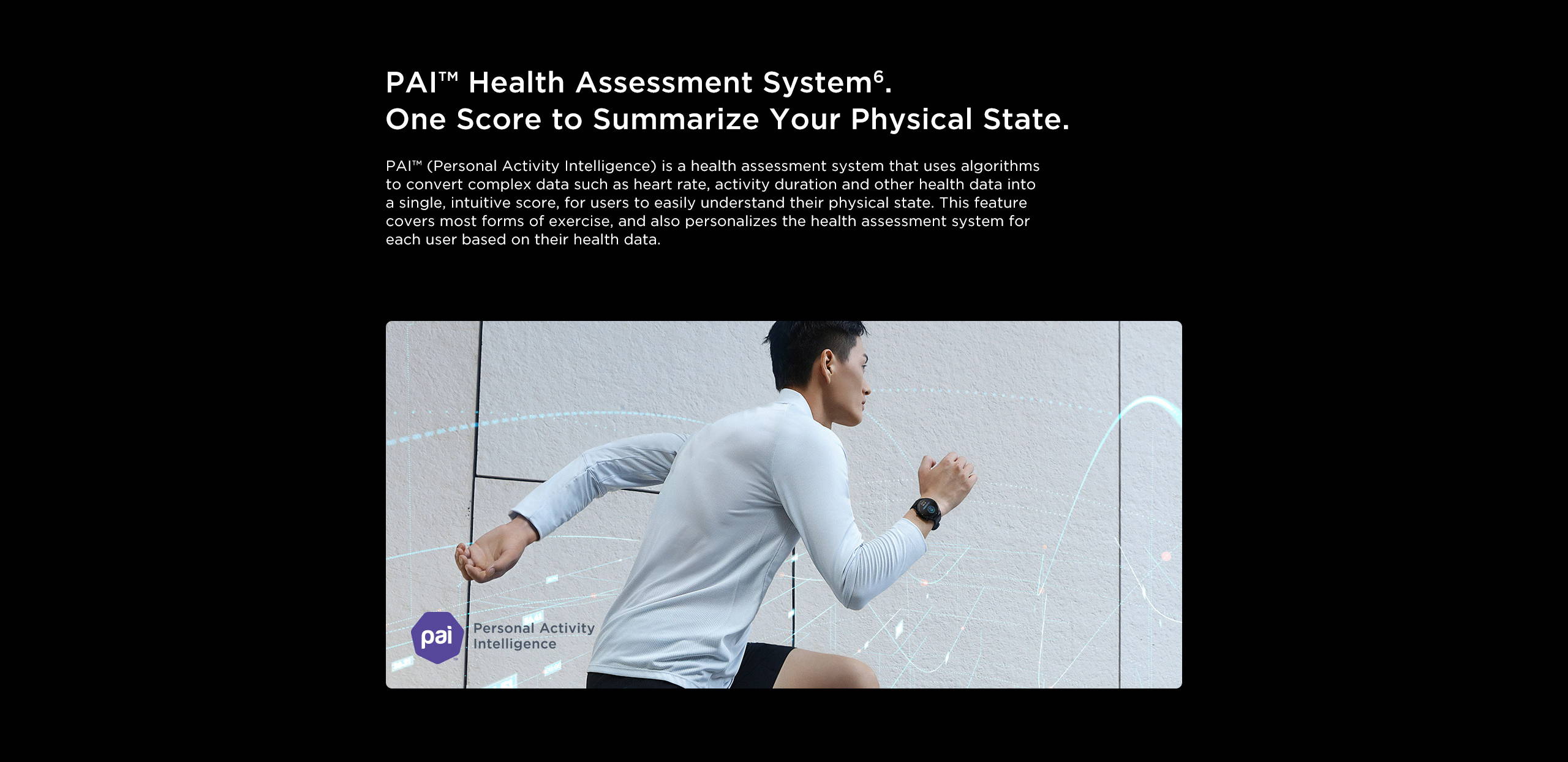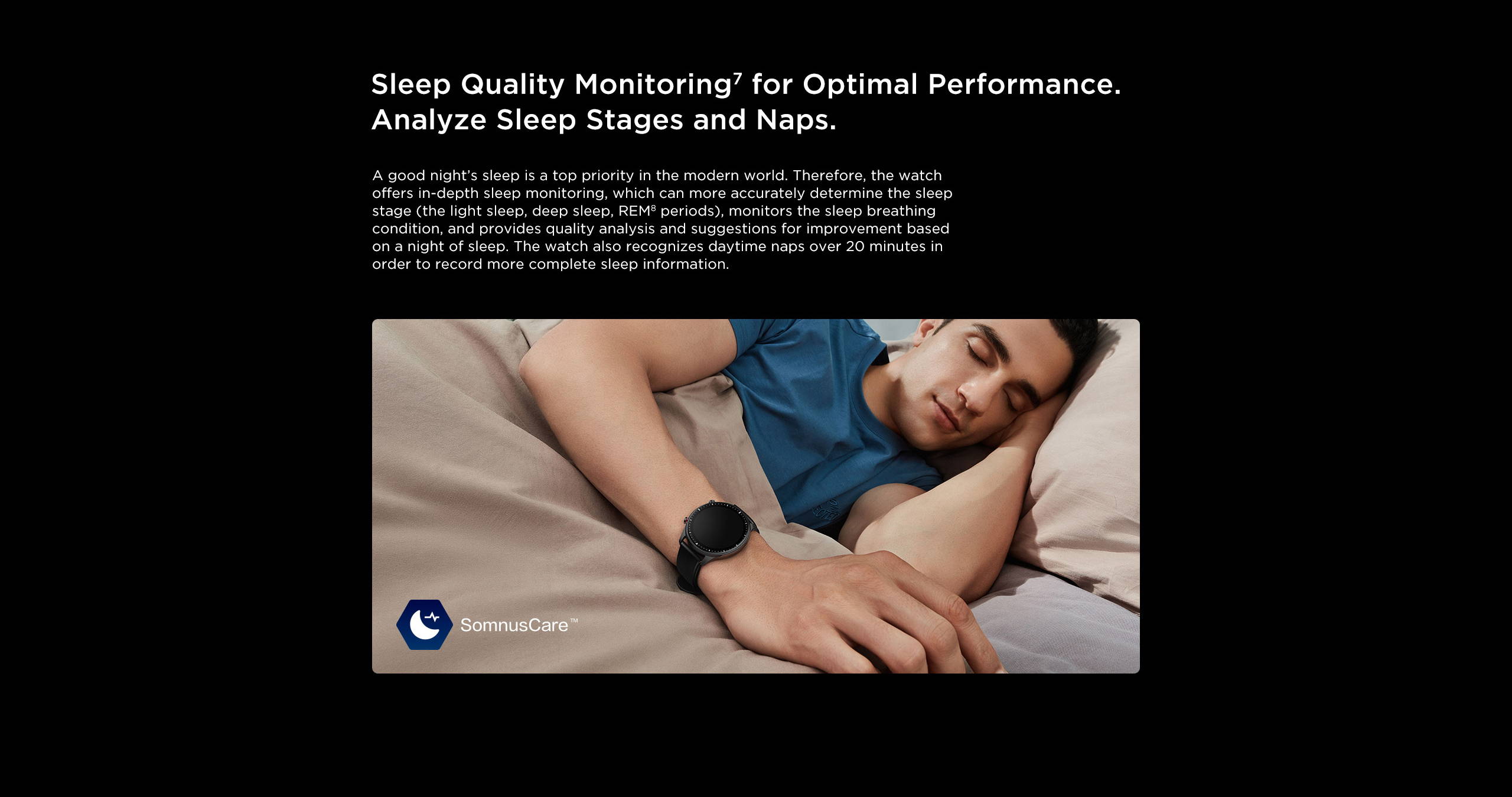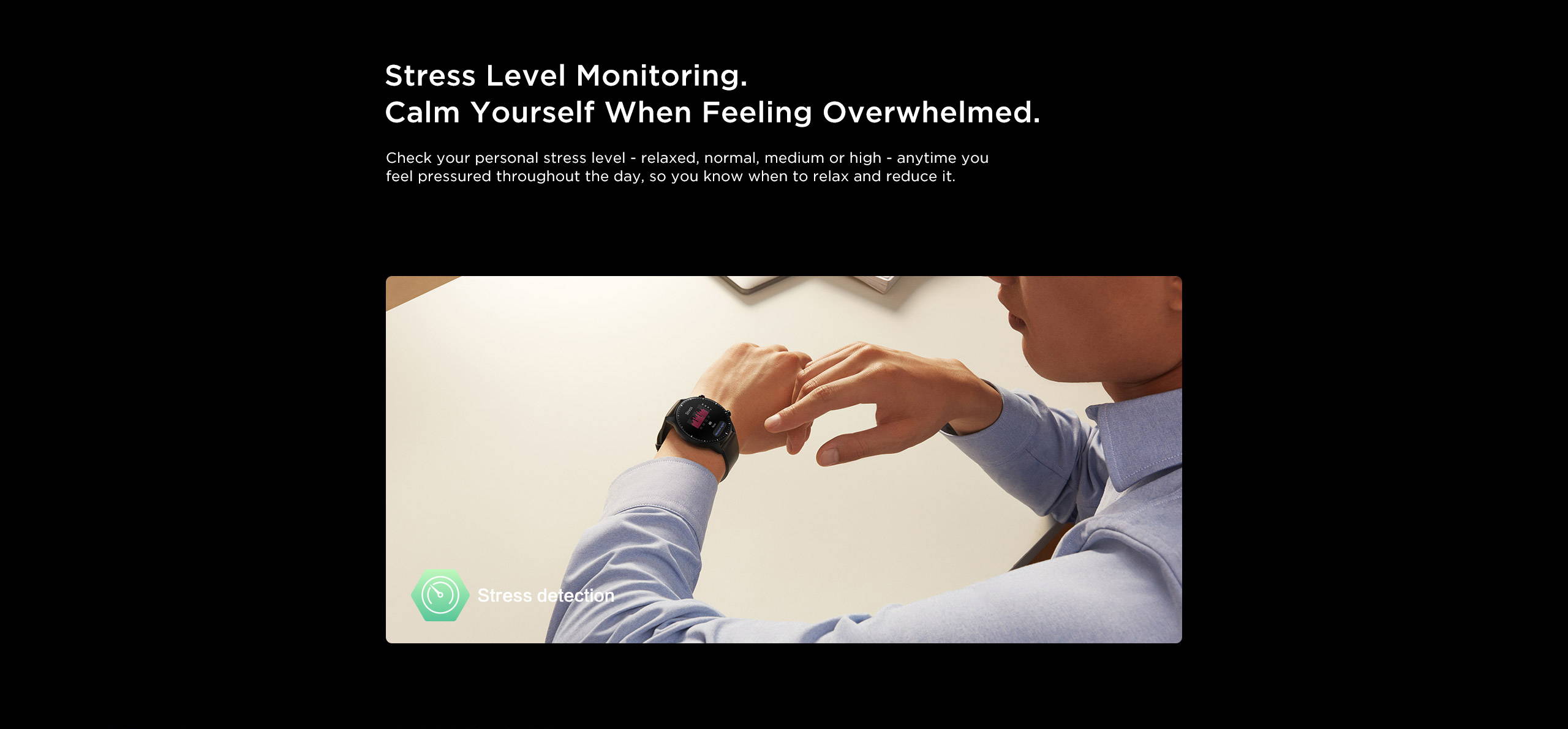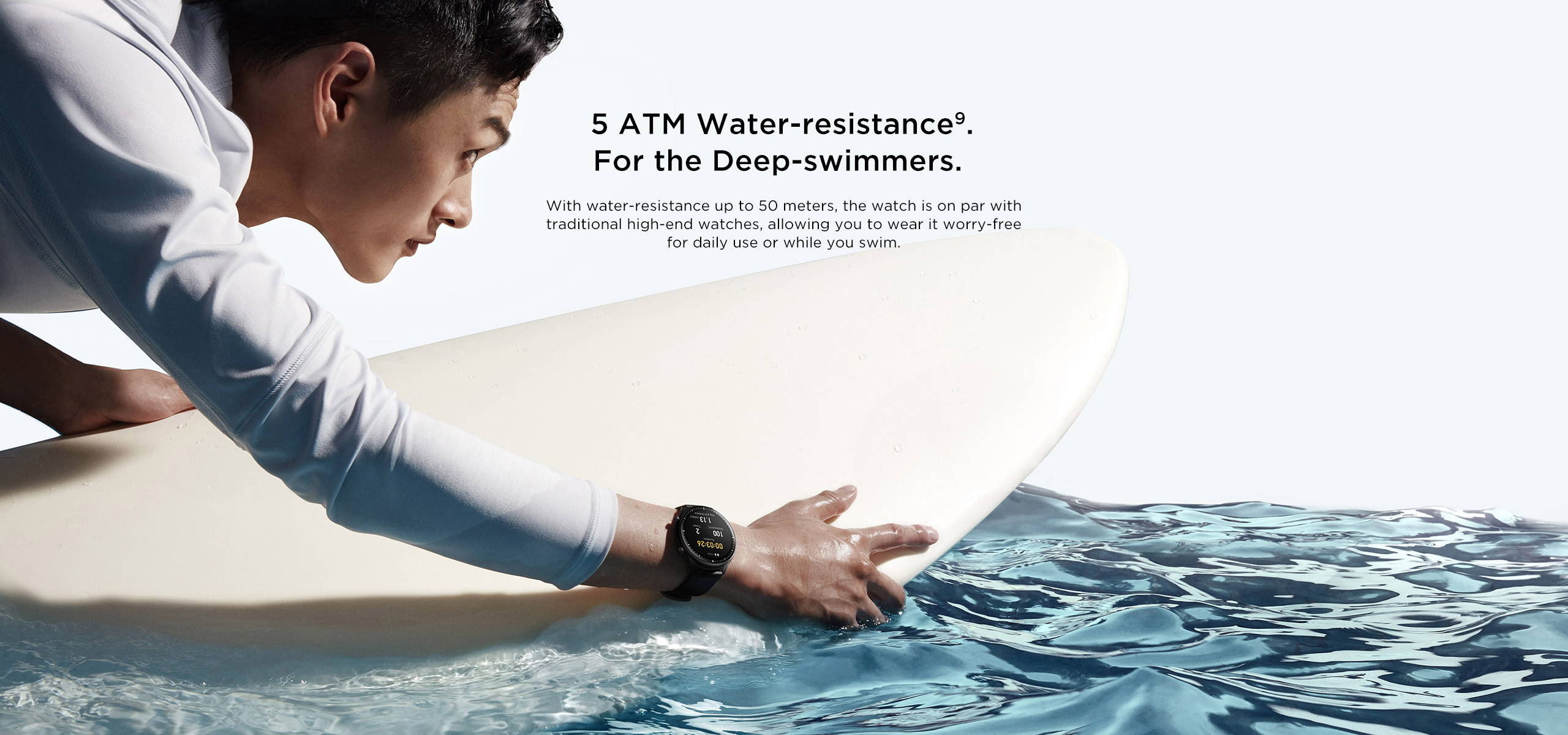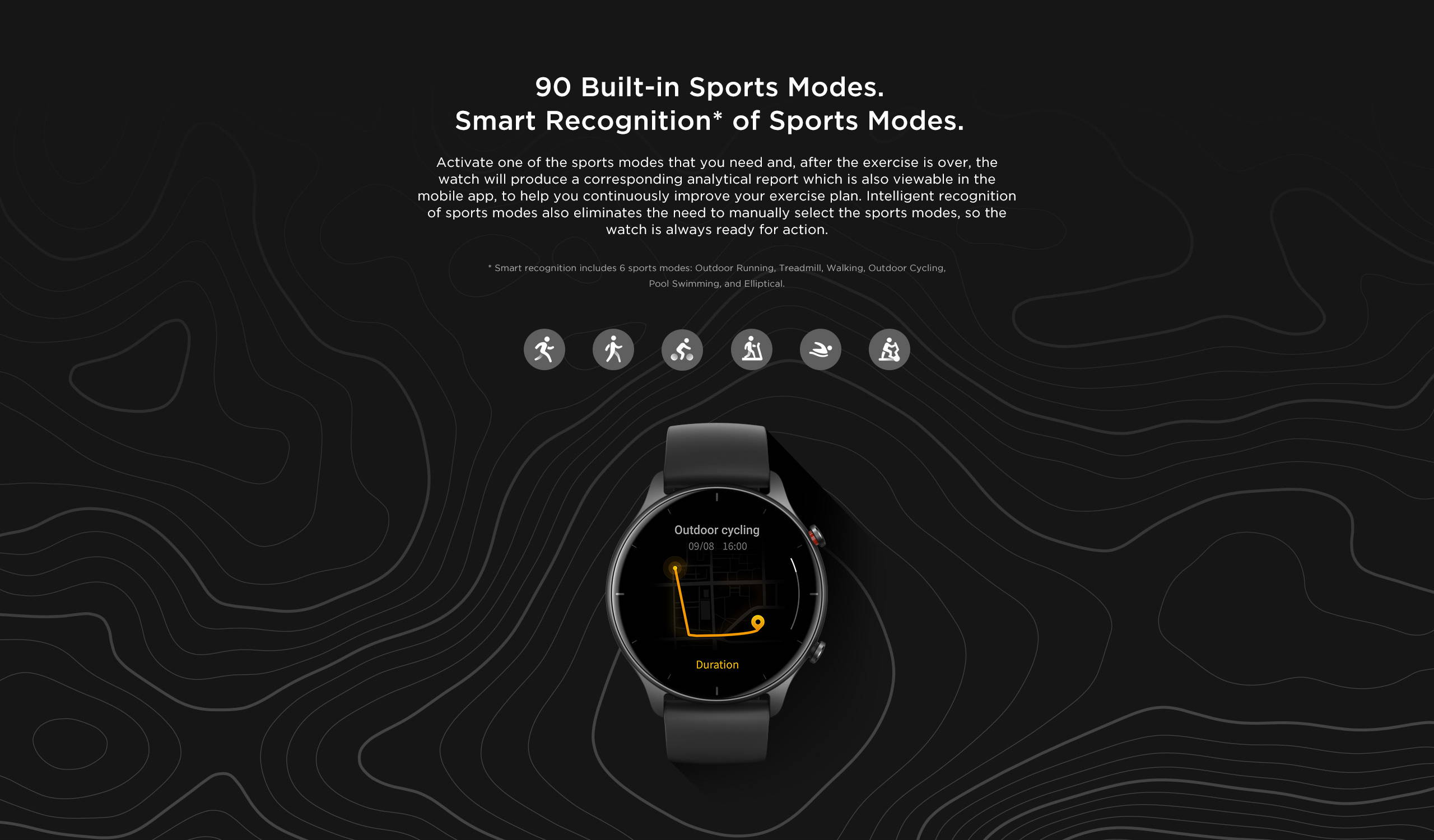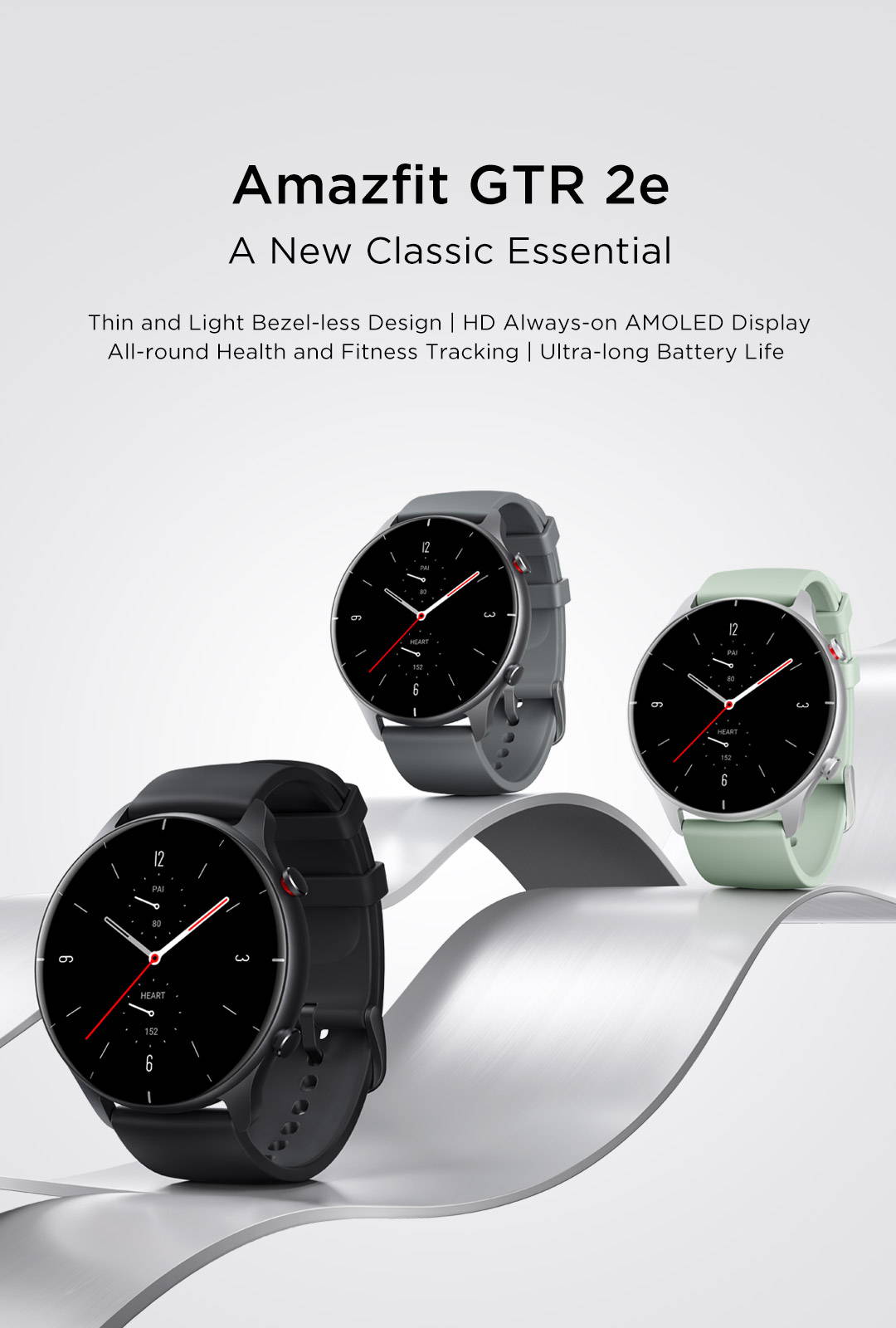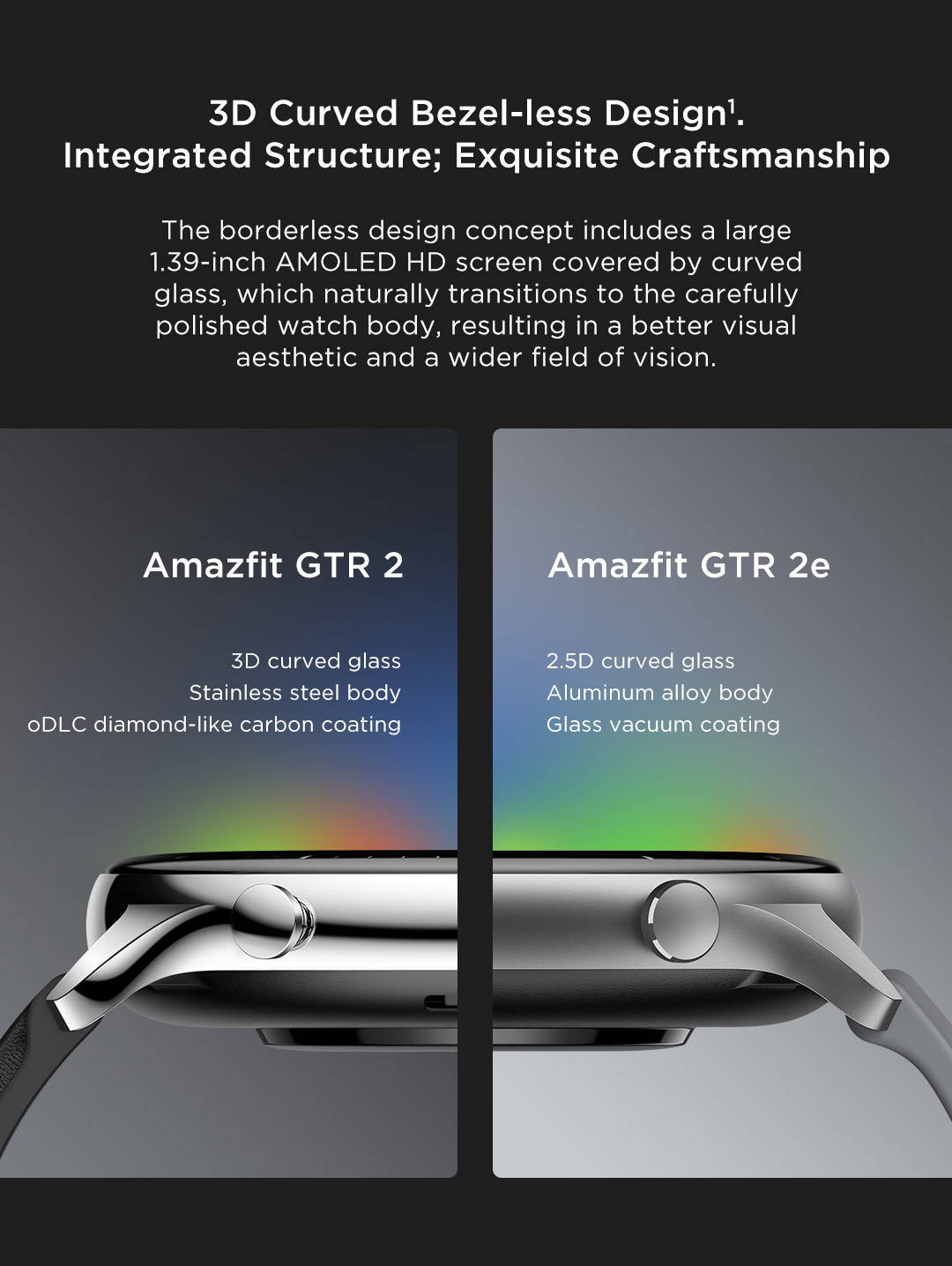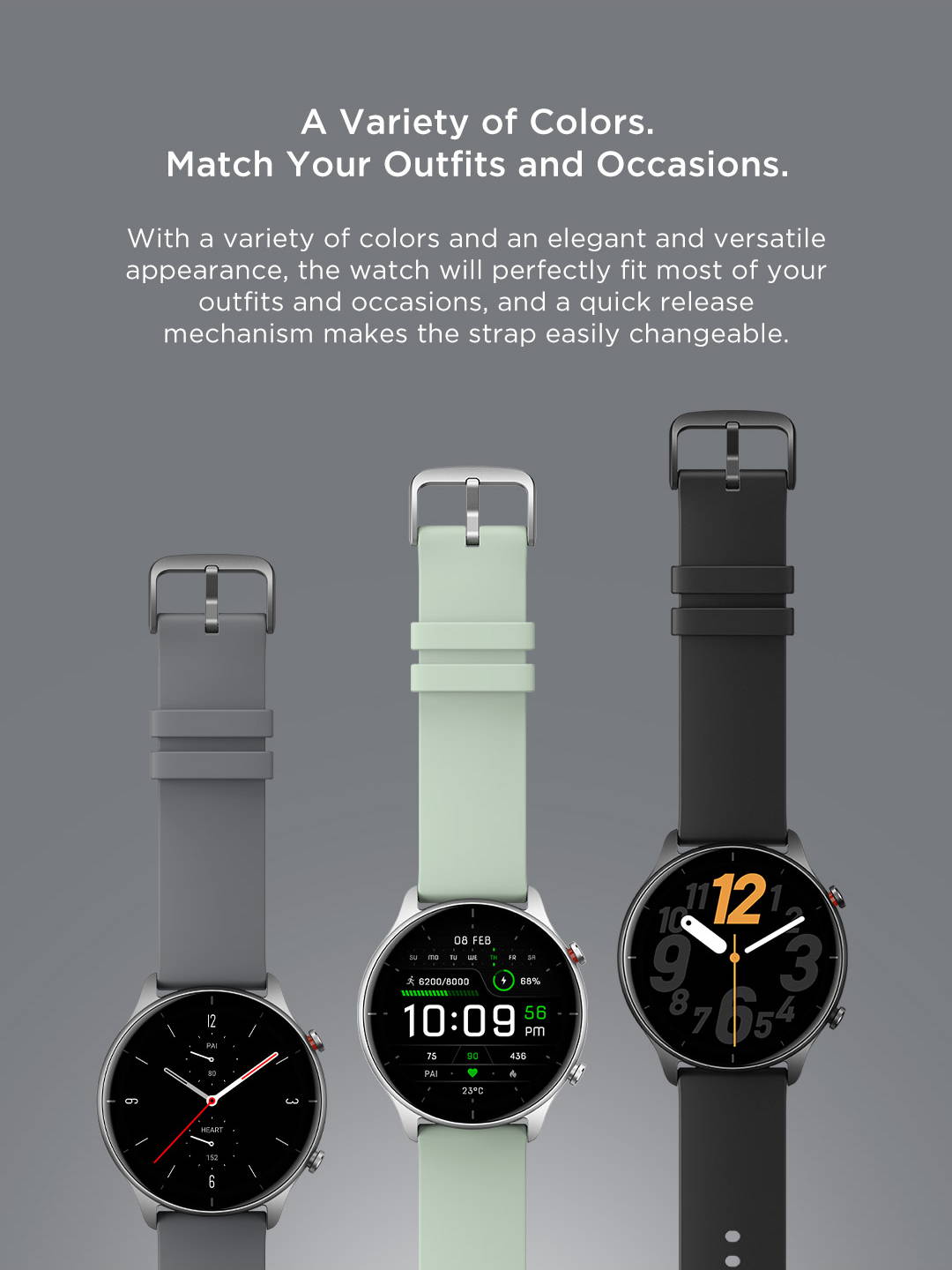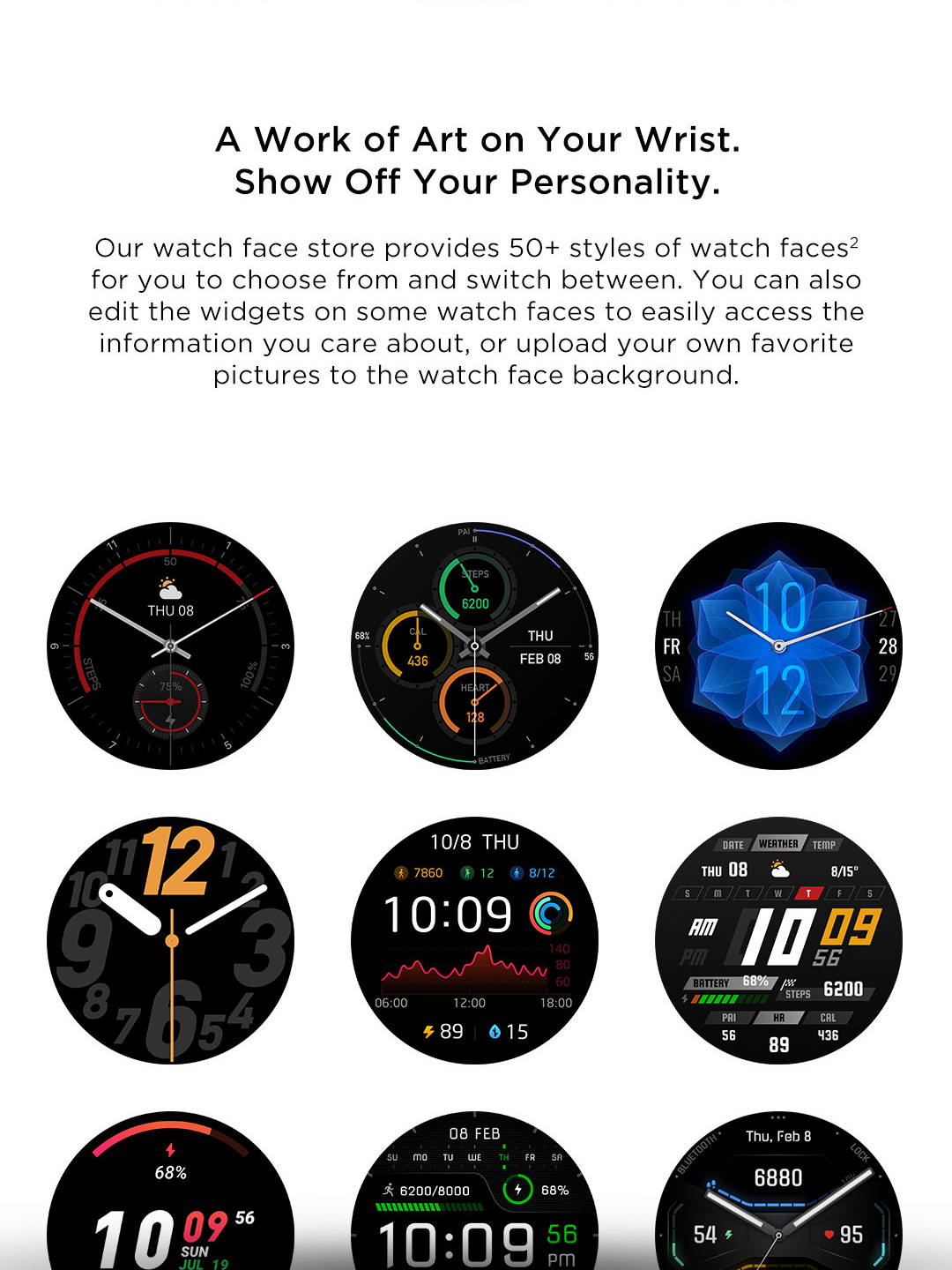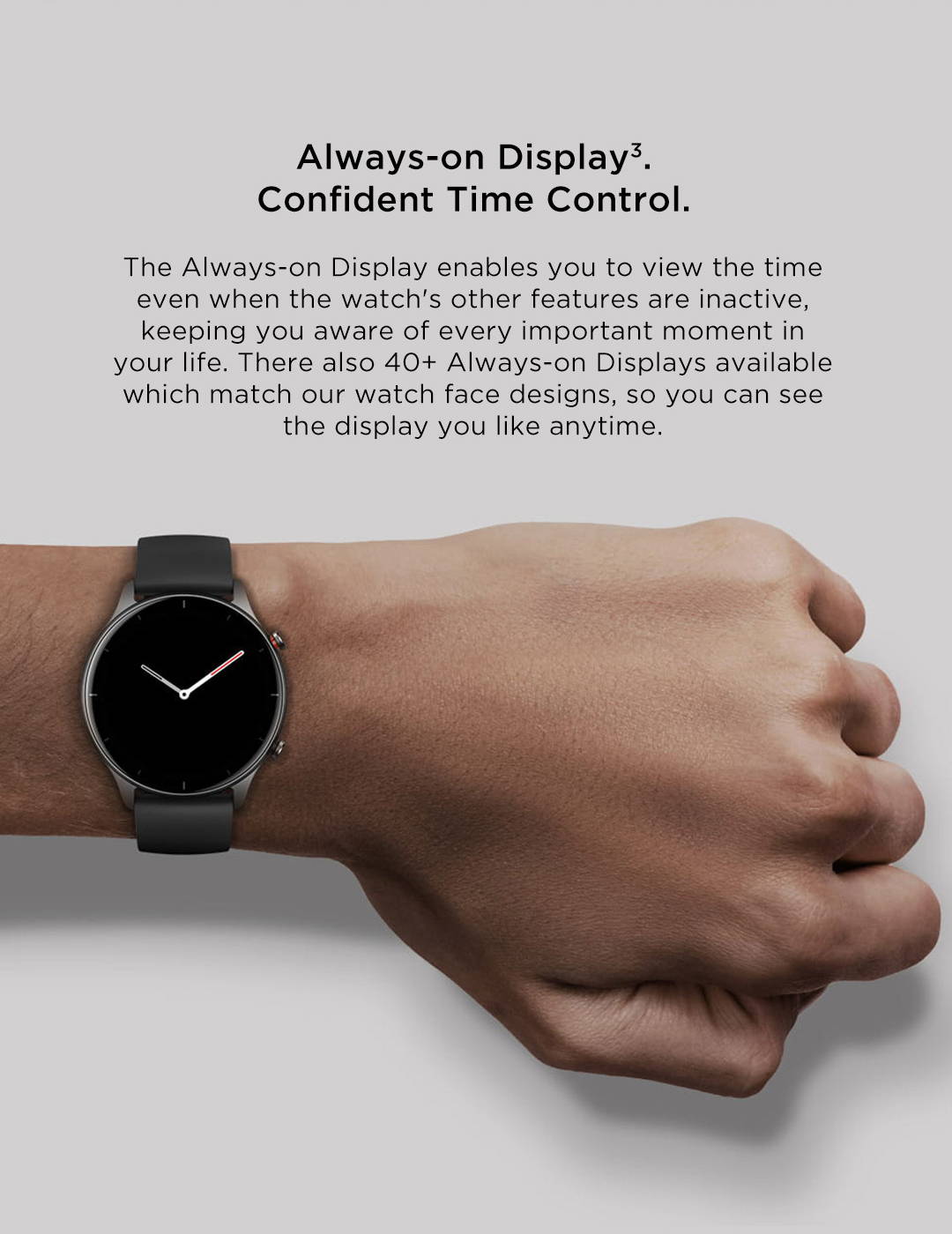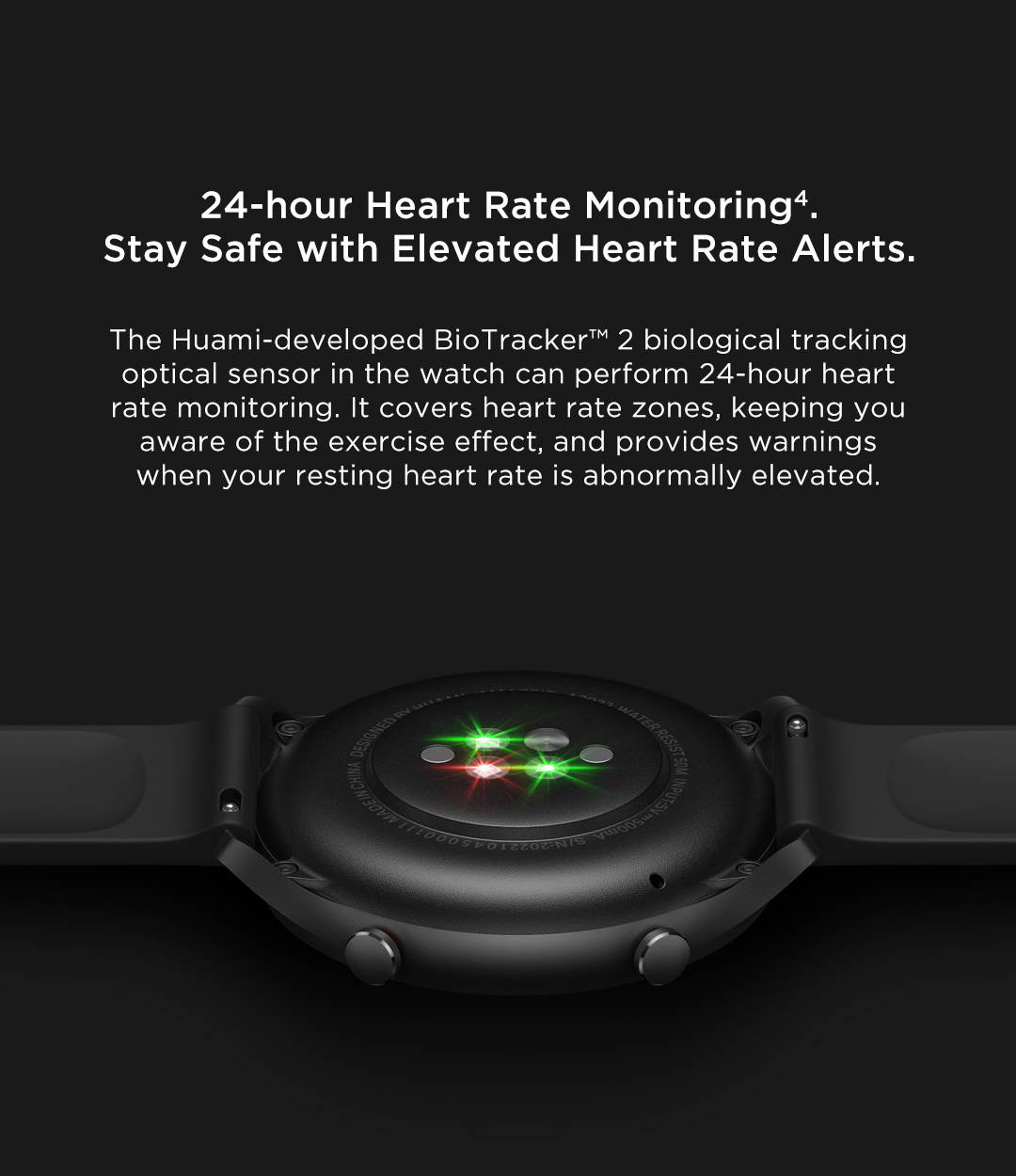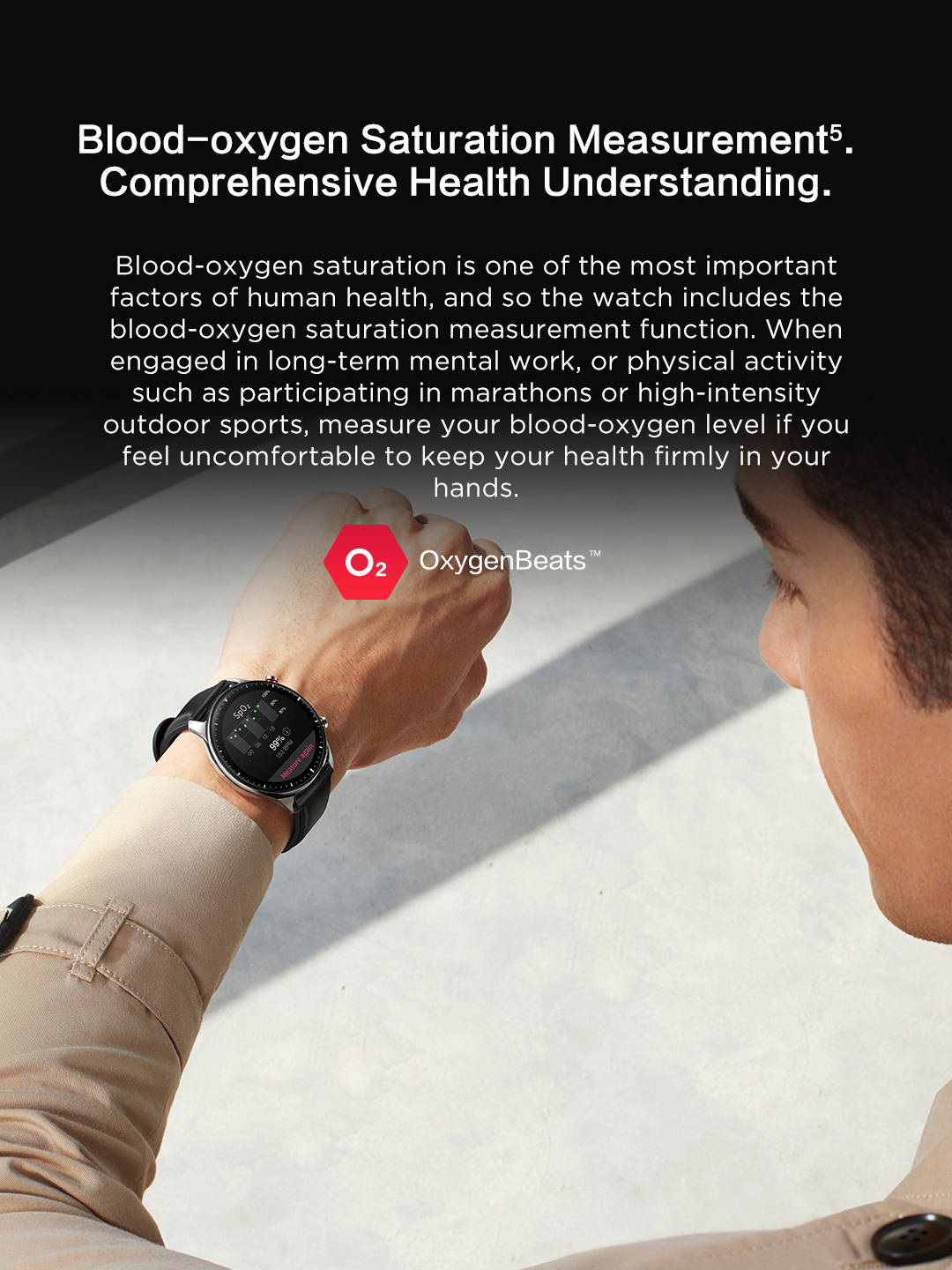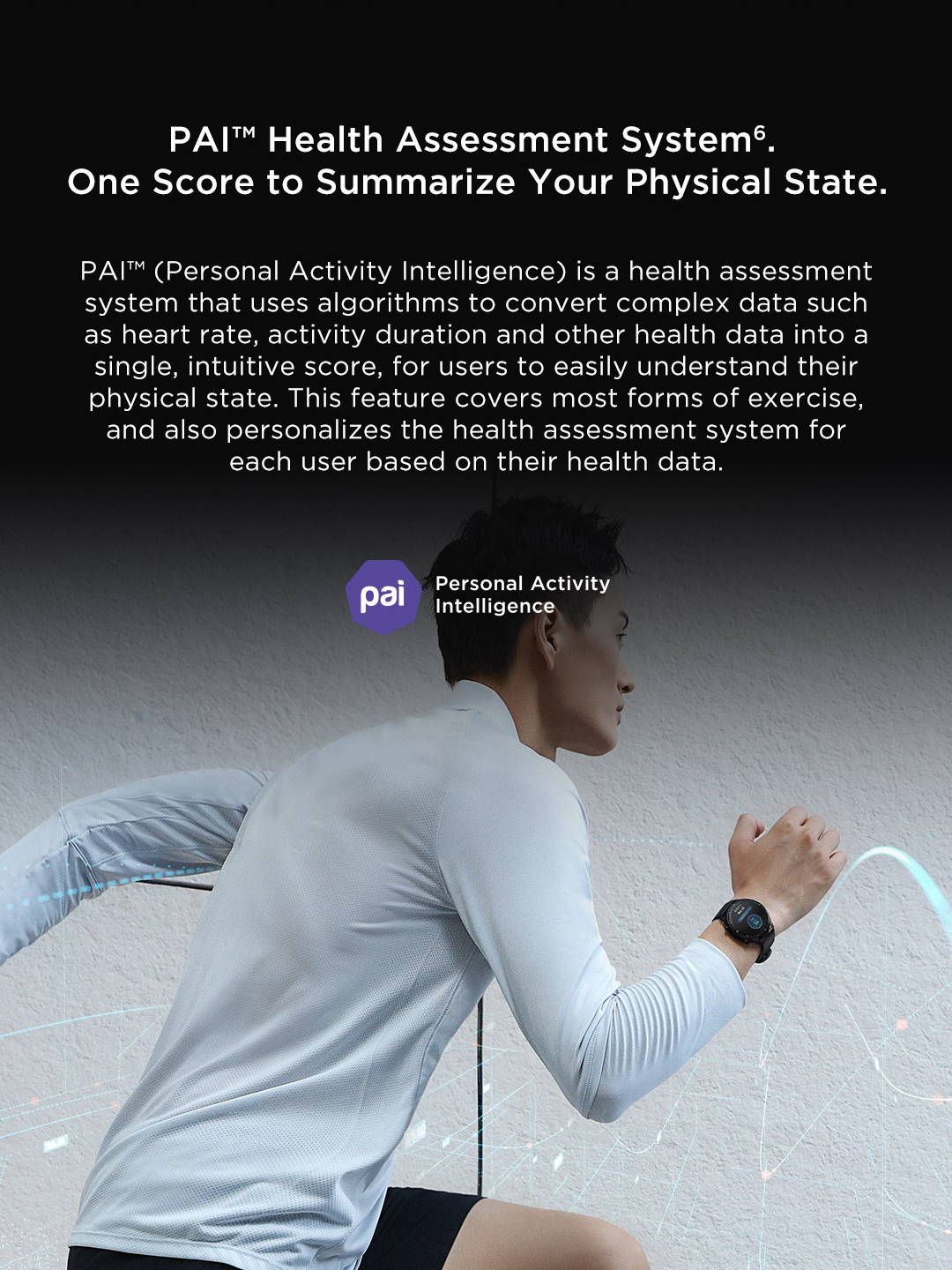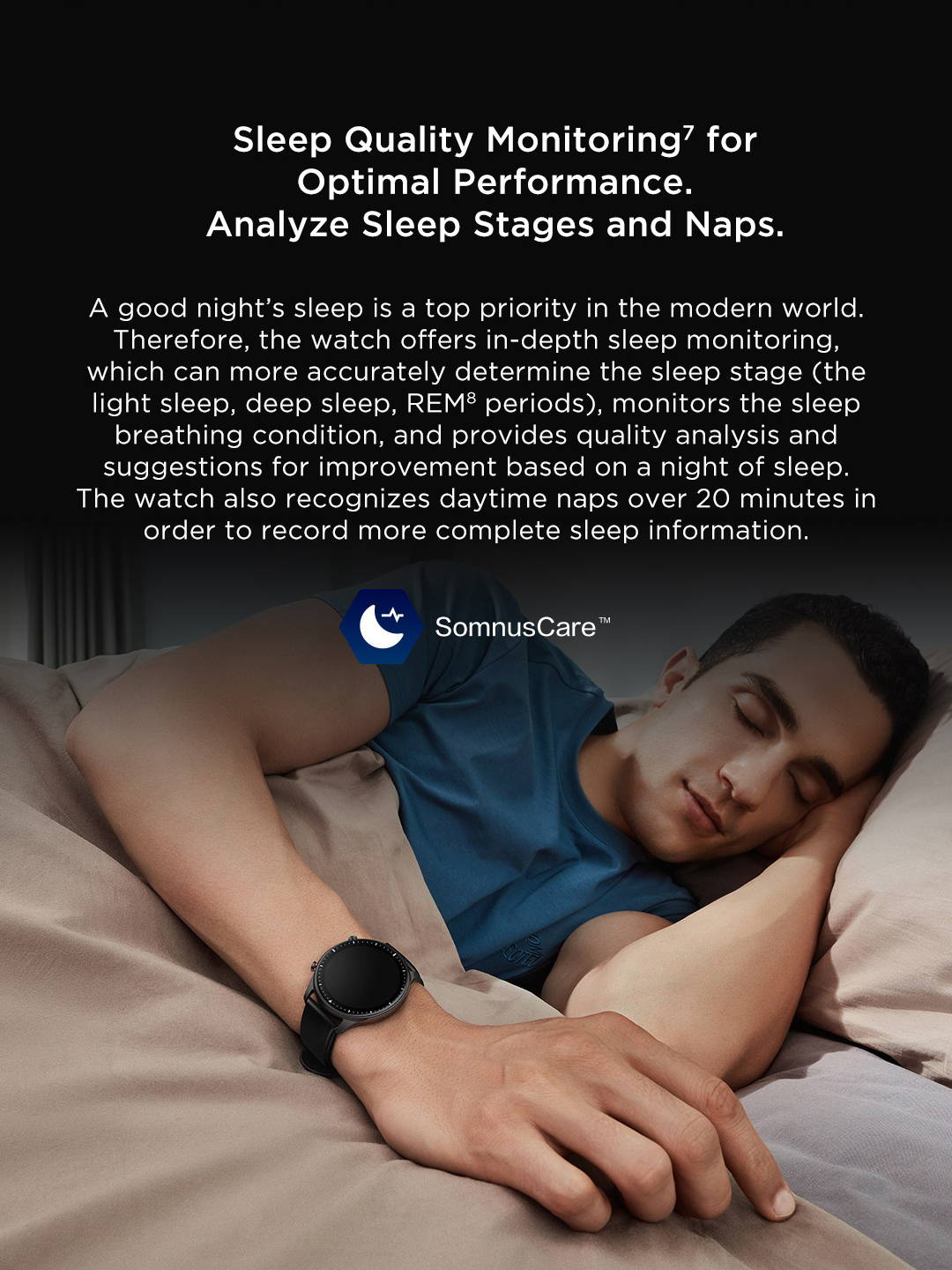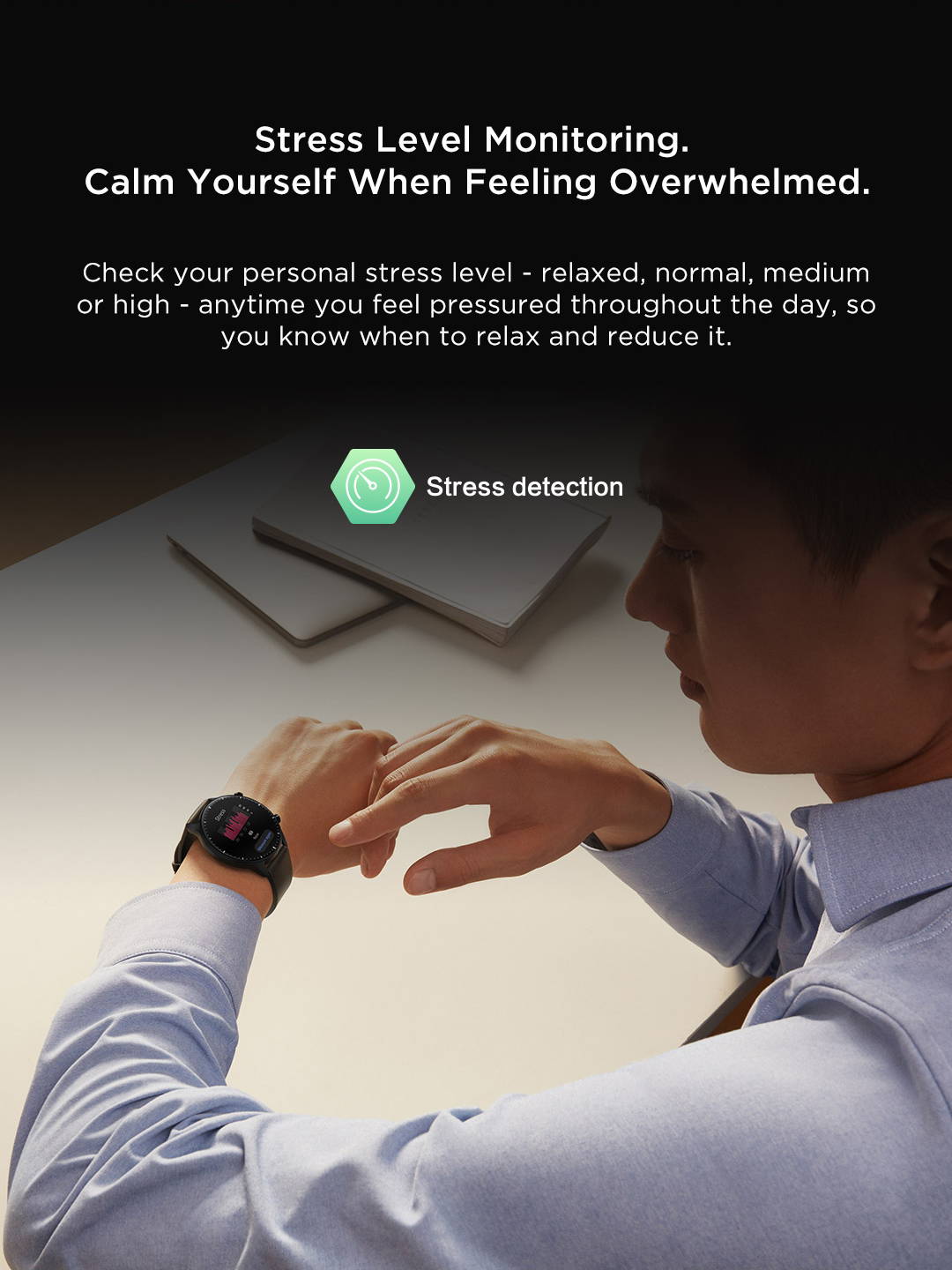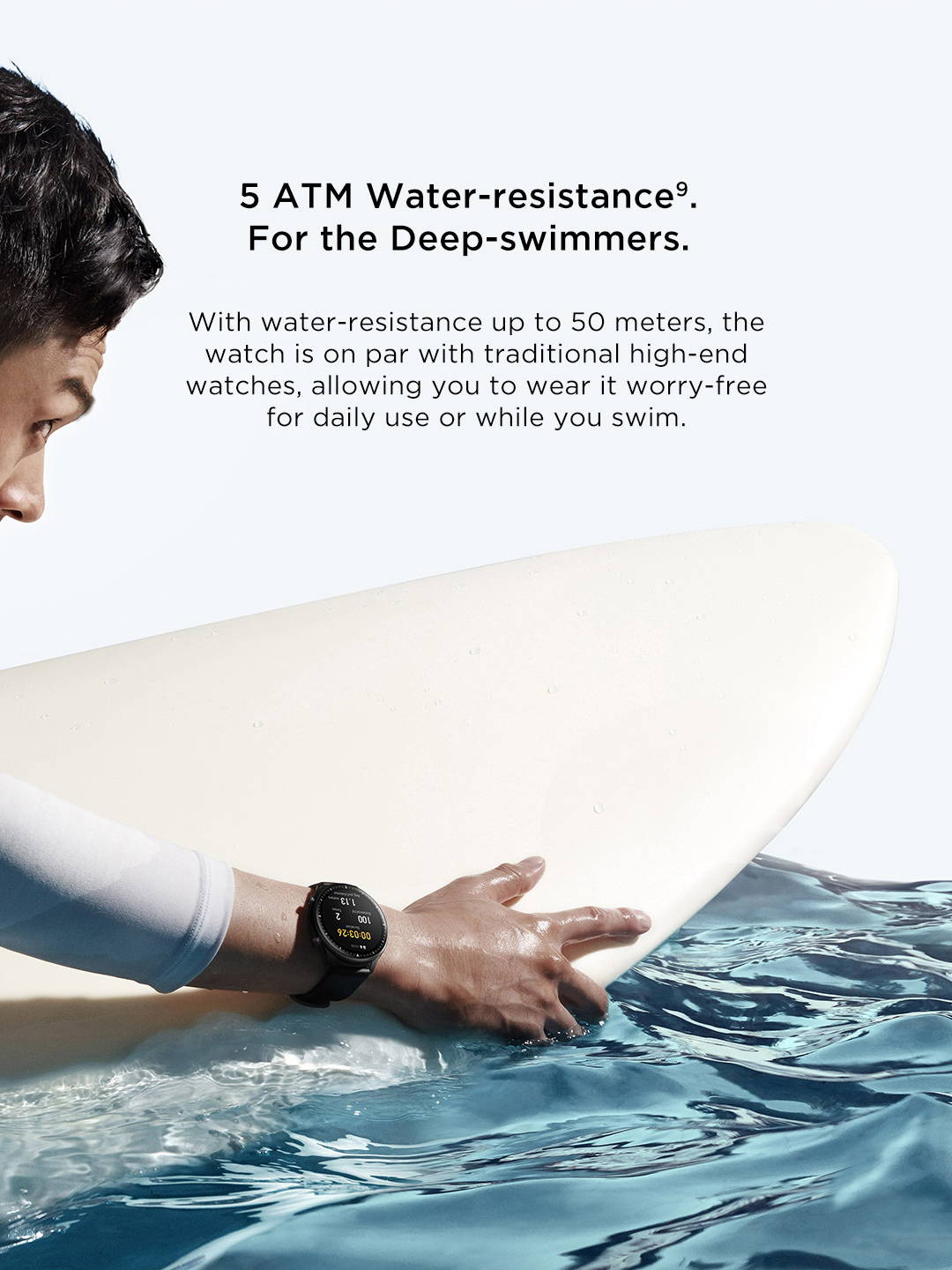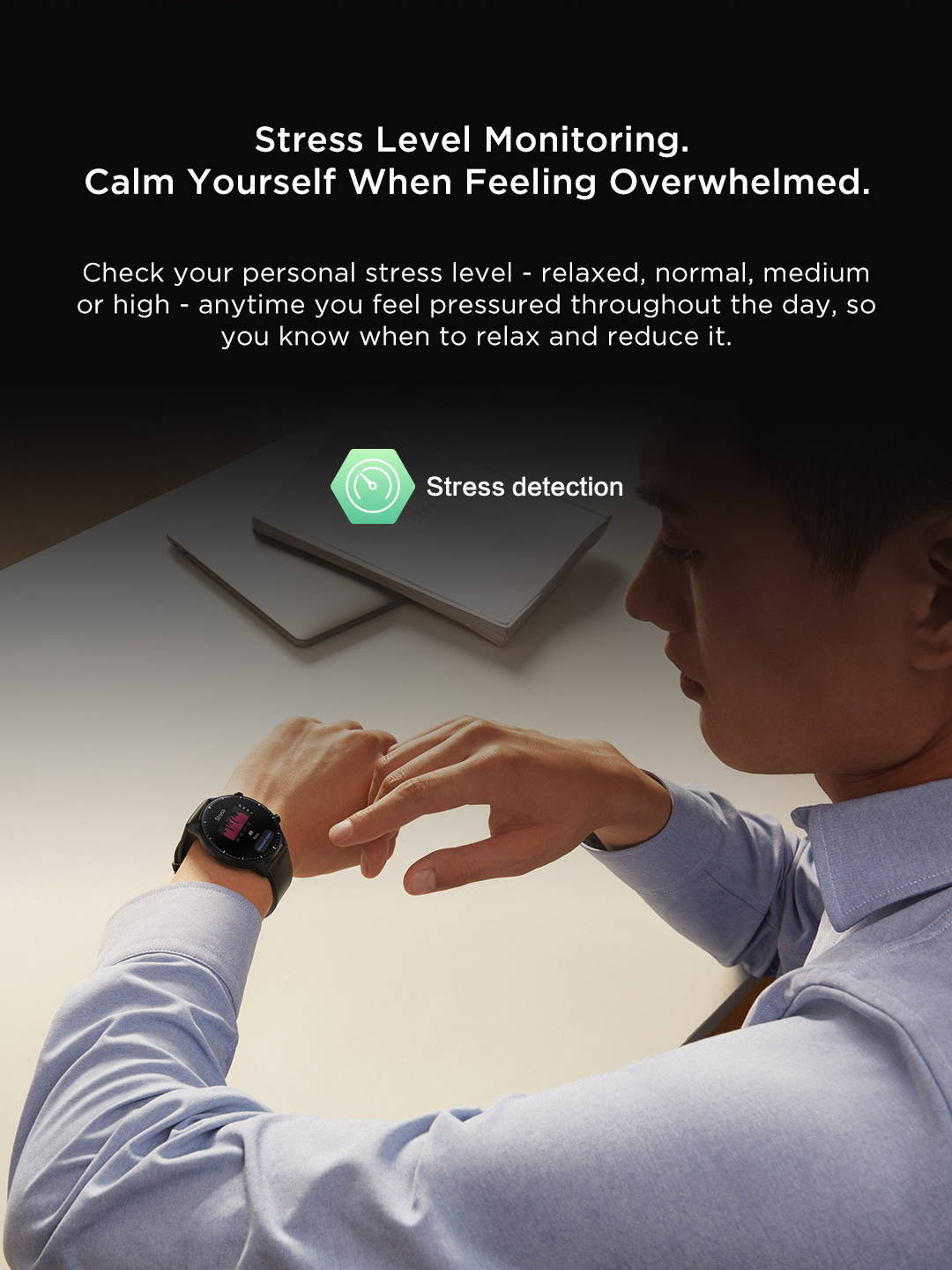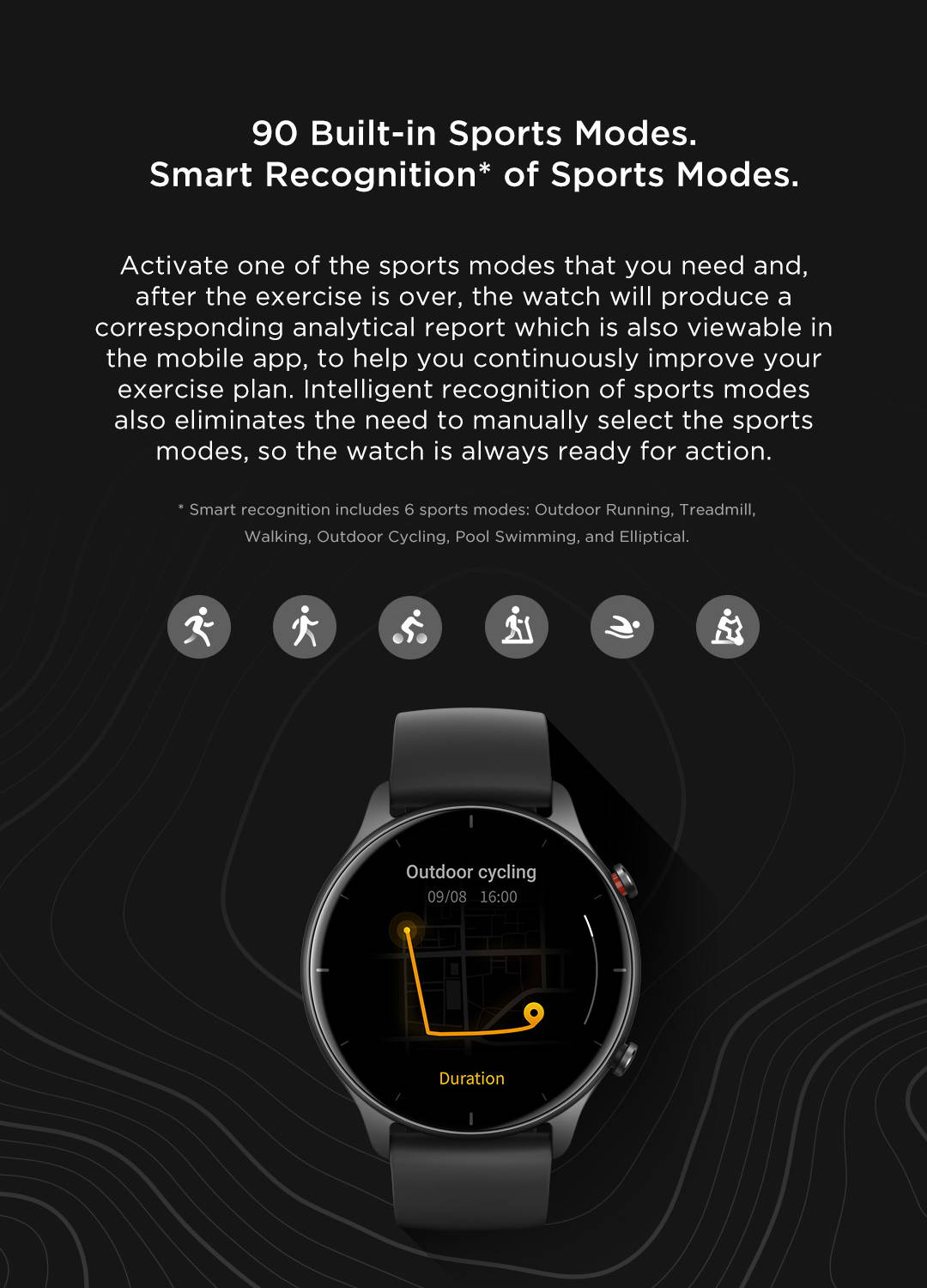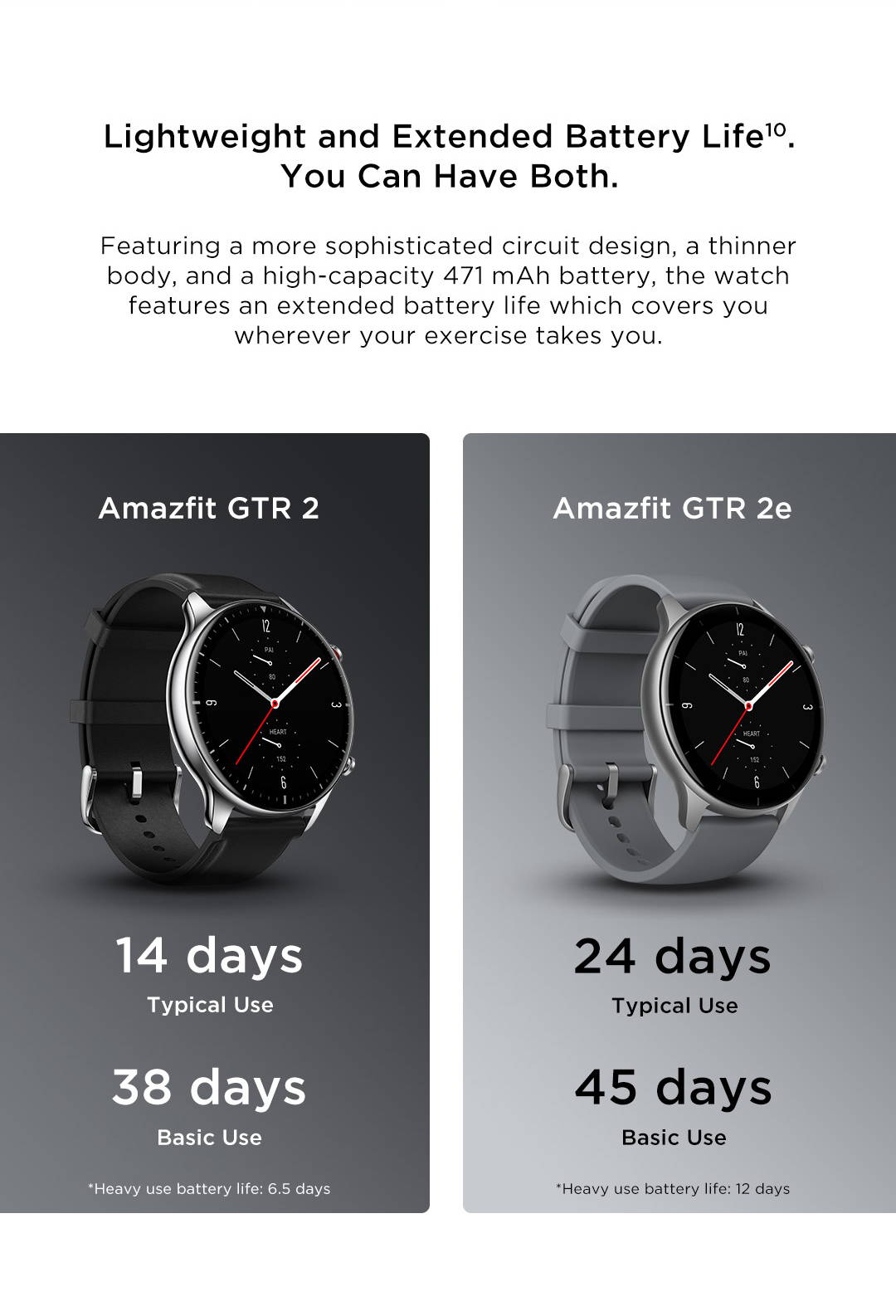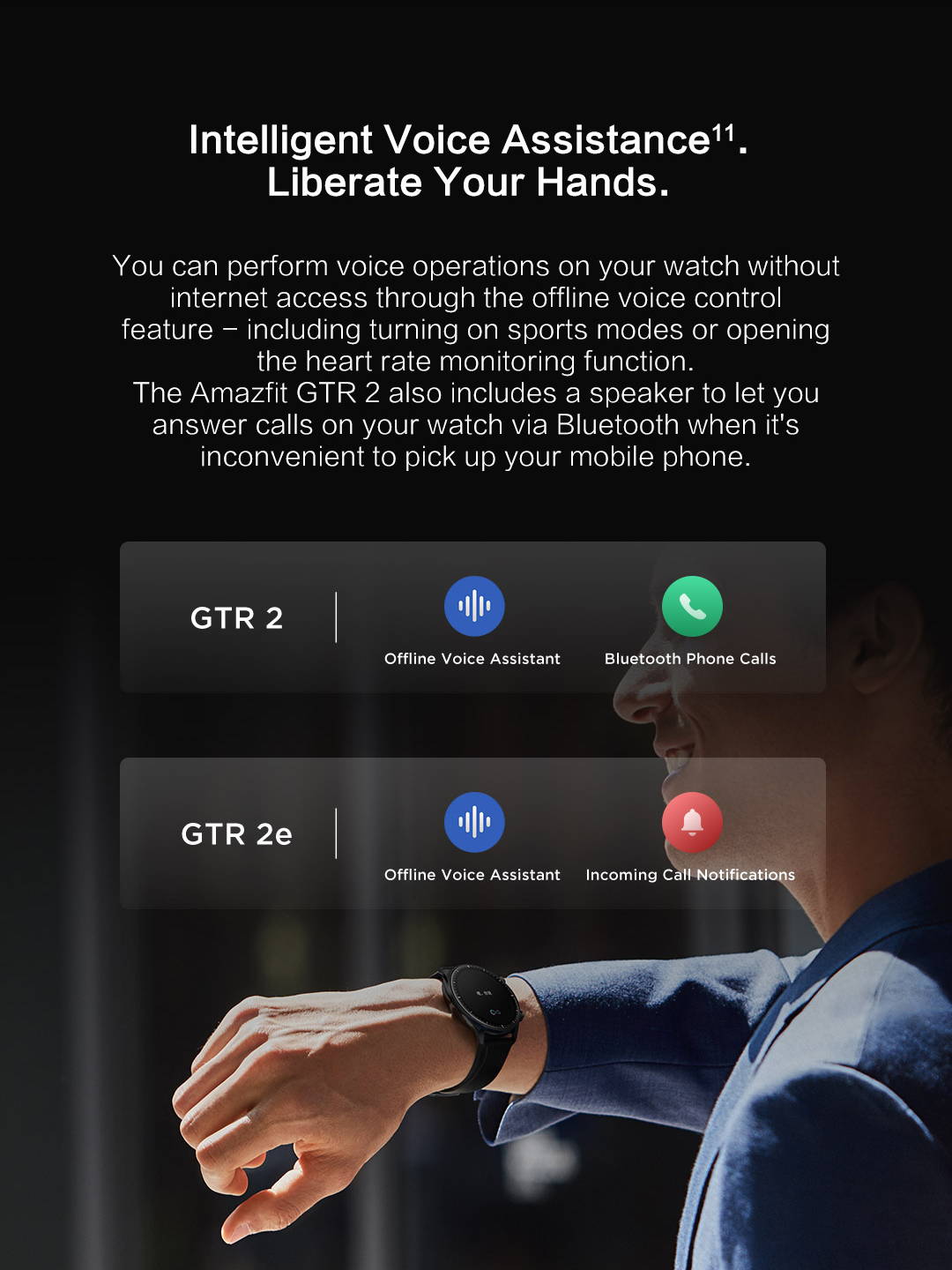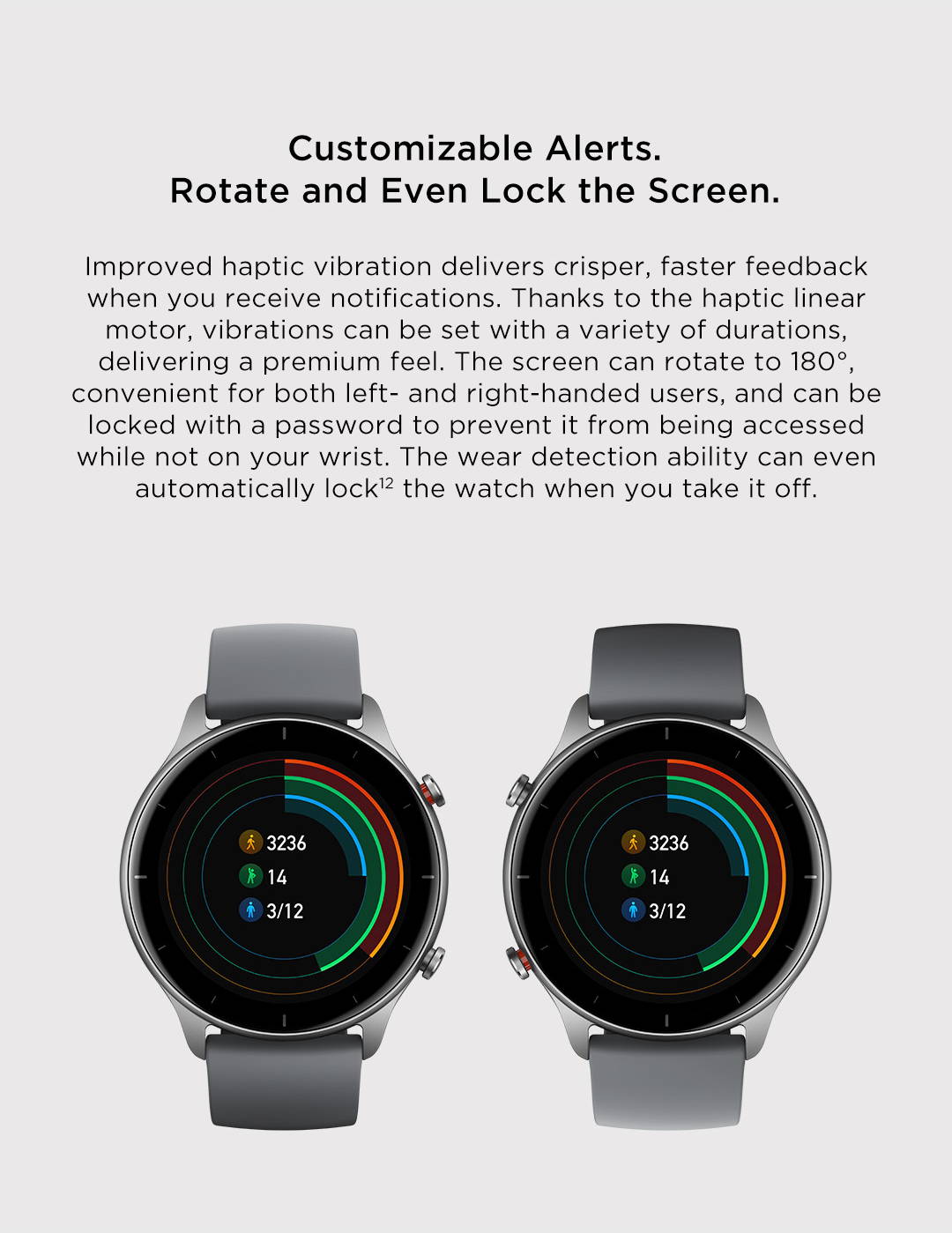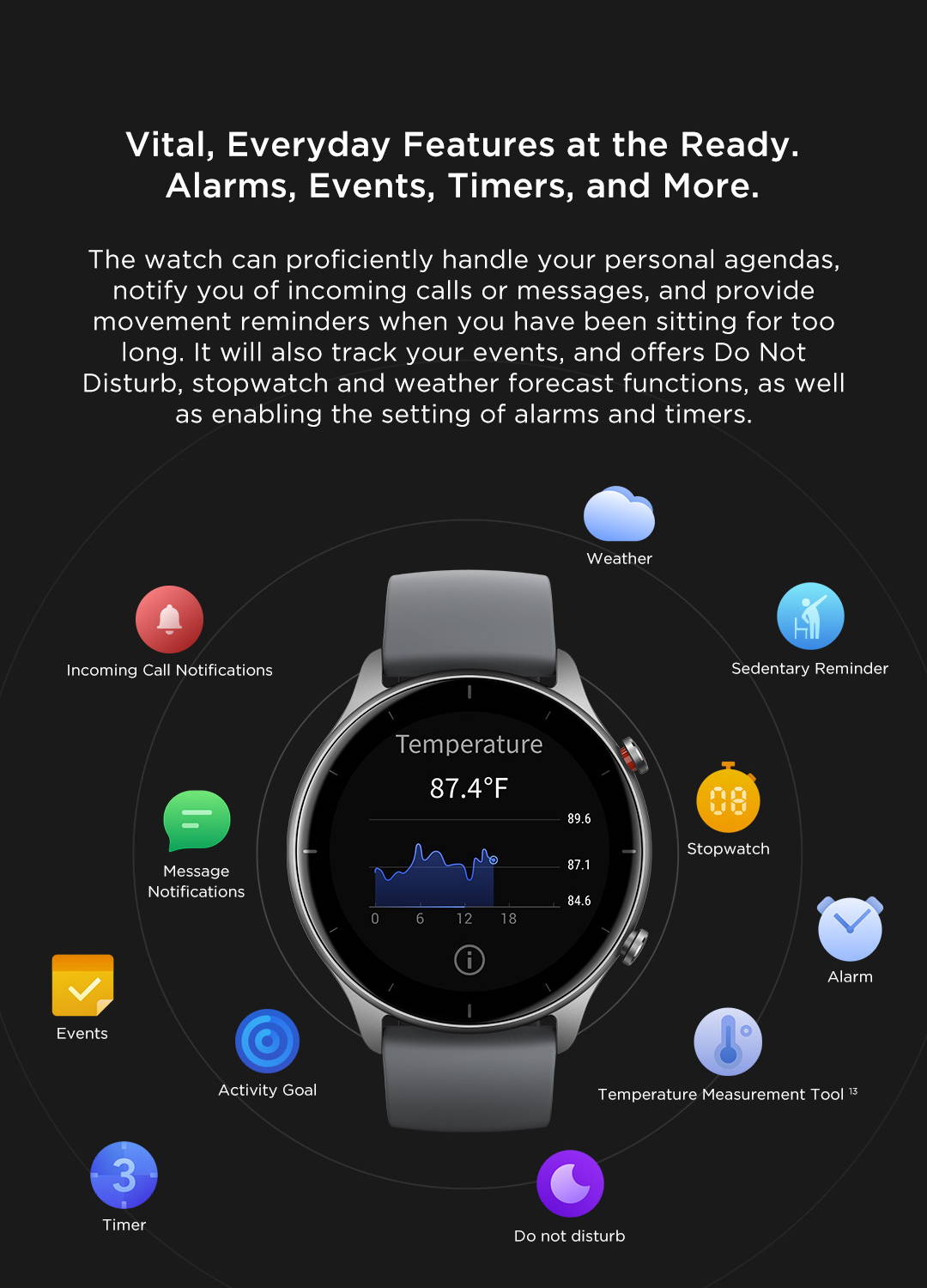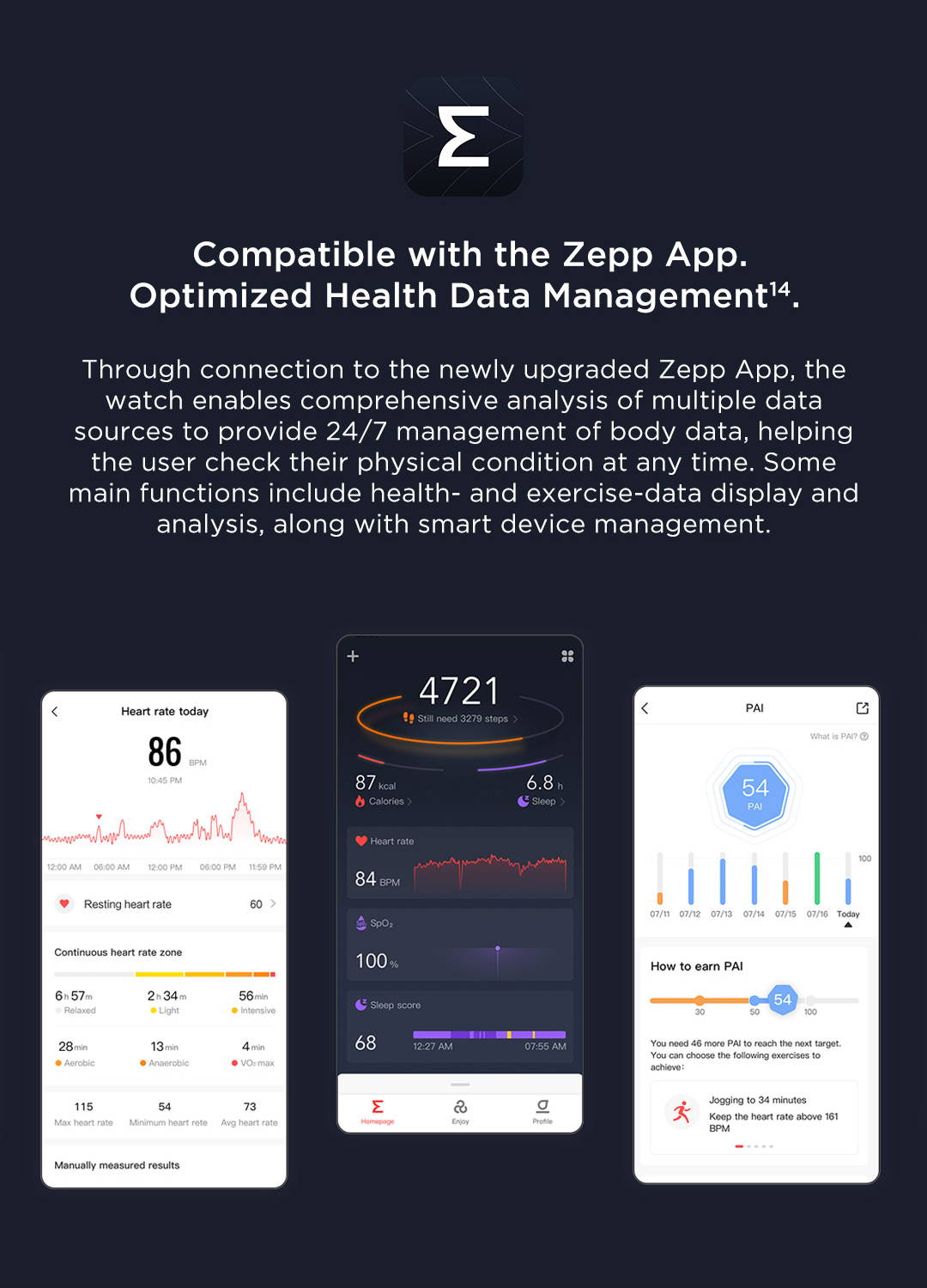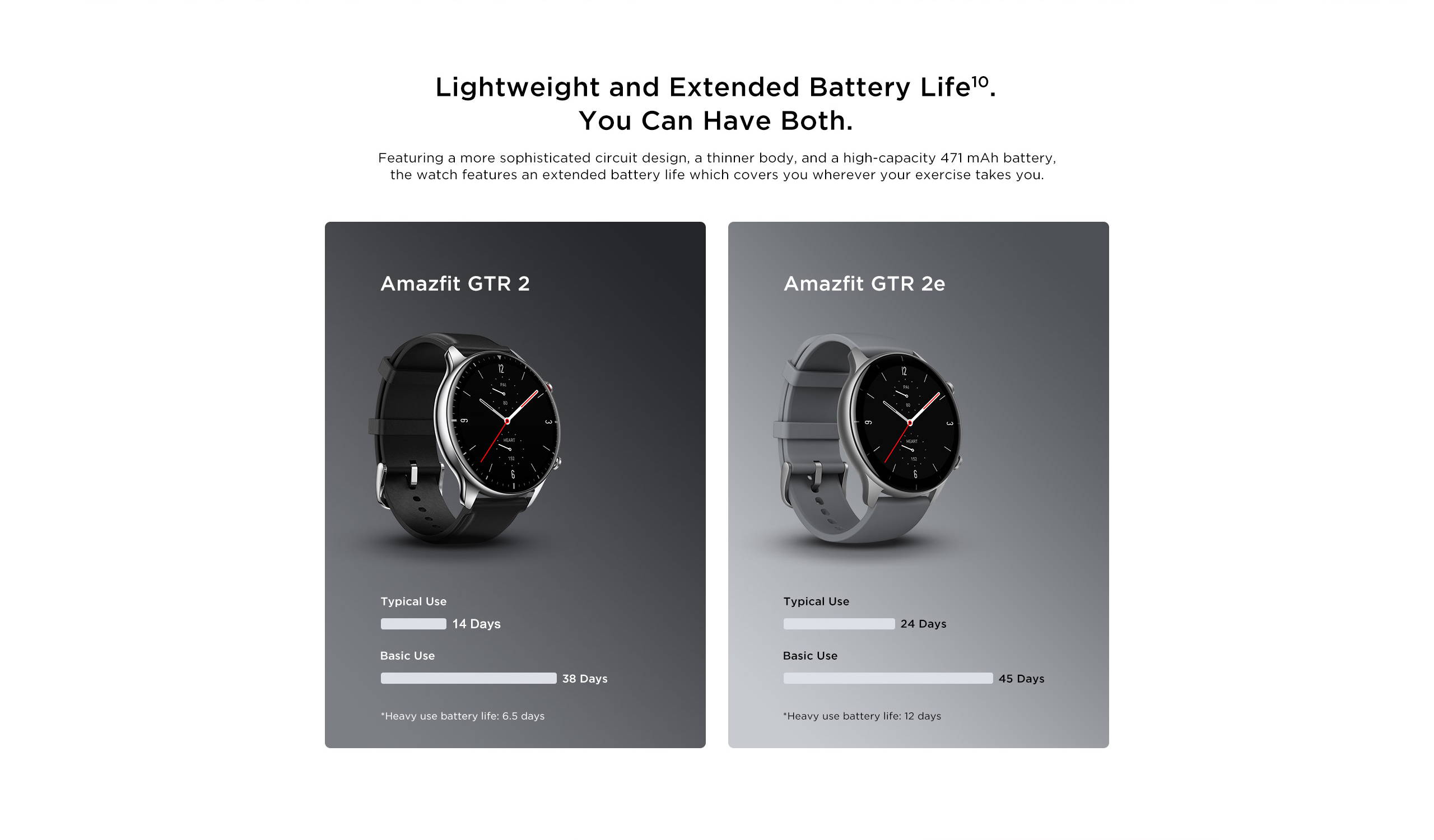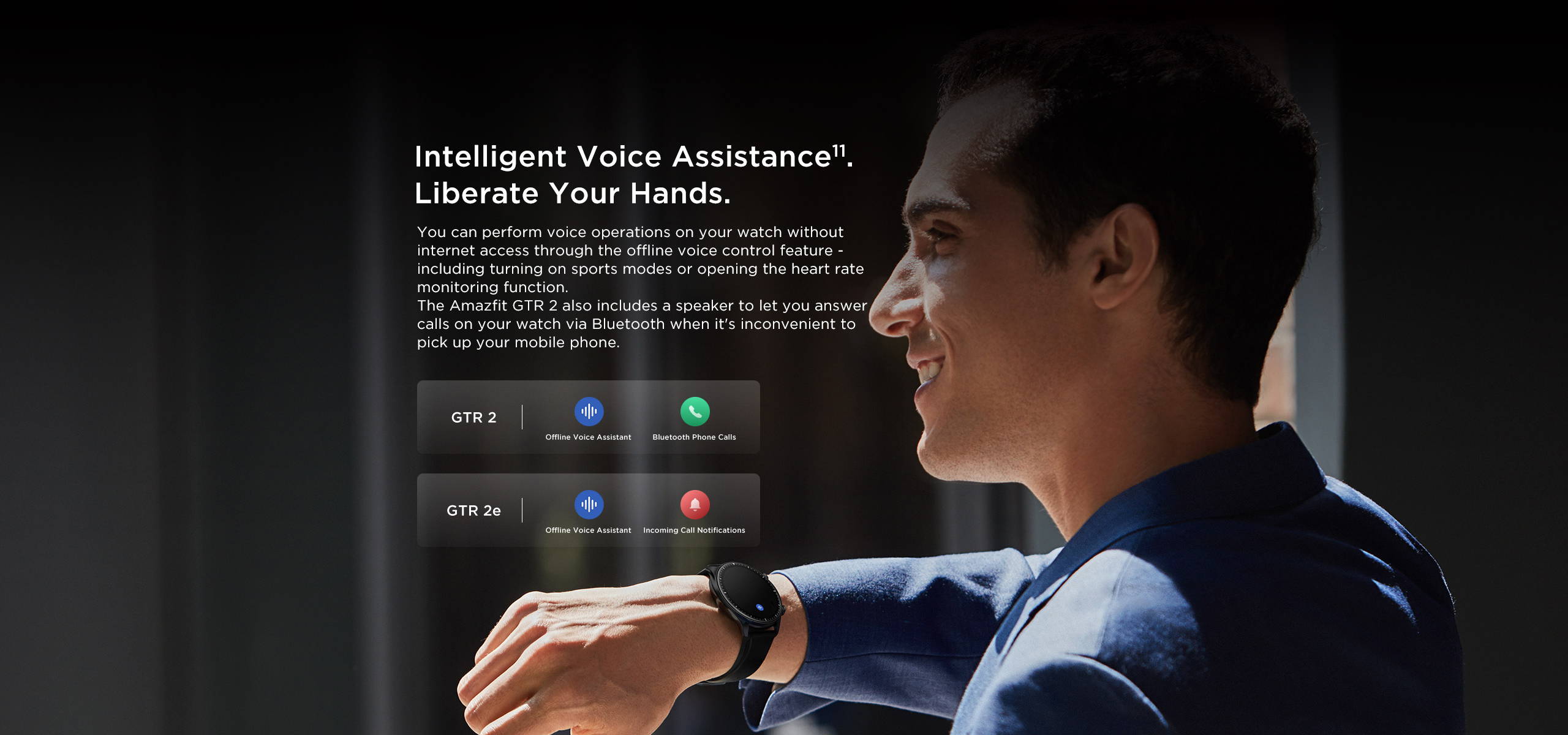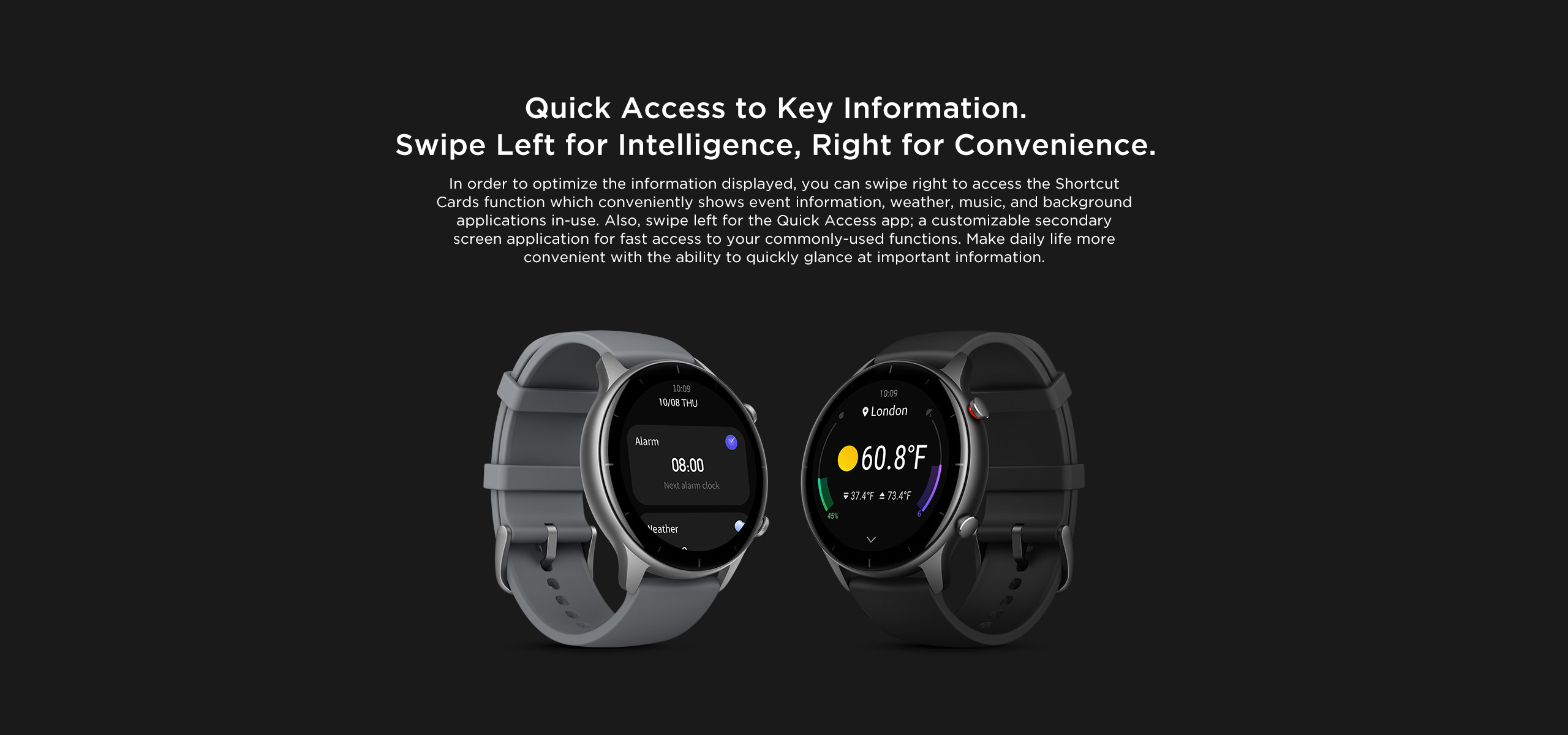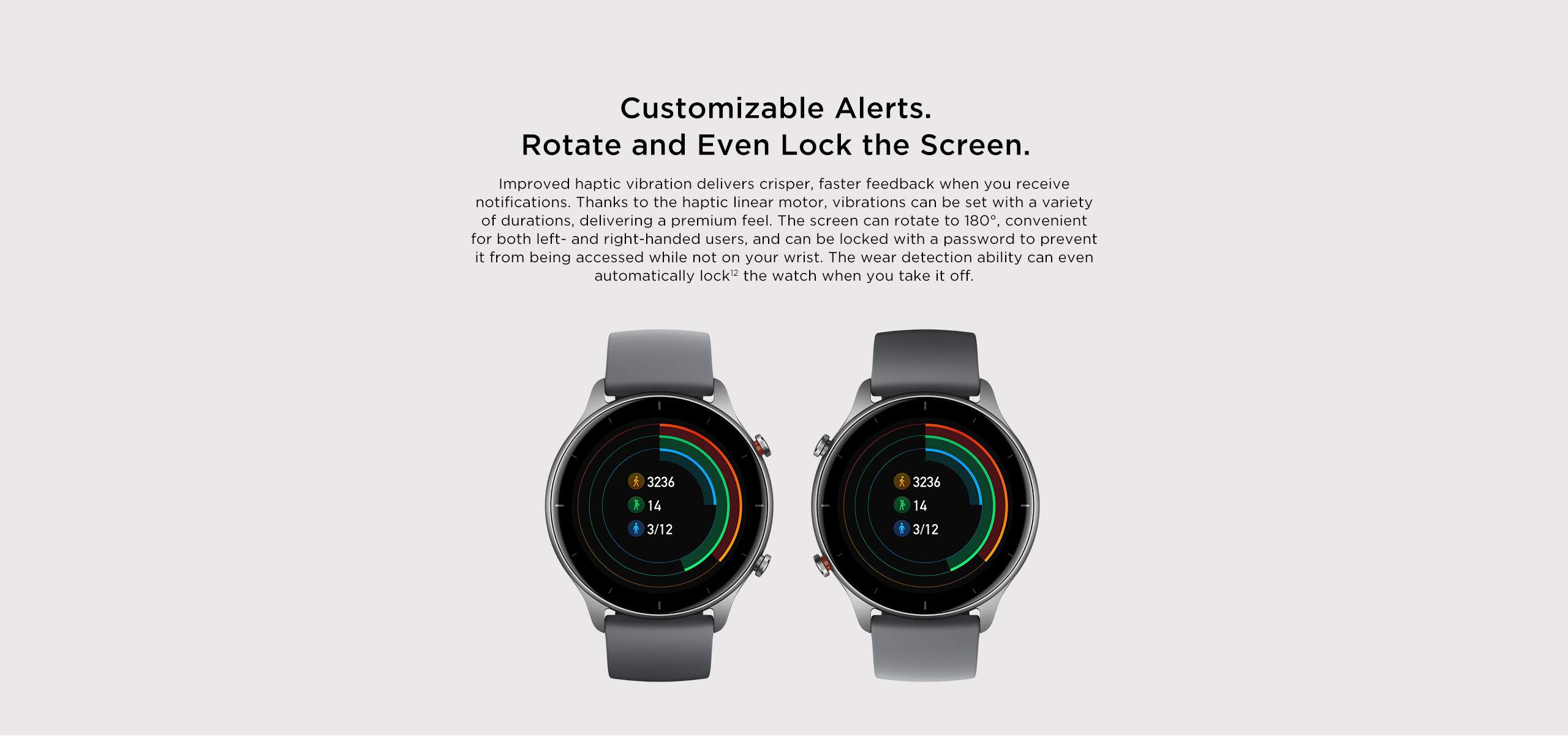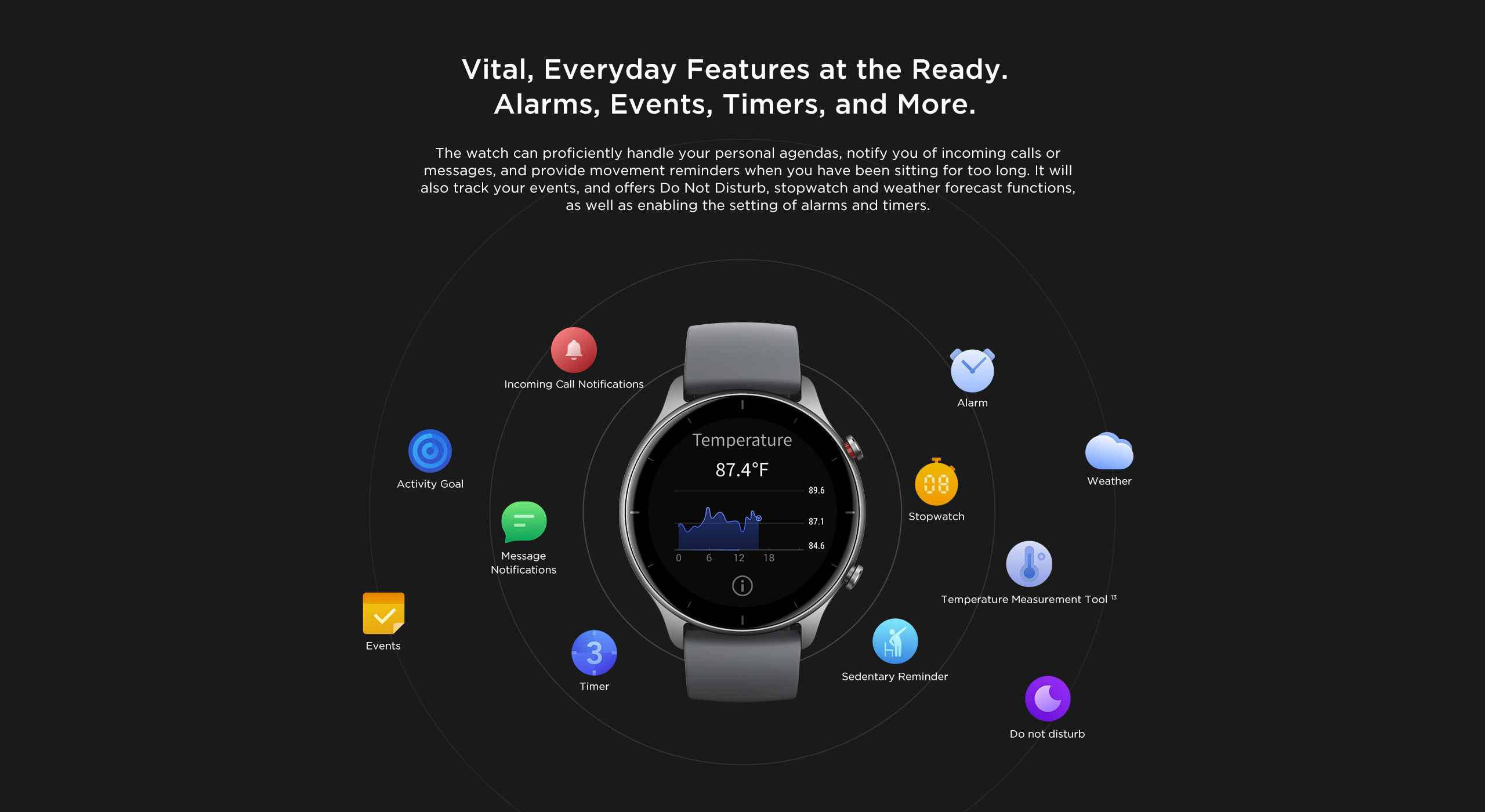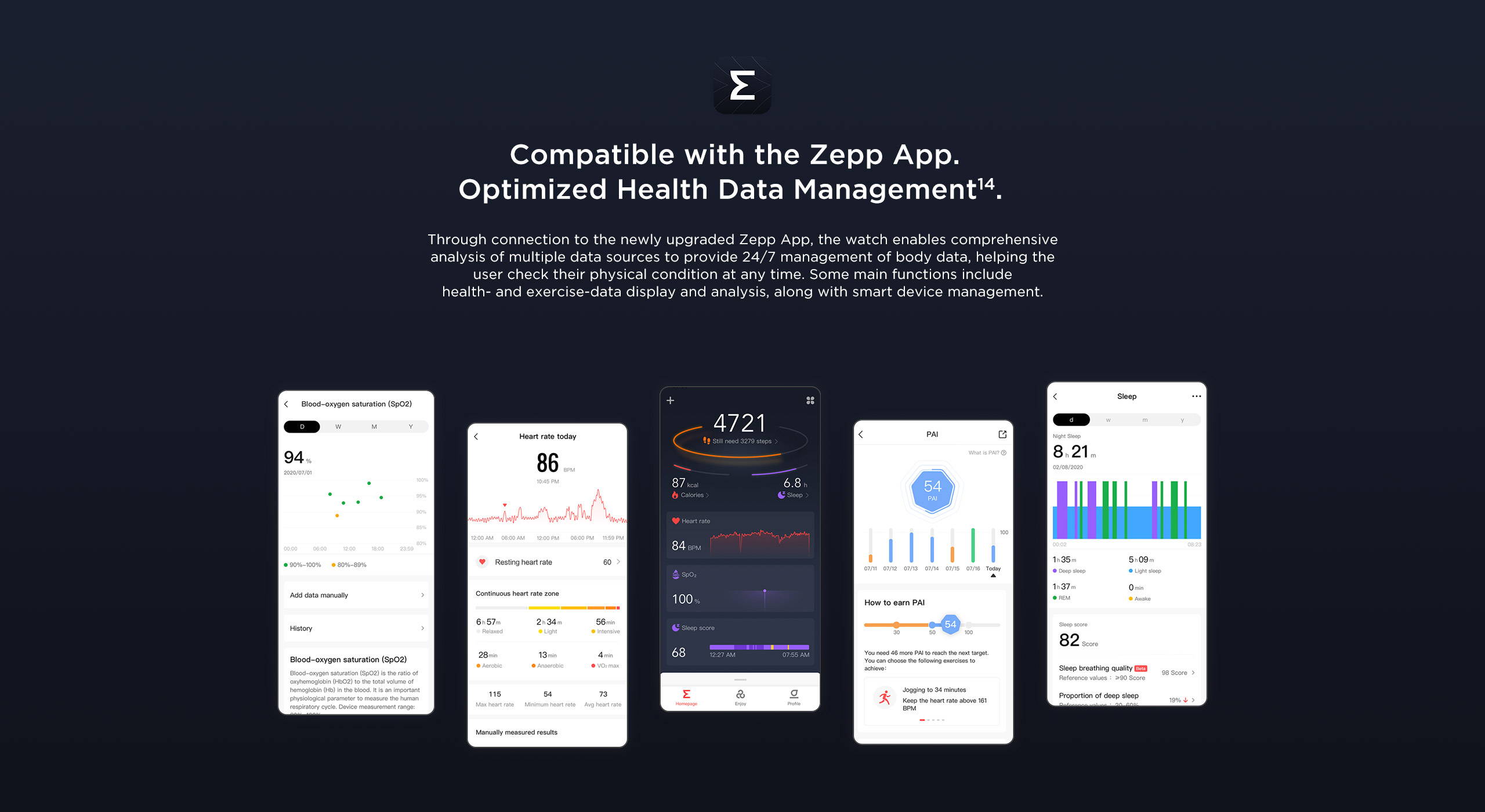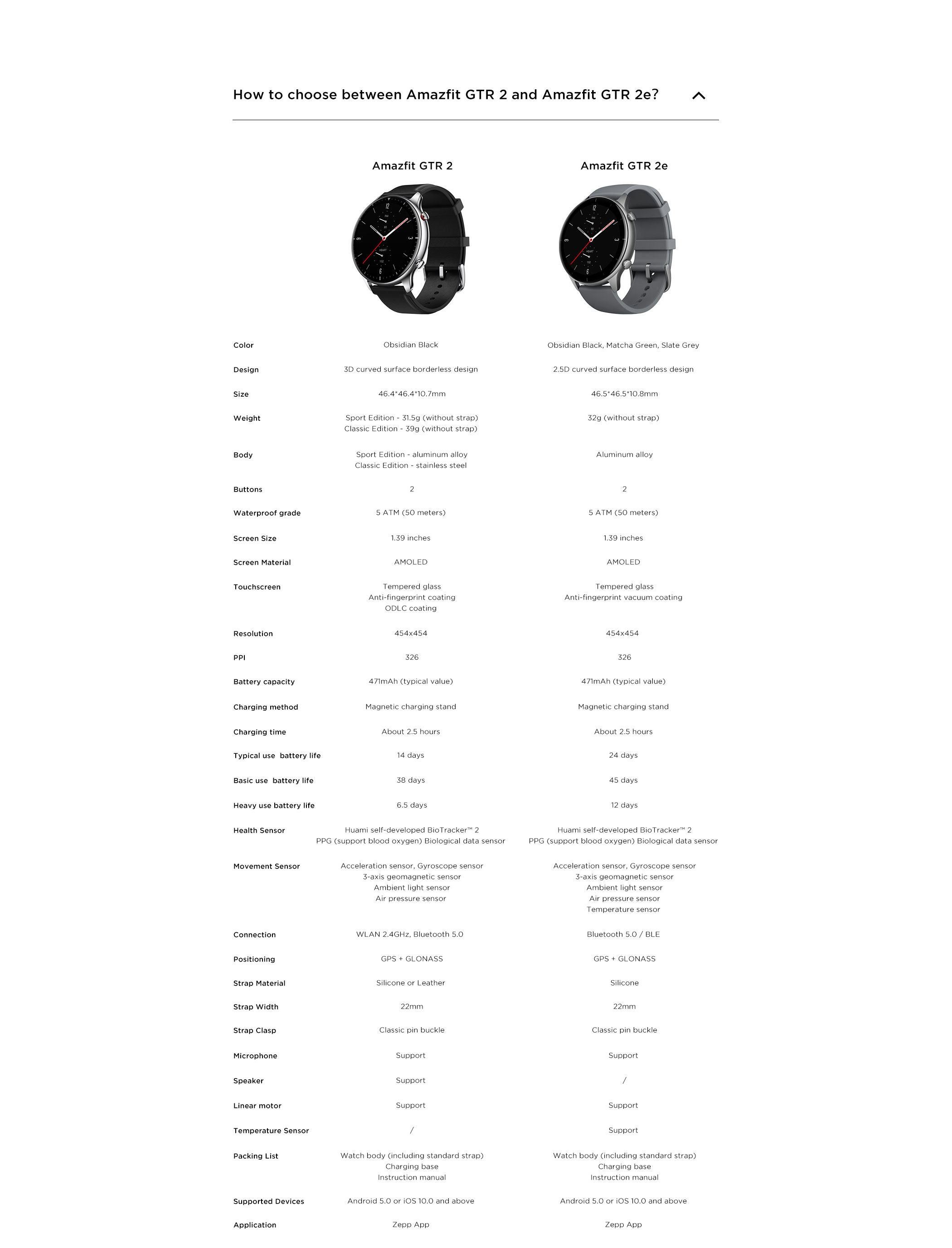 Notes:
1. The Amazfit GTR 2e adopts a new design concept, the product has no obvious border on the front, bringing a "borderless" visual experience.
2. The watch faces available in the watch face store will be updated.
3. Always-on Display: When the screen is illuminated, it displays system content. When the screen is in standby mode, it displays the time. This function requires users to manually set "Always-on Display". The user can switch on or off this feature through the watch or app.
4. The battery life may vary according to the settings, operation conditions and other factors. So the actual result may differ from the laboratory data. Typical usage scenario: Heart rate is always on, sleep monitoring enabled; 150 pushed messages a day lighting up the screen display, raise wrist to see watch time 30 times, bright screen operations for 5 minutes; exercise 3 times a week, GPS running for 30 minutes.
Basic usage scenario: Turn off the Bluetooth connection, heart rate and other functions of the phone, and only lift the wrist to turn on the screen 100 times a day.
Heavy usage scenario: Heart rate is always on, sleep monitoring and sleep breathing quality monitoring and stress monitoring enabled; 150 pushed messages a day lighting up the screen display, lift the wrist 100 times, bright screen operations 15 minutes; exercise 3 times a week, GPS running for 30 minutes;
5. The 24-hour automatic heart rate detection feature requires the user to set and turn on the "heart health detection" feature; the 24-hour heart rate monitoring is supported in the app, and the minimum value can be set to 1 minute; this feature cannot be used for medical purposes or as a basis for medical diagnosis. The detection results are provided for reference only. Please consult professional medical institutions if you feel unwell. Heart rate measurement cannot be performed while swimming, and the measurement accuracy may be affected by factors such as skin color, exercise type, and environmental temperature;
6. SpO2 level can affect the oxygen level to various organs. If the level is too low, it could lead to dizziness, headaches, or cardiac arrest. This product is not a medical device. The measurement data is intended for reference only and cannot be used to perform professional diagnosis or monitoring of any medical conditions. Additionally, data accuracy will be affected if the sensor area makes contact with skin that is tattooed, pigmented or deep-toned, and in low temperatures. To measure SpO2, please keep your arm still.
7. The HUNT Fitness Study indicates that people who maintain a PAI™ score of 100 or higher show lower risk of hypertension, heart disease, and type-2 diabetes. HUNT Fitness Study: This study was conducted by Professor Ulrik Wisloff of the Faculty of Medicine, Norwegian University of Science and Technology. It lasted for more than 35 years and had more than 230,000 participants.
To use this function, all-day heart rate monitoring must be enabled.
8. Sleep monitoring: can record evening sleep and naps. When it detects that the wearer is asleep between midnight and 6am, the sleep time between 6pm of the previous day and 11am can be recorded as night sleep time; sleep between 11am and 6pm lasting more than 20 minutes is recorded as a nap. Sleep lasting less than 20 minutes is not recorded.
9. The REM, also known as rapid eye movement, period is the basis for the normal biological rhythm and life-sustaining of mammals. It accounts for about 20%-25% of the entire night's sleep cycle. It is characterized by rapid eye movement, low-amplitude mixed-frequency EEG activity, and muscle tension relaxation. The rapid eye movement phase is the sleep phase related to dreams in the sleep cycle.
10. Smart recognition includes 6 sports modes: Outdoor Running, Treadmill, Walking, Outdoor Cycling, Pool Swimming, and Elliptical.
11. According to GB/T 30106-2013 standard, the waterproofing reaches 50 meters. The Amazfit GTR 2e is tested by the National Clock Quality Supervision and Inspection Center, report number: SWT2010-04. Genuine leather or leather straps cannot be worn for swimming. If you need to wear it for swimming, please change to a silicone strap. In order to maintain a good wearing experience, please wipe the watch as soon as possible after soaking in water. A variety of factors can affect the waterproof capability, the lab condition 50 meters water-resistant test is only for reference. The picture shows the effect of the product, the actual use is not suitable for high-speed water sports and diving sports.
12. Offline voice assistant only supports English voice commands.
13. The automatic lock feature needs to be set manually in the watch settings.
14. The built-in sensor of the watch measures the real-time temperature of the contact area. In order to obtain a more accurate temperature value, please allow the watch to continue measuring the contact area for more than 15 minutes. Place the watch in the air to measure the current ambient temperature, or wear the watch on the wrist to measure the wrist-skin temperature. The wrist-skin temperature is easily affected by external conditions such as the environment and is different from body temperature. The measurement results are for reference only, not for medical purposes; wrist-skin and the environment temperature cannot be measured at the same time, only separately;
Statements:
1. The product images and screen content shown above are for reference purpose only. The actual product (including but not limited to its appearance, color and size) and screen display content (including but not limited to the background, UI and graphics) may differ slightly.
2. The data that is provided on this page without a specified source is taken from internal laboratories or supplier data, and has been obtained under a specific test environment. The product's actual performance may differ slightly due to product individual differences, software versions, usage conditions and environmental factors.
3. To provide product information, specifications and characteristics as accurately as possible, our company may adjust and revise the text descriptions, images and other content in the above pages at any time. Due to real-time changes in product batches and production-supply factors, we may modify the above information as required without providing a special notice.
Customer Reviews
Write a Review
Ask a Question
02/20/2021
Tim F.

United States
I recommend this product
Big fan
I've owned the GTR, and bought as a present the GTR2e. Outstanding battery life and does what I need. Would love to assign a time / day window for app notifications.
02/18/2021
Eugene C.

United States
I recommend this product
Best smartwatch in my collection
I'm a world-class competitive skydiver and have used Amazfit bands/watches since 2018 for tracking my training progress, sleep patterns, PAI, etc. The GTR 2e is the best so far in the Amazfit family. I own a Bip, an X, and the GTR 2e -- the GTR 2e is the best of the bunch. I've activated all the notifications and health tracking features, and the GTR 2e is tracking to go for 23 days between charges. I ditched the Apple Watch and my FitBit because of the much shorter battery life. I like putting the Amazfits on and not have to worry about charging for several days. As a world-class competitive skydiver, I want a tracking watch with robust features, long battery life, great looks, responsiveness, and comfort.
02/08/2021
Brian K.

United States
I recommend this product
Clean Modern Design
I was looking for a clean thin design smartwatch. The GTR 2e has all the features I was looking for - a modern analog style watch face (I prefer the primary black one), several day battery life, text messages and basic notifications of easily selected phone apps and the weather at a quick glance. I also use additional features such as heart rate, steps, sleep monitoring, SpO2, as well as the compass and altimeter. All of these have very clean well designed skins. I was able to hide things I wasn't using. The right swipe has an additional stack of customizable apps. The watch is very comfortable, fits and wears well. I only take it off when I am charging it, shower or when the watch could be placed in danger of being harmed. I don't notice it while sleeping. The water proofing is a definite plus for me. I added a matte chocolate brown leather watch band to the GTR 2e (inspired by the Gen 5 Carlyle HR) for casual weekend duty. I use the silicone band for work, and also have a black leather band. As a side note, when placed side by side the GTR 2e is an excellent match to my OnePlus 6T McLaren with the OP carbon case. Happy with the purchase.
02/08/2021
Bruce S.

United States
I recommend this product
Great
Wonderful, helps with health stats, and very user friendly.
02/06/2021
Pete D.

United States
I recommend this product
Amazfit GTR
Great experience. Ordered and arrived earlier than expected.