AMAZFIT RELEASES GTR 3 PRO LIMITED EDITION WITH PREMIUM ARTISTIC DESIGN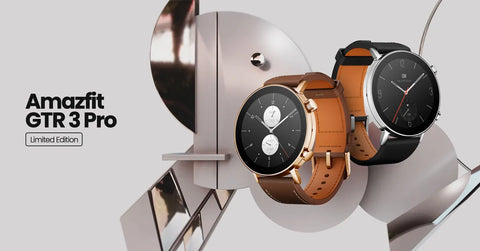 The ultimate fusion of classic style and modern fashion to inspire a smart and healthy lifestyle.
Amazfit, a leading global smart wearables brand of Zepp Health (NYSE: ZEPP), is releasing a limited edition of the GTR 3 Pro. Featuring a carefully-polished stainless steel watch body and finely-carved rotatable crown, along with the brand's comprehensive and easy-to-use health management features, this aesthetic masterpiece is built to inspire a healthy, smart and stylish lifestyle.
Premium Artistic Design
Influenced by the Bauhaus movement, the Amazfit GTR 3 Pro Limited Edition represents the ultimate fusion of classic style and modern fashion. The smartwatch features two color options including Mystic Silver and Sleek Gold. The hand-crafted watch body is made from sleek and strong stainless steel, and complemented by a soft, skin-friendly leather strap, making it the perfect smartwatch for users looking for a premium combination of practicality, aestheticism and comfort.
Easy 24H Health Management
The advanced biosensor of the Amazfit GTR 3 Pro Limited Edition allows users to monitor their heart rate, blood-oxygen saturation and stress level throughout the day, and even test these three metrics (along with breathing rate) simultaneously with a single tap – for a result in as little as 45 seconds. Users can even check their sleep data quickly, easily, and directly on the watch screen when they wake up, to further realize the promise of Smart Health Made Easy.
Smart Fitness Management
More than 150 built-in sports modes and smart recognition of eight sports allow users to manage their fitness routine with minimum input. Amazfit's self-developed PeakBeats™ algorithm helps users professionally understand their workout status, with specialized data like maximum oxygen uptake (VO² Max), full recovery time, training load and training effect.
Powerful Zepp OS & App-support
Featuring smooth animations and a tailored- UI, the Amazfit GTR 3 Pro Limited Edition's intuitive Zepp OS allows for seamless navigation while consuming less power. The rich mini-app ecosystem includes 10+ mini-apps, as well as support for the Home Connect and GoPro third-party apps.
Listen to Your Music & Receive Bluetooth Calls
Through Bluetooth connection to your phone, the Amazfit GTR 3 Pro Limited Edition can receive phone calls, and also be used to easily control the music on your phone. You can even store up to 470 songs on the watch for independent music playback.
Long 12-day Battery Life
The Amazfit GTR 3 Pro Limited Edition is packed with an extensive list of powerful features, yet still has enough endurance to last for up to 12 days with typical usage, and up to 30 days when on Battery Saver Mode.
Pricing and Availability