Customer Reviews
Write a Review
Ask a Question
09/26/2023
Andre L.

United States
I recommend this product
Incredible watch!!!!
The watch is amazing. software very friendly and easy to use. The GPS is working very well friends with Garmin ridding together had the same metrics, and Falcon is much more looking good. On other thing is the materials construction, very resistant, but at the same time the strap (silicone) do a great job very soft touch.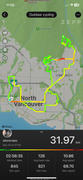 09/25/2023
Justin V.

United States
I recommend this product
Very good watch for the price overall
Love the quality of the watch It truly is made with top notch materials. Great battery life. GPS Accuracy is decent but tends to shorten runs a tad. Not bad though. 10.08 vs 10.14 miles. possible software update could fix. Bluetooth headphones cut out more than I would like. need stronger Bluetooth or better antenna. Possibly software update could fix. Water intake tracking apps need to have an imperial option for those of us in the united states. Cannot find access to smart alarm that is mentioned in manual. Would Like to see a body battery feature like Garmin. Definitely doable with an update. Hope to see years of product support and updates to continue to work out kinks at this price point. If product support continues then would definitely purchase another high end Amazfit.
09/20/2023
Anonymous

United States
I recommend this product
Nice watch
So far it has been great. Only thing is sometimes it takes about a quarter mile to figure out that I am walking. If I remember I start it manually.
08/03/2023
Matt M.

United States
I recommend this product
Falcon Review
It was excellent. I owned a Garmin; however, I love this watch more. It is more comfortable on my wrist and I like the look much better than my Garmin.
12/14/2022
Shakiv R.

United States
I recommend this product
A Trend Setter of Premiumness
Excellent built quality. I loved the fact that Amazfit didn't trade off any quality material for price issue. The unibody titanium & sapphire glass are just so mind blowing and elegant. Pls keep continuing this trend and set a industry standard. People will not care about price if built quality is premium. However, there are 3 major improvement areas: 1. The distance measured with GPS varied around 200 meter less for a 10km run when compared to Garmin Fenix. 2. Can't find any altimeter yet. This is so important feature for a sports watch. 3. Pls ship the watch with a protective casing. It's too beautiful to be scratched off during work out. Can't find a third party casing yet.