X
Thanks for Subscribing!
The email format is incorrect!
Breaking Limits
Amazfit Falcon
Please update your smartwatch for the full experience.
Premium
Multi-sport GPS Watch
AI-powered Guidance with Zepp CoachTM
Advanced Training Support
Titanium Unibody & Sapphire Glass Screen
Dual-band & 6 Satellite Positioning Systems
20 ATM Water-resistance

Update - November 2023
Offline maps for 10,000+ ski resorts worldwide are now available for download from the Zepp App. Check out ski slope information and a whole lot more.
Your Skiing workout modes have been given a boost, with your watch now being able to recognize when you're skiing downhill.
Strong & Accurate
GPS Tracking
Precise Dual-band Positioning
6 Satellite Positioning Systems
Offline Map Support
Route Import & Real-time Navigation
Advanced
Training Support
AI-powered Zepp CoachTM
Create Training Templates
Strength Exercise Recognition
160+ Built-in
Sports Modes
Smart Recognition of 8 Sports
Track Run Mode & Trajectory Correction
Triathlon Sports Mode
Review & Share
Your Performance
Sync Workout Data to Strava & adidas Running
PeakBeatsTMWorkout Status Algorithm
Premium
Materials
High-strength Titanium Unibody
Sapphire Crystal Glass Screen
HD AMOLED Display
Crafted for
Action
20 ATM Water-resistance
Resistant to High-speed Water Sports
Passed 15 Military-grade Tests
Battery Power at
Peak Performance
Ultra-long 14-day Battery Life
24/7 Health
Management
24H Heart Rate, SpO2 & Stress Monitoring
Test 4 Health Metrics in 1 Tap
Track Sleep Quality & Daytime Naps
Health-centered
Zepp OS2.0
Power-efficient Operating System
Seamless User Experience
Rich Ecosystem with 3rd Party Apps
Connect to Professional Workout Devices
SIGN UP FOR THE LATEST
AMAZFIT FALCON INFO
Get the latest on coupons, promotions and product updates.
At the San Francisco Marathon
Hear From Our
Community.
@naxtop
As an ultra-cyclist, what I look for the most is a smartwatch that has the longest durability of its battery. The Amazfit Falcon's battery has exceeded all my expectations. It's just amazing how a smartwatch with a touchscreen can last so long.
@rstokesfitness
The Amazfit Falcon is a great resource for any type of athlete. The many sport functions are very accurate and useful. The design of the watch is also sporty, yet classy. I love my Amazfit Falcon, and would put it up against any competitor.
ZyjZpasji
It was great experience to test this sports watch for the first time. I never used any kind of sports watch before - it took me to the next level of my workouts. Many features were very helpful, like blood-oxygen saturation and step count. Thank you for giving me a chance to test this amazing piece of art!
Krzysztof Wlodek
The Amazfit Falcon looks great. It is a sport smartwatch, but can also fit with formal clothes. Its battery is really durable; after 200km on rollerblades (about 20 hours) using GPS all the time, the battery still had 40% left. The GPS is very accurate and never loses the signal. There are many sport modes, which show the most important statistics, which are essential for sports people. We can also check our health statistics and even the weather conditions. I really recommend buying this watch.
6 Satellite Positioning Systems1
Strong and
Accurate
GPS Tracking.
While devices which only pick up L1 GPS signals are enough for some, they've been known to struggle with signal strength and consistency in areas with tall trees or high buildings - especially if the device has a metallic structure.

That's why the Amazfit Falcon picks up both L1 and L5 GPS signals.
This dual-band positioning enables the watch to maintain signal strength and consistency, even in dense areas like cities,
for accurate GPS tracking that's unimpeded by environmental interference,

and the watch's tough titanium body.
AI-powered
Sports Guidance.
The Zepp CoachTMis a self-developed smart coaching algorithm that offers AI-powered tailored guidance to help you train and recover more scientifically2.
There's no need to perform any fitness tests or assessments before you begin - your workout plan is based on your physical characteristics and exercise experience level, so the guidance offered is tailored to you.
The Zepp CoachTMmonitors your fatigue level, fitness level, and training status, and does its best to help you hit the right balance. If you're in an overtrained state, your scheduled training load may be reduced - or you may even be recommended to take a rest day - to help you avoid risk of injury or exhaustion.
Whether you're new to working out or have years of workout experience, the Zepp CoachTMcan give you the motivation, knowledge and confidence to improve your sports performance and build better fitness habits.
Connect to
External
Workout
Devices.
It's time to step up your cardio game. The Amazfit Falcon can connect to professional workout devices like heart rate belts, cycling power meters and cycling cadance meters via Bluetooth, so you can take a professional approach to your training.
Set Your
Template
for Success.
Create plans for your own training templates for 11 different sports3.
Divide templates into Warm Up, Training, Rest, Recovery, and Warm Down stages.
Stages can be repeated up to 30 times per template.
Set the watch to send reminders or automatically change
stages based on your performance metrics.
Create interval training templates directly on the watch.
A Gym
Partner You
Can Rely On.
The Amazfit Falcon can automatically recognize the movements and count the reps of dozens of strength training exercises4, many of which have adjustable variations in the Zepp App.
The watch can track your reps, sets and rest time - and after your workout, the Zepp App will show you the muscle group you exercised, to help keep your training targeted and efficient.
160+ Built-in
Sports Modes.
From intense high-speed water sports like Kite Surfing, to the leisurely Golf Swing mode, to the Triathlon mode for tough athletes - whichever activity allows you to spread your wings, you'll likely find a sports mode for it on the Amazfit Falcon.
Smart
Recognition
of 8 Sports
Fly into action quickly and easily with automatic recognition5 of:
Outdoor
Running
Indoor
Walking
Walking
Elliptical
Treadmill
Outdoor
Cycling
Rowing
Machine
Pool
Swimming
Sports Data
That Stays
On-screen.
The display stays awake the entire time you're using a sports mode, so you can easily check your data.
Note: This feature needs to be enabled in the watch settings or Zepp App.
Live Broadcast
of Sports
Data.
The watch can be set to broadcast6 sports mode data through your Bluetooth headphones. Keep up with metrics like distance, duration and more, in real-time and without raising your wrist.
Music Storage
& Control.
Store music on the watch7 and listen through your Bluetooth headphones.
Track Run
Mode & Smart
Trajectory
Correction.
Watch yourself break your own records every time you lace-up your running shoes. The Track Run mode provides professional performance data like Time, Distance, and Cadence for every lap.
And based on which racetrack lane you choose to run in, the watch's algorithm can automatically correct8 your trajectory and distance to accurately match your selected lane if positioning signals momentarily become weak.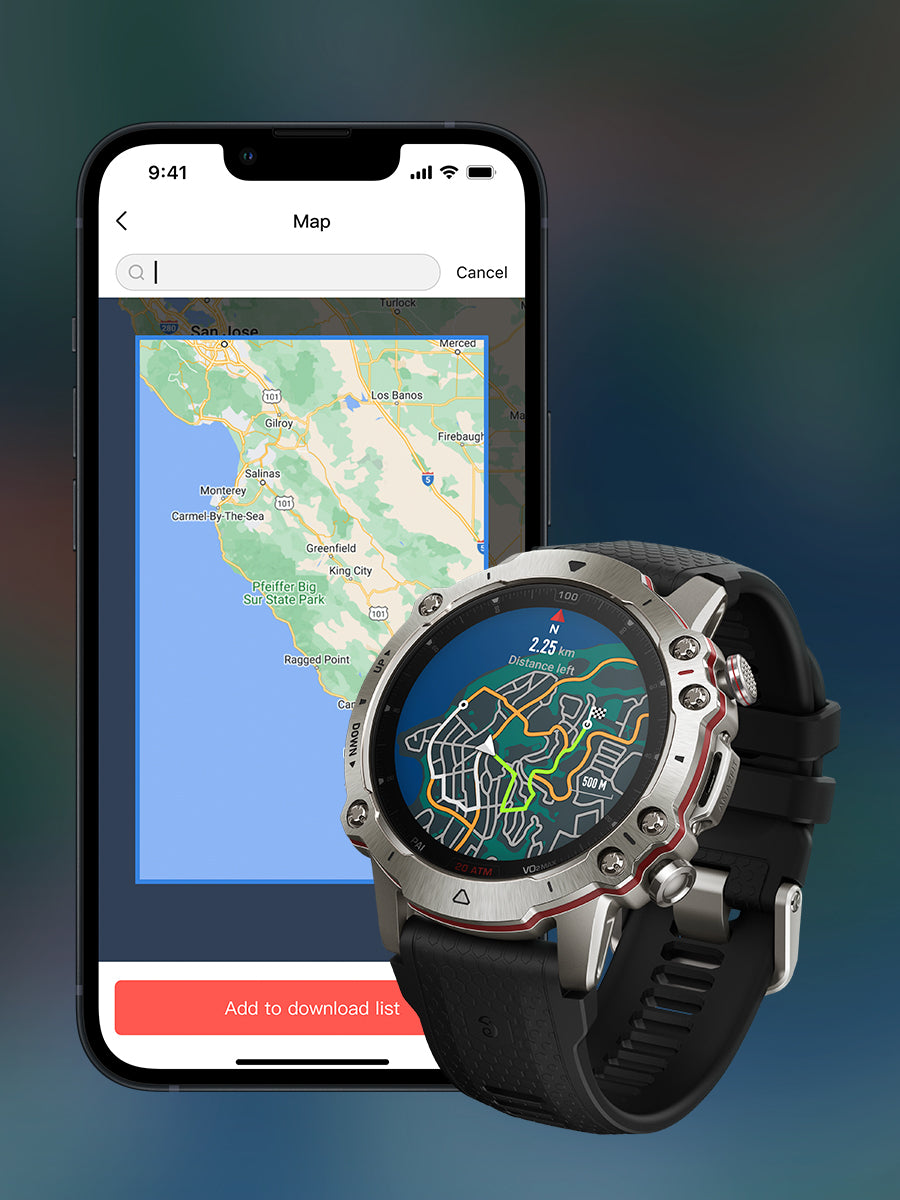 Understand
Your Surroundings
with Offline Maps

When you're scheduling an outdoor workout, search the Zepp App for a map of your planned location and download it to the watch.
When applied to an outdoor sports mode, your position will be overlapped onto the map and will update in real-time as you move.
You can even select a matching imported route file to navigate a certain path on the map.
*The Amazfit Falcon can be used as a map browsing tool to import OSM map files. Display of offline maps is only compatible with sports modes which support GPS positioning.The downloaded offline map must match your real location to be displayed, and a route file must be imported for navigation – it's not possible to choose a point on the offline map for navigation.
Break Limits at
10,000+ Ski
Resorts
Worldwide.
Whether you're going alpine skiing or cross-country skiing, find the slope that suits you.
Maps with both single and double track designs come complete with color-coded trails, to help you find the one that suits your skill level. The best slopes for night-time skiing are even highlighted with a touch of yellow.
With precise guidance for both hiking trails and cable cars, these winter maps turn your Amazfit Falcon into the ultimate skiing companion.
The new ski maps are supported once the latest software update is downloaded in the Zepp App and installed on the watch.
Route Import and
Real-time Navigation9.
Import a route file to the watch from the Zepp App and navigate your way along it in real-time.
Track your unique GPS movement in real-time, directly on the display.
See the shortest straight line back to the starting point of your journey when you're in a hurry.
Sync to
Third-party
Fitness Apps.
Show your friends that you have what it takes to break your limits. Sync data10 from your workouts to Strava, Apple Health, Google Fit, Relive, Komoot, and - thanks to a partnership between Amazfit and adidas Runtastic - to the adidas Running app.
Review Your
Performance.
When you're done working out, the PeakBeatsTMworkout status algorithm summarizes your performance through data including maximum oxygen uptake (VO2 Max), full recovery time, training load and training effect, to help you understand factors that can affect your recovery, progress and exercise capacity.
Premium Materials,
Crafted for Action.
The Amazfit Falcon is built for the elite, and those to aspire to be.
Titanium Unibody11
High-strength and lightweight.
Aircraft-grade material resistant to corrosion.
Exquisitely balances toughness and class.
4 Control Keys
Made from titanium, and titanium alloy.
Easily control the watch during workouts.
Liquid Silicone Strap
Light & breathable with a titanium buckle.
Seductive Sapphire
Crystal Glass Screen.

Refined, regal, and ready to resist your roughest workouts, the watch's sapphire crystal glass screen has a Mohs hardness rating of nine out of a possible 10 - putting it just below diamond on the mineral hardness scale.
Mesmerizing
HD Clarity.
Whether you're starting your day with a run in the early morning sunlight, or cycling home from a late-night gym session, the large HD AMOLED display is super clear with

brightness up to 1,000nit.
Choose a watch face with a matching always-on display12, to keep an eye on the data that matters to you.
Passed 15
Military-grade
Tests13.
Wear your Amazfit Falcon as you power through an assault course, dirt-bike ride through the desert, or ski down snow-covered mountains.
70°C
Heat-resistance
-40°C
Cold-resistance
240h
Humidity-resistance
96h Salt
Spray-resistance
Ice- & Freezing
Rain-resistance
Shock-resistance
Swimming
Heart Rate Monitoring
Dive Deeper
with 20 ATM
Water-resistance.
Wear the Amazfit Falcon while you swim, surf or take part in high-speed water sports like jet-skiing. Capable of enduring the equivalent of up to 200 meters' water pressure14, the watch's hardware has even passed tests to prove that it's tough enough to resist diving15.
Battery Power
at Peak
Performance.
The Amazfit Falcon has the endurance16 to help you crush your goals for up to two weeks on a single charge, thanks to its large-capacity battery that has a 500 mAh rated value.
Easy 24/7
Health Monitoring.
24H Monitoring17 of:
Heart Rate
Blood-oxygenSaturation
Stress Level
Test 4 Health18
Metrics in 1 Tap.
Heart Rate
Blood-oxygen
Saturation
Stress Level
Breathing
Rate
In-depth Sleep
Monitoring19 of:
Sleep Quality &
Daytime Naps
Light, Deep
& REM Sleep
Stages
Sleep Breathing
Quality
The Little Details
Make a Big Difference.
PAI Health
Assessment System
A simple and personalized health overview score, maintaining a PAI score of 100 or higher has shown through scientific study to lower risk of hypertension and heart disease20.
The watch can even send reminders* for:
Abnormally High or
Low Heart Rates
Abnormally Low
SpO2 Levels
Abnormally High
Stress Levels
Stress-reducing
Breathing Exercise
*Alerts and reminders need to be enabled in the watch settings or Zepp App.
Health-centered
Zepp OS & Third-party Apps.
The Zepp OS utilizes a specifically tailored smartwatch UI, complete with intuitive interactions and smooth animations, to optimize power-efficiency. Easily find what you're looking for and monitor your most important health metrics for longer, with the Zepp OS2.0.
The rich app ecosystem includes over 10 mini apps, as well as the Home Connect and GoPro third-party apps, to keep you ready for action whether you're at home or on-the-move.
Live a Limitless
Lifestyle.
Password
Protection
Calendar
Do Not
Disturb
Alarm
Clock
World
Clock
Stopwatch
Flashlight
Find Phone
Weather
Compass
Call Reminders
More...
Connect to the
Zepp App.
The Zepp App on your phone conducts health and exercise data display and analysis, features a watch face store, provides system updates for your watch, and facilitates smart device management.
Technical Specifications
Design
Titanium (Supersonic Black)
Strap
Liquid Silicone, Quick release
Packing List
Smartwatch (including standard strap), 5-pin plug charger, instruction manual
Supported Devices
Android 7.0 and above, iOS 12.0 and above
Display
Sapphire crystal glass + anti-fingerprint coating
Sensors
BioTrackerTM3.0 PPG biometric sensor (supports blood-oxygen, 6PD)
Acceleration sensor, Gyroscope sensor, Geomagnetic sensor
Barometric altimeter, Ambient light sensor
Dual-band & 6 satellite positioning systems
WLAN 2.4GHz21
Bluetooth 5.0 BLE
Sports & Health Features
Sports Features
25 strength training movements
8 sports movements
Training templates (via Zepp App)
Interval training (via the watch)
Track Run mode
Smart trajectory correction
Virtual pacer
Heart rate belt
Power meter
Health Features
24-hour heart rate
24-hour blood-oxygen saturation
24-hour stress level
Swimming heart rate
Heart rate
Blood-oxygen saturation
Stress level
One-tap measurement
Sleep stages (including REM)
Daytime naps
Sleep breathing quality
Sleep score
Abnormally high & low heart rate
Low blood-oxygen
High stress level
Prompts to perform Breathing Exercise
160+ Sports Modes
Outdoor running, Treadmill, Walking, Trail running, Indoor walking, Race walking, Track run
Outdoor cycling, Indoor cycling, Mountain biking, BMX
Pool swimming, Open water swimming, Fin swimming, Artistic swimming
Climbing, Hiking, Ski orienteering, Rock climbing, Fishing, Hunting, Skateboarding, Roller skating,
Parkour, ATV, Offroad motorcycle
Elliptical, Rowing machine, Stair-climbing machine, Stair stepper, Spinning, Indoor fitness, Mixed aerobics, Cross-training,Aerobics, Group calisthenics, Body combat, Strength training, Step training, Core training, Flexibility training, Free training, HIIT,Yoga, Pilates, Gymnastics, Horizontal bar, Parallel bars, Battling ropes, Stretching
Square dance, Ballroom dance, Belly dance, Ballet, Street dance, Zumba, Latin dance, Jazz dance, Hip-hop dance, Pole dance,Break dance, Folk dance, Dance, Modern dance, Disco, Tap dance
Boxing, Wrestling, Martial arts, Tai Chi, Muay Thai, Judo, Taekwondo, Karate, Kickboxing, Fencing, Jiu-Jitsu, Kendo
Soccer, Beach soccer, Basketball, Volleyball, Beach volleyball, Baseball, Softball, Rugby, Hockey, Table tennis, Badminton, Tennis, Squash,
Gateball, Cricket, Handball, Bowling, Polo, Racquetball, Billiards, Sepak takraw, Dodgeball, Water polo, Ice hockey, Shuttlecock, Indoor soccer,
Footbag, Bocce ball, Pelota, Floorball, Golf swing
Outdoor boating, Sailing, Kayak, Rowing, Dragon boat, Paddleboarding, Indoor surfing, Tubing, Water skiing, Snorkeling, Kite surfing, Jet ski, Wakesurfing
Skiing, Snowboarding, Downhill skiing, Cross-country skiing, Ski orienteering, Biathlon, Outdoor skating, Indoor skating,
Curling, Bobsleigh and tobogganing, Sledding, Snowmobile, Snowshoeing
Hula hooping, Frisbee, Darts, Kite flying, Tug-of-war, Jianzi kicking, Esports, Air walker, Swing, Shuffleboard, Foosball, Motion sensing game
Chess, Checkers, Go, Bridge, Board game
Jumping rope, Archery, Equestrianism, Driving, Stair climbing, Triathlon, Paragliding
Notes
1. Indoor positioning services are not supported. Positioning speed and accuracy may be affected bythe surrounding environment. The number of satellites connected to simultaneously, and specificsatellite connections, may depend on your location.
2. The Amazfit Falcon comes with Zepp Coach Version 1.0, which will be upgraded to Version 2.0 in future.
3. The list of 11 sports that are compatible with training templates and interval training include:Outdoor running, Treadmill, Outdoor cycling, Indoor cycling, Pool swimming, Rope skipping, Rowing machine,Indoor fitness, Core training, Strength training and Stair climbing. Training templates need to be createdon the Zepp App, and up to 40 templates can be stored at a time; interval training can be set directly on the watch.
4. Smart recognition of strength training exercises can only be engaged within the Strength Training sports mode, and it supports recognition of:Bodyweight squats, Bodyweight straight arm front squats,Barbell squats, Tricep pushdowns, Bent over rows, Barbell bench press, Sit-up holds, Knee-touchsit-ups, Dumbbell flys, Burpees, Burpee jumps, Overhead tricep extensions, Lying tricep extensions,Lateral raises, Jumping jacks, Lat pulldowns, Deadlift, Push-up, Shoulder press, Pull up, Bicepcurls, Seated cable rows, Dumbbell drag curls, Straight-arm pulldowns, Russian twists. If anexercise is not auto-recognized by watch, the Zepp App can provide a list of muscle groups orexercise names to choose from.
5. The accuracy and sensitivity of the workout recognition feature varies from person to person, andare related to the posture and proficiency of the user during their workout. Short workout durationor frequent changes in posture may not trigger the automatic recognition feature. When you aredriving a car or taking a bus, or taking part in other such activities, accidental recognition maybe triggered if these activities are particularly similar to the selected workout mode. When you areconducting outdoor activities, if the GPS signal is poor or the AGPS data information has not beensynchronized with the mobile phone for an extended period, these outdoor activities may be assessedas indoor activities.
6. Live Sports Data Broadcast supports English and Chinese voice broadcasts.
7. The maximum storage space for music is 2.3GB (due to the system space occupied, the actual spaceused by the user may be less than 2.3GB); based on 5-10MB per song, it can store up to 270-470 MP3songs. The watch has no built-in speaker, so connect via Bluetooth to your TWS earbuds to listen tomusic.
8. Track Run mode and Smart Trajectory Correction only support 200 meter and 400 meter running tracklengths.
9. Direct Return Navigation: the shown straight line back to the start of a journey may not be a practicalroute to follow due to environmental factors; this is only intended to help you keep track of your positionin relation to the start point of the journey. Navigation functions are compatible with these 18 sports modes:Outdoor running, Walking, Outdoor cycling, Climbing, Hiking, Cross-country skiing, Mountain biking, BMX, Outdoor boating, Bobsleighand tobogganing, Sledding, Ski orienteering, Biathlon, Race walking, Snowshoeing, Trail running, Orienteering, Open water swimming.
10. adidas Running requires Zepp App version 7.1.0 or higher. Strava, Relive, and adidas Runningavailability may vary depending on your country or region. Apple Health is only available on iOSdevices, and Google Fit is only available on Android devices.
11. The body of the watch is made from titanium, and the bezel is made from titanium alloy.
12. Always-on Display: When the screen is illuminated, it displays system content. When the screen isin standby mode, it displays the time. This function requires users to manually set "Always-onDisplay". The user can switch on or off this feature through the watch or Zepp App.
13. The relevant data on this topic comes from the following report: H202108187716-01EN. Prolongedexposure is not recommended as it may damage the watch and its components.
14. According to the ISO 22180:2010 standard, the Amazfit Falcon achieves a rating of 20 ATM, for awater-resistance of up to 200 meters, and is therefore suitable for splashes, snow, showering,swimming, or some high-speed water sports. It has passed third-party testing conducted by SGS, andthe report number is SHER210800027471. Remove the watch when taking a hot shower or trip to thesauna, since too much steam can affect the seal and make it less water-resistant in future. Do notwear the watch with a leather or metal strap when swimming - when preparing to swim, change to afluoroelastomer strap or other suitable type. For more information, please visit the support pageat: support.amazfit.com
15. According to the ISO 6425:1996 standard, the Amazfit Falcon has passed some tests that certifyits physical resistance to diving. It has passed third-party testing conduced by SGS, and the reportnumber is SHER220100004371. However, there is no dedicated diving sports mode.
16. The battery life may vary according to the settings, operation conditions and other factors. Sothe actual result may differ from the laboratory data.
Typical usage scenario: Heart rate monitoring is always on and measures at 10-minute intervals,sleep monitoring enabled; static watch face selected; 150 pushed messages a day; raise wrist to seewatch time 100 times; connect to headphones and play music for 30 minutes per week; testblood-oxygen 5 times per day; bright screen operations for 5 minutes per day; exercise 3 times aweek with GPS running for 30 minutes each time.
Battery Saver Mode: Engage the Battery Saver Mode on the watch, which turns off the Bluetoothconnection, heart rate and other functions, and only records steps and basic sleep information.
Heavy usage scenario: Heart rate monitoring is always on and measures at 1-minute intervals, sleepmonitoring enabled with 8 hours of sleep breathing quality monitoring, stress monitoring enabled;animated watch face selected; 150 pushed messages a day lighting up the screen display; raise wristto see watch time 100 times; connect to headphones and play music for 60 minutes per week; testblood-oxygen 5 times per day; bright screen operations 15 minutes; exercise 6 times a week with GPSrunning for 30 minutes each time.
Accuracy GPS Mode: Turn on heart rate monitoring and GPS movement (dual band, all satellites).
Balanced GPS Mode: Turn on heart rate monitoring and GPS movement (single frequency, GPS + Beidou).
Power Saving GPS Mode: Turn on heart rate monitoring and GPS exercise (single frequency, GPS lowpower consumption.
17. 24-hour monitoring of heart rate and blood-oxygen saturation (SpO2) needto be enabled in the Zepp App. For heart rate monitoring, the user must enable Auto Heart RateMonitor in the Zepp App, and the minimum value can be set to 1 minute. Abnormal heart rate alertsand the preset value need to be set in the Zepp App. To measure blood-oxygen saturation (SpO2), please wear the watch tightly at one finger-width from the wrist, andkeep your arm still for best results. SpO2 alerts are sent if the detectedrate is too low compared to the preset value, which needs to be set in the Zepp App, at a minimum of80%. Movement, and environmental and physical characteristics can affect speed and accuracy ofmonitoring and measurement. The 24-hour stress level monitoring needs to be enabled on the watch orin the Zepp App. Alerts for high stress levels are based on the preset value, and prompts for thebreathing exercise need to be enabled on the watch.
18. This product and the Zepp App are not medical devices and cannot be used for medical purposes, oras basis for diagnosis of any medical condition. Detection results are provided for reference only.Please consult professional medical institutions if you feel unwell. To process the one-tapmeasurement, please wear the watch tightly at one finger-width from the wrist, and keep your armstill for best results. Movement, and environmental and physical characteristics can affect speedand accuracy of monitoring and measurement.
19. Sleep monitoring can record night sleep and naps that last more than 20 minutes. Sleep BreathingQuality tracking needs to be enabled in the Zepp App or in the settings of the watch's Sleepfeature.
20. The HUNT Fitness Study indicates that people who maintain a PAI score of 100 or higher show lowerrisk of hypertension, heart disease, and type-2 diabetes. HUNT Fitness Study: This study wasconducted by Professor Ulrik Wisloff of the Faculty of Medicine, Norwegian University of Science andTechnology. It lasted for more than 35 years and had more than 230,000 participants. To use thisfunction, all-day heart rate monitoring must be enabled.
21. Wi-Fi can only be used for music transfer from your smartphone to the watch.
Statements
The product images and screen content shown above are for reference purpose only. The actual product(including but not limited to its appearance, color and size) and screen display content (includingbut not limited to the background, UI and graphics) may differ slightly.
The data that is provided on this page without a specified source is taken from internallaboratories or supplier data, and has been obtained under a specific test environment. Theproduct's actual performance may differ slightly due to product individual differences, softwareversions, usage conditions and environmental factors.
To provide product information, specifications and characteristics as accurately as possible, ourcompany may adjust and revise the text descriptions, images and other content in the above pages atany time. Due to real-time changes in product batches and production-supply factors, we may modifythe above information as required without providing a special notice.
The radio waves generated by the equipment may affect the normal operation of implanted medicalequipment or personal medical equipment, such as pacemakers and hearing aids. If you use thesedevices, please consult their manufacturers for restrictions on using this device.
The product should not be worn in environments with strong magnetic fields such as MRI machines ormedical imaging machines, as they may cause damage to the watch.
SIGN UP FOR THE LATEST
AMAZFIT FALCON INFO
Get the latest on coupons, promotions and
product updates.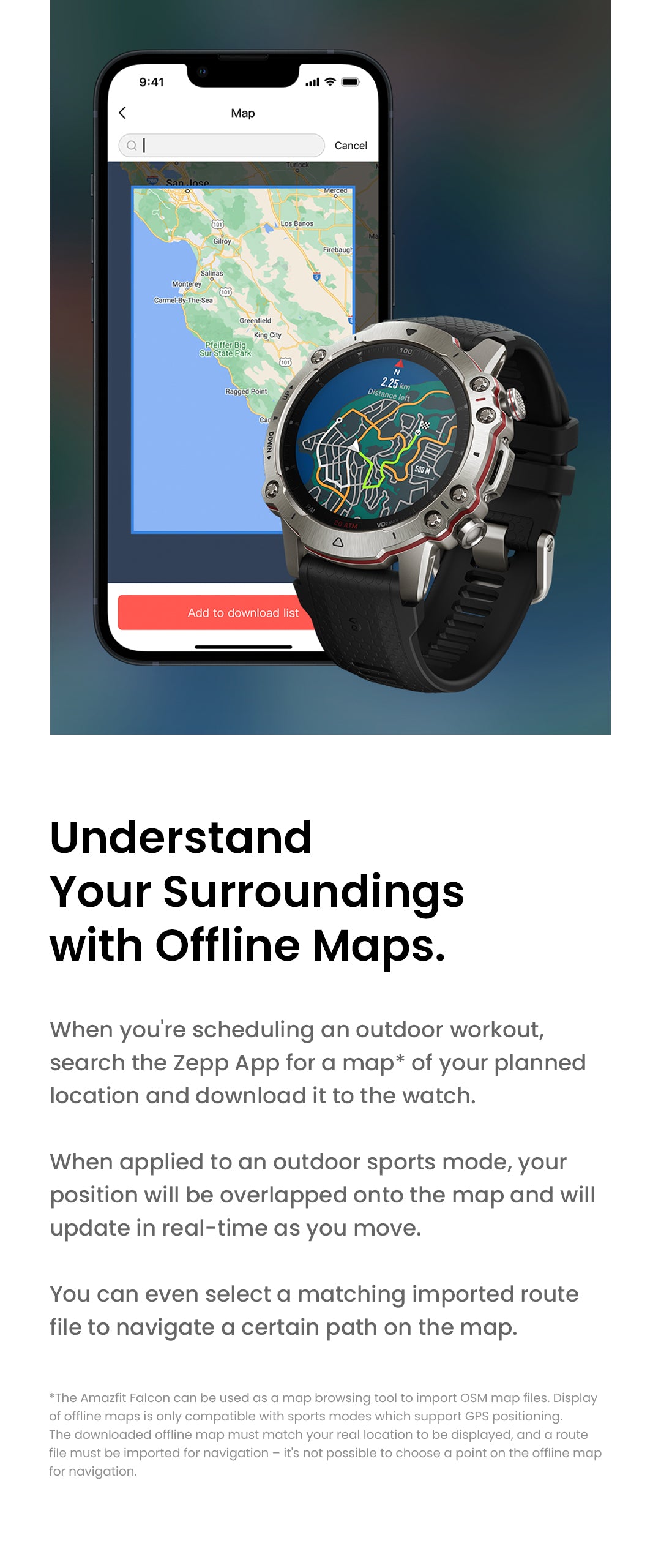 Customer Reviews
Write a Review
Ask a Question
10/25/2023
Andre N.

Canada
I recommend this product
Very good but with a map issue
the watch is very good. very well built, excellent materials. The Zeep app is very cool, complete and functional. Incredible battery. The only problem is that with the latest update and the introduction of the Maps app, nothing is working. You carry a map and the watch doesn't show you the navigation like it used to. I've tried contacting support and no response so far. If you are thinking about buying, wait until a new update corrects the error or you. you will have navigation, which for me is very important
10/02/2023
Anonymous

United States
I recommend this product
Falcon 2
The look is pretty amazing. Learning through the features but love the physical buttons.
09/26/2023
Andre L.

United States
I recommend this product
Incredible watch!!!!
The watch is amazing. software very friendly and easy to use. The GPS is working very well friends with Garmin ridding together had the same metrics, and Falcon is much more looking good. On other thing is the materials construction, very resistant, but at the same time the strap (silicone) do a great job very soft touch.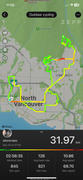 09/25/2023
Justin V.

United States
I recommend this product
Very good watch for the price overall
Love the quality of the watch It truly is made with top notch materials. Great battery life. GPS Accuracy is decent but tends to shorten runs a tad. Not bad though. 10.08 vs 10.14 miles. possible software update could fix. Bluetooth headphones cut out more than I would like. need stronger Bluetooth or better antenna. Possibly software update could fix. Water intake tracking apps need to have an imperial option for those of us in the united states. Cannot find access to smart alarm that is mentioned in manual. Would Like to see a body battery feature like Garmin. Definitely doable with an update. Hope to see years of product support and updates to continue to work out kinks at this price point. If product support continues then would definitely purchase another high end Amazfit.
09/20/2023
Anonymous

United States
I recommend this product
Nice watch
So far it has been great. Only thing is sometimes it takes about a quarter mile to figure out that I am walking. If I remember I start it manually.