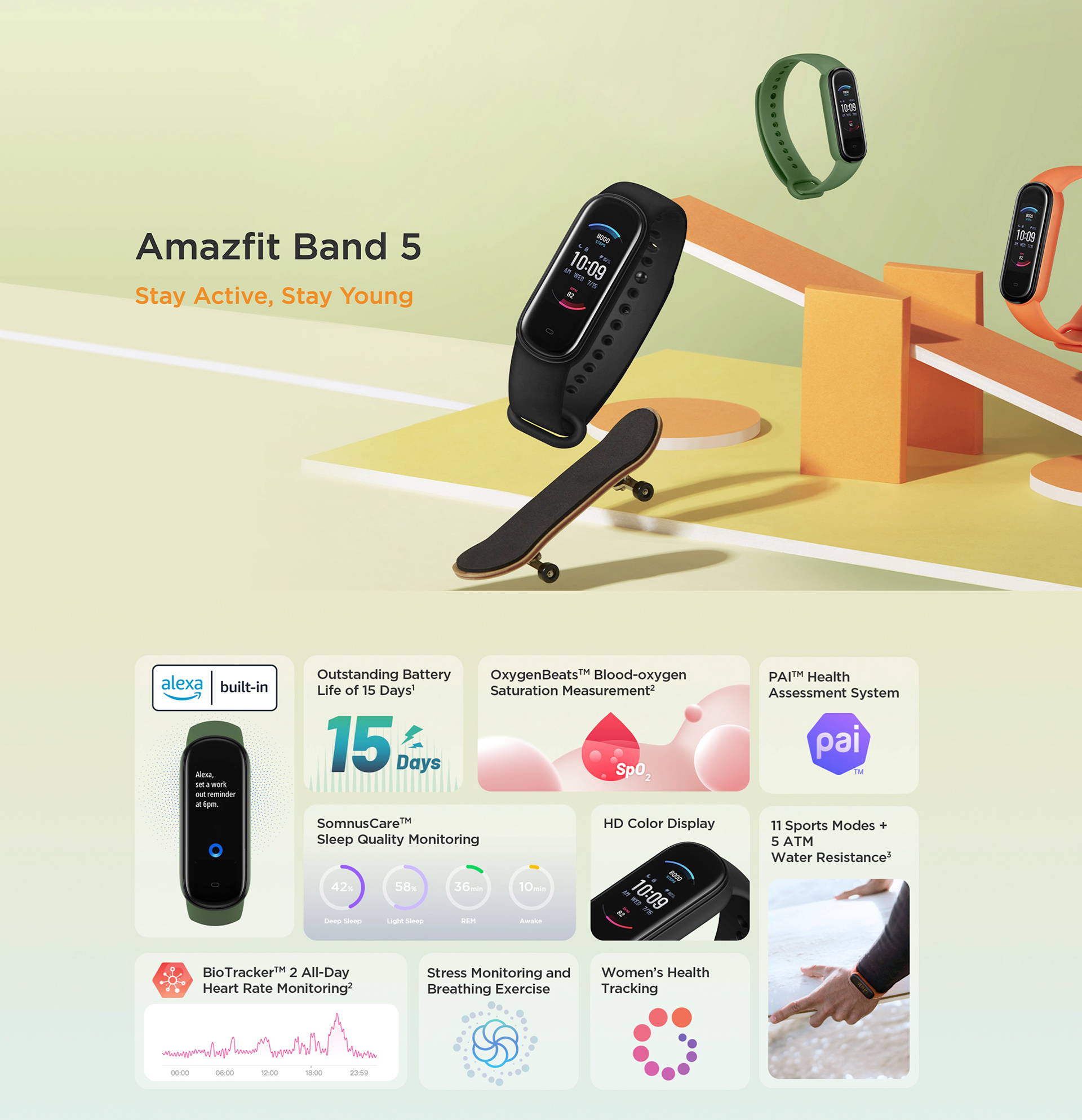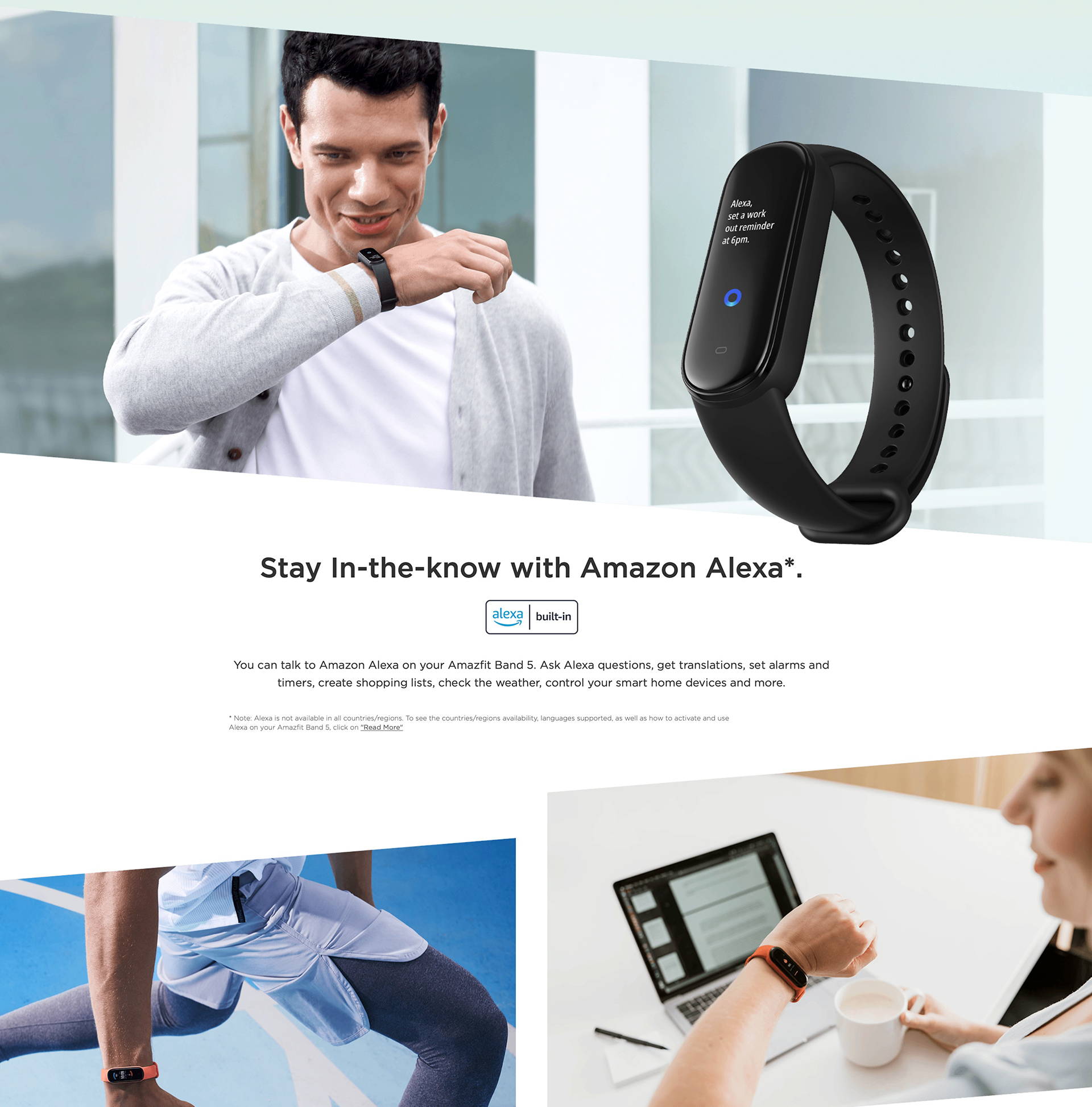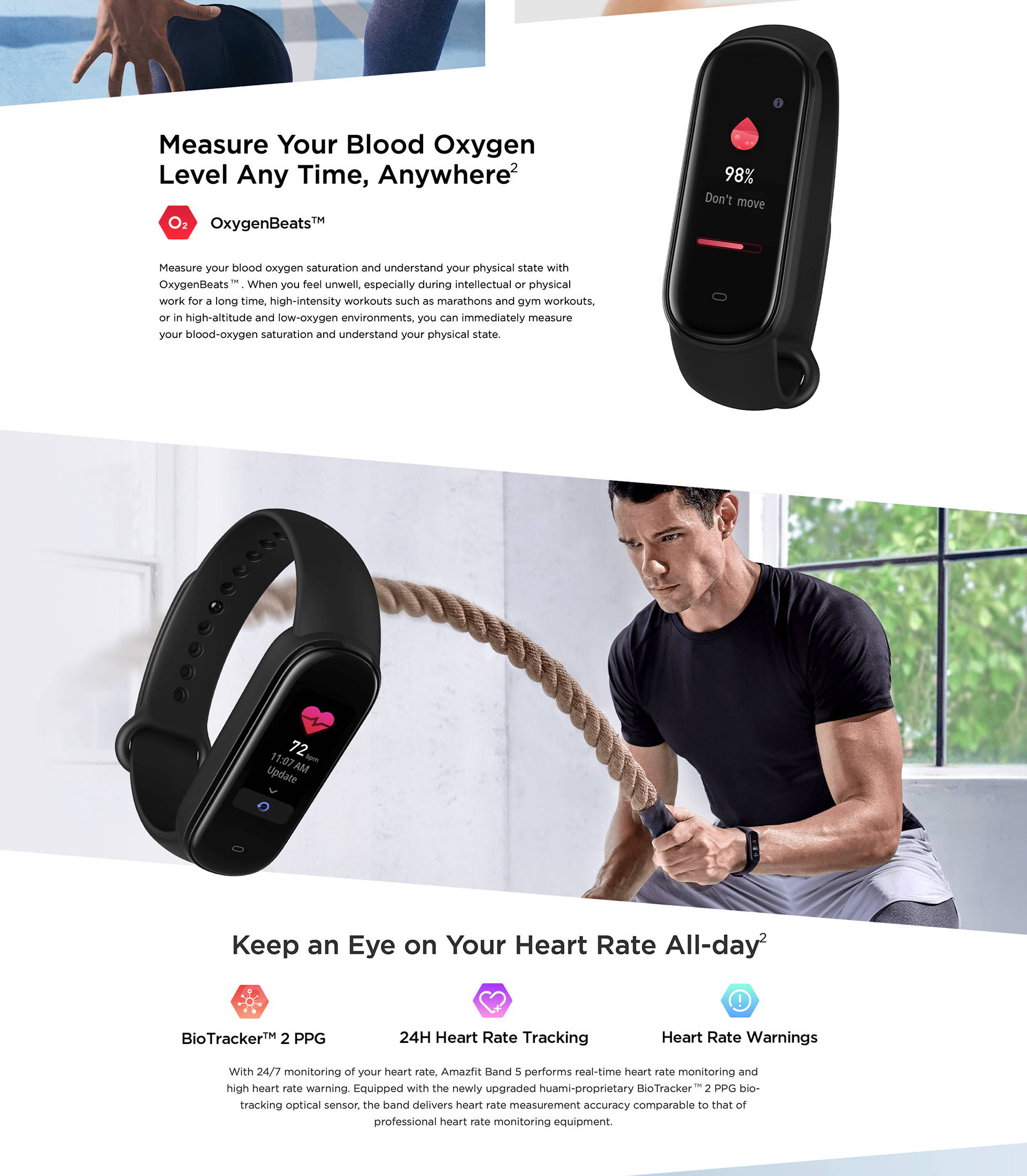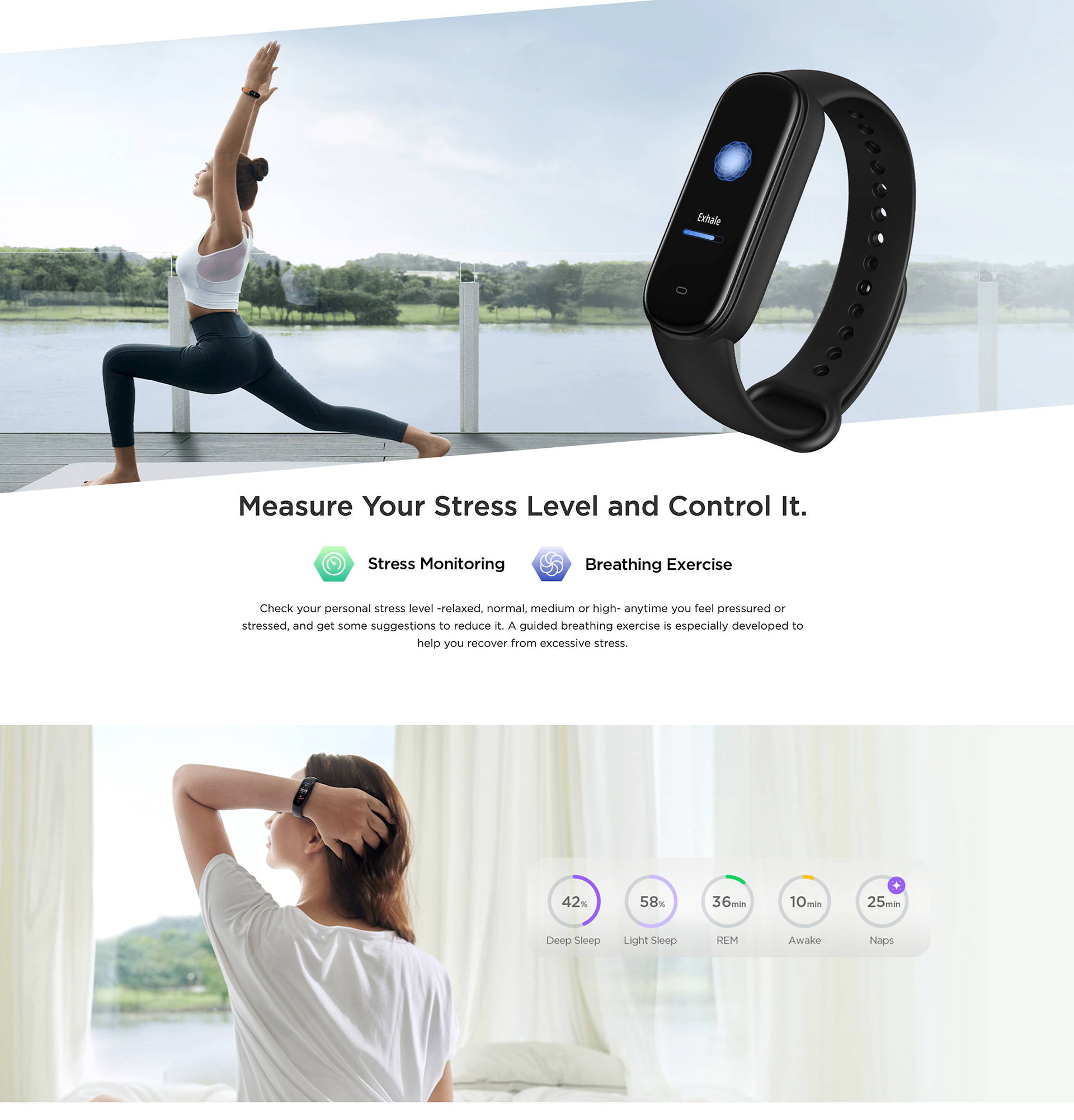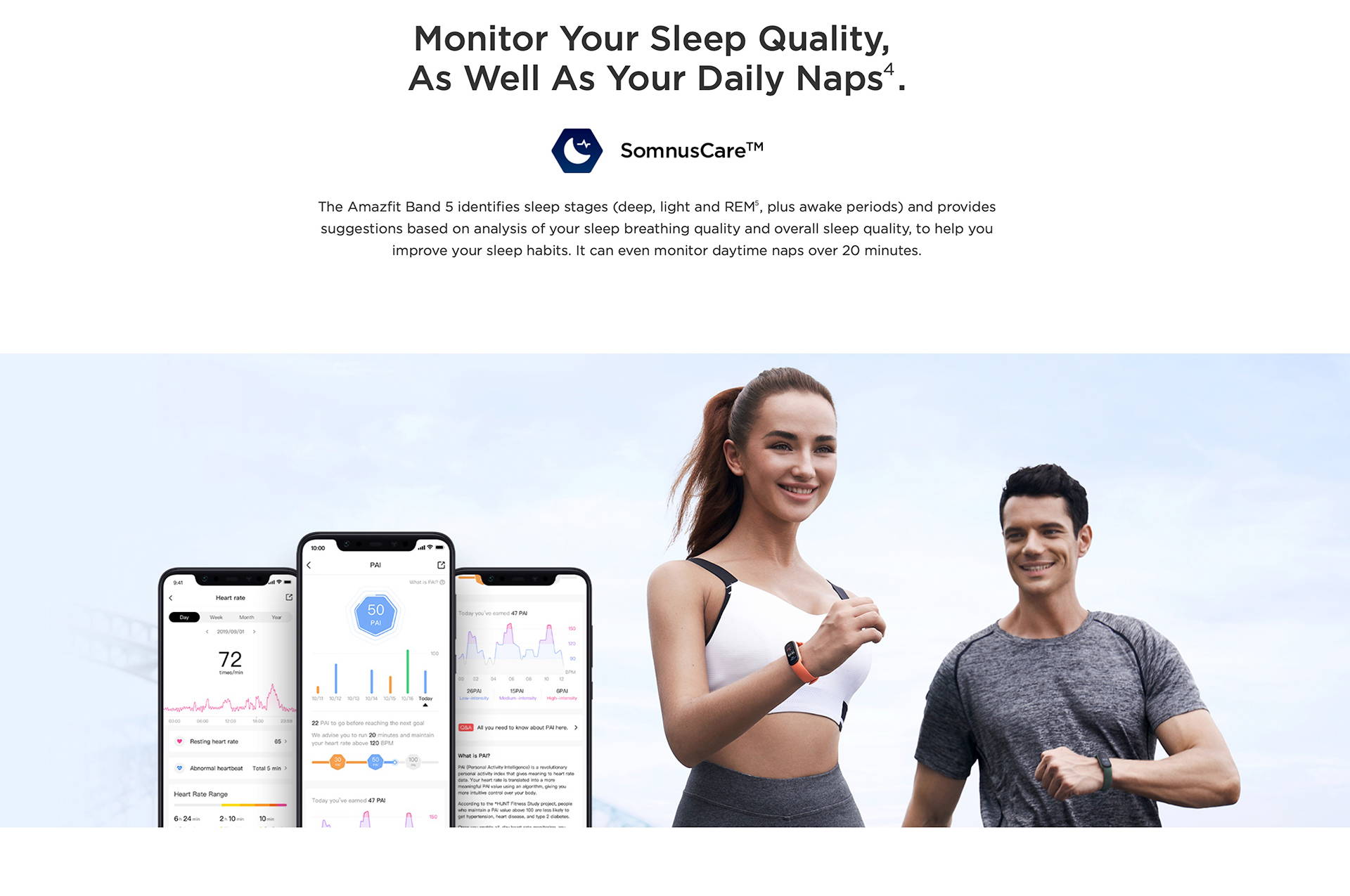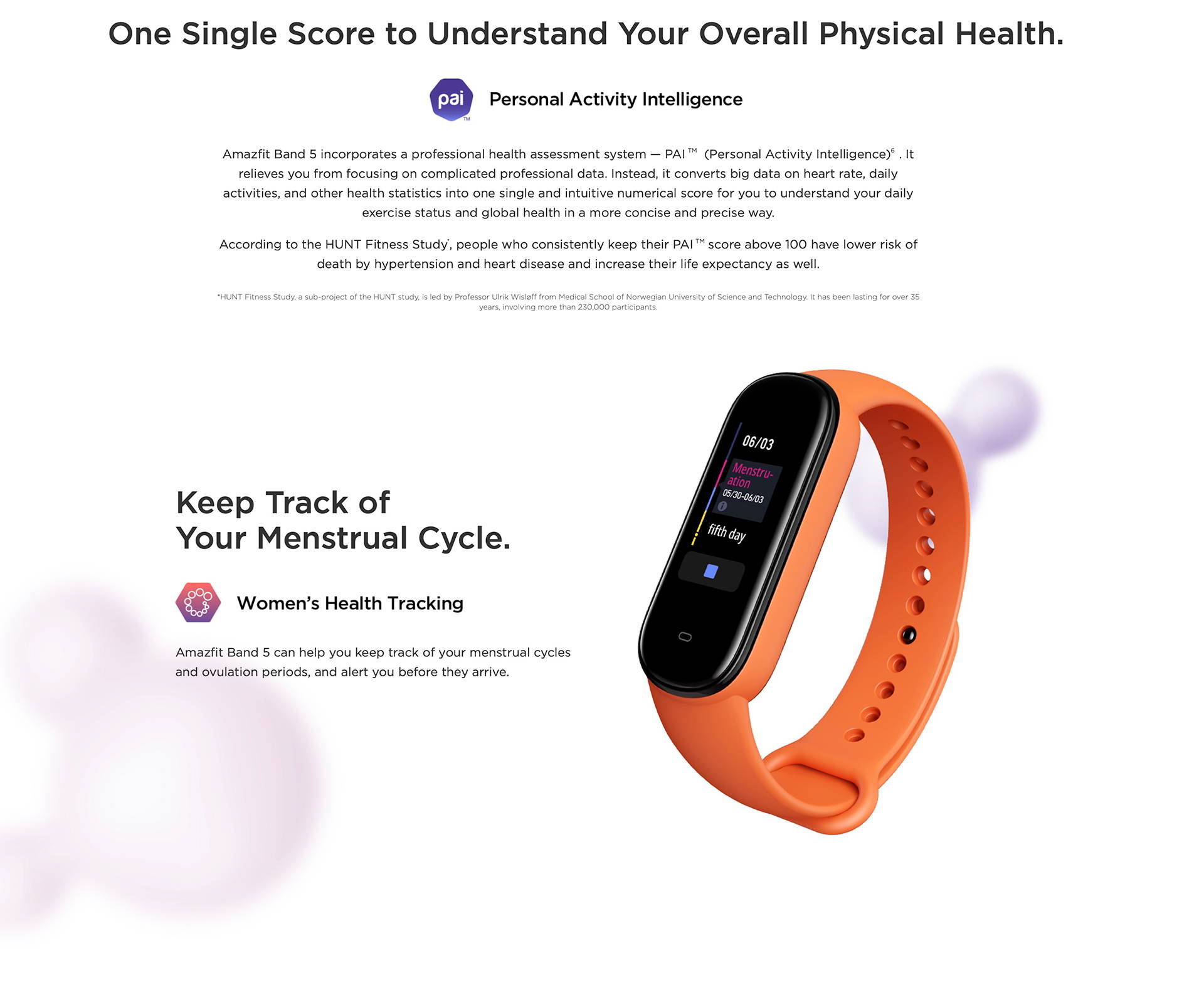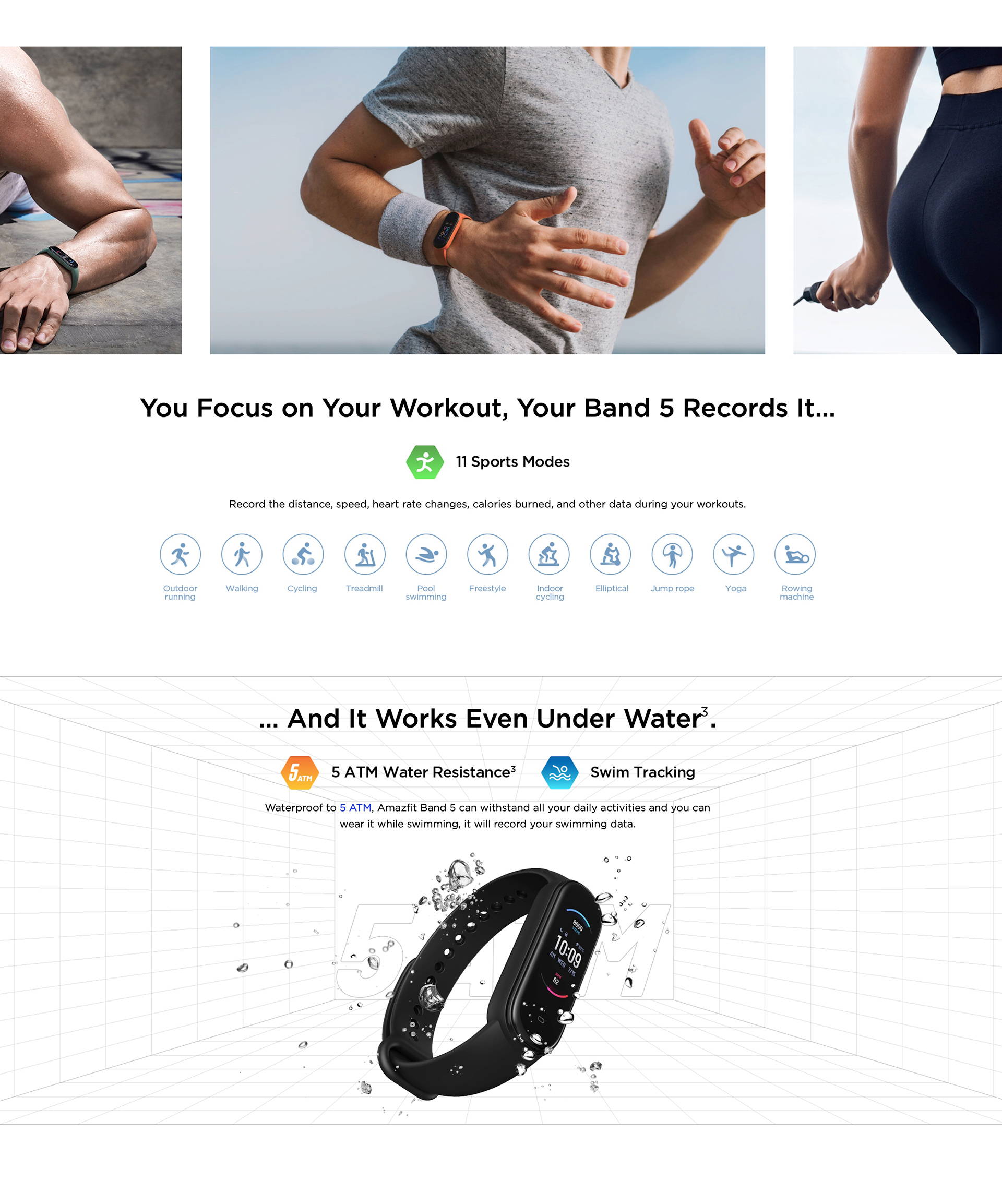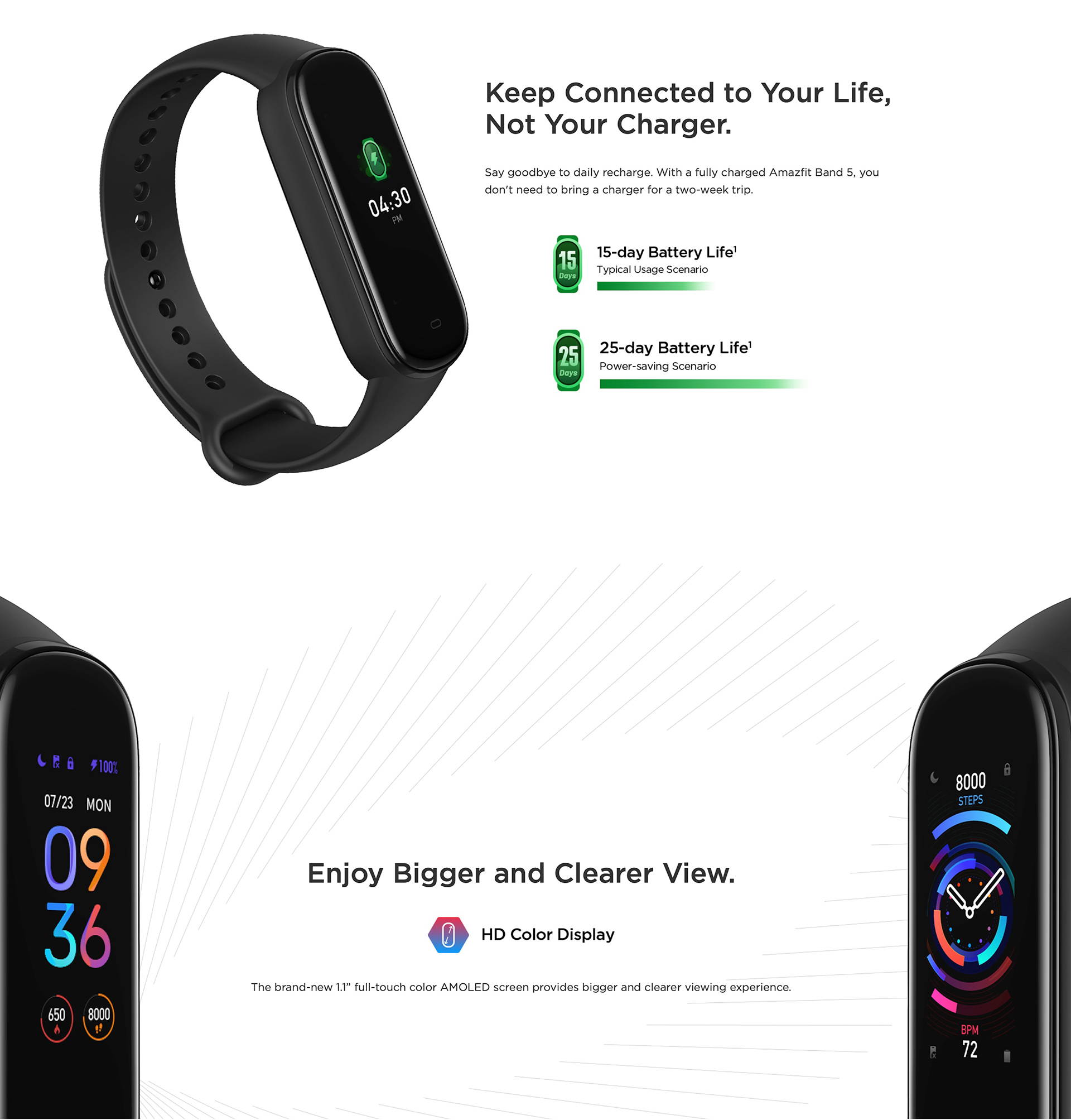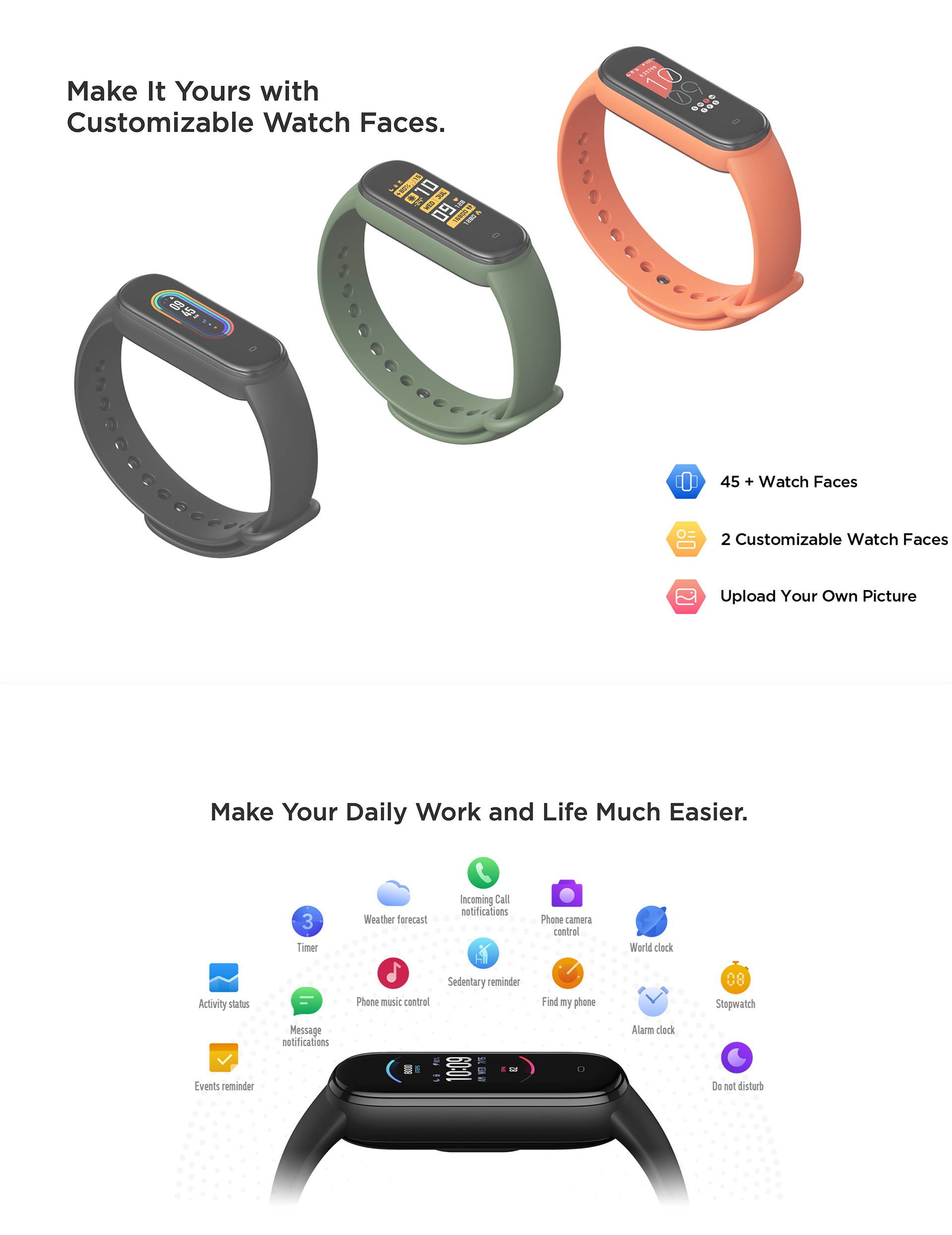 Note:
1. Test conditions for 15-day battery life in normal mode are as follows: the device is fully charged; the automatic heart rate measurement feature is enabled (measured every 30 minutes. the "screen activated by on raise wrist" feature is enabled, and other settings are kept default. Each day involves the following operations: 100 notifications are received and displayed, 2 alarms (each with 5 seconds of vibration), 30 times of screen activation by raising the wrist, and one time of app data synchronization. Exercise twice a week, each time for 30 minutes.
Test conditions for 25-day battery life in power-saving mode are as follows: fully charged; automatic heart rate monitoring disabled; sleep monitoring disabled; lift-wrist-to-wake function disabled; notifications disabled; 2 alarms per day, each with 5 seconds of vibration; 10 taps of the touch button per day to display the time; syncing with the app once per day;
In actual use, battery life is related to various factors such as settings, operations, and operating conditions, and therefore may differ from laboratory data.
2. This product is not a medical device. Its test data and results are for reference only and cannot be used for diagnosis or monitoring of any medical conditions. Due to external factors (such as hairy arms, tattoos, and dark skin), there may be cases where measurement results are inaccurate or even unavailable.
3. According to ISO 22810:2010 standard, Amazfit Band 5 delivers a water resistance level of up to 5 ATM and has passed the test conducted by the BUREAU VERITAS CONSUMER PRODUCTS SERVICES. The report number is XRX-ESH-P2004221635.
4. Amazfit Band 5 will monitor daily naps time above 20 minutes only.
5. To monitor your REM cycle, the sleep assistant mode and heart rate tracking must be enabled. During REM sleep, your eyes move quickly in different directions. Dreams typically happen during REM sleep.
6. To use this function, all-day heart rate monitoring must be enabled.
7. The product images and screen contents on the pages above are for the purpose of illustration only. The actual product (including but not limited to appearance, color, size) and screen display contents (including but not limited to background, UI, and pictures) may be slightly different, so the actual product shall prevail.
8. The data on the pages above are theoretical values. All data, unless otherwise specified, is provided by internal laboratories or suppliers, and is obtained under specific test conditions. Actual use may vary slightly due to individual product differences, software versions, use conditions, and environmental factors, so actual usage data shall prevail.
9. To provide the most accurate product information, specifications, and product characteristics, our company may adjust and revise the text descriptions, images, and other content on the pages above at any time to match actual product performance, specifications, indexes, parts and other information. Because of real-time changes in product batches and production and supply factors, we will not specifically notify you in the event of the modifications and necessary adjustments described above.
Dimensions
1.9*0.7*0.5inch / 47.2 x 18.5 x 12.4mm Sensors BioTracker TM2 PPG Bio-Tracking Optical Sensor
3-axis acceleration sensor | 3-axis gyroscope sensor
Weight
0.05lb (with strap) and 0.03lb (without strap) Bluetooth BT5.0/BLE
24g (with strap) and 12g (without strap) Battery 125mAh lithium-ion polymer battery (Typical value)
Body material
Polycarbonate Charging time About 2 hours
Strap material
Skin friendly TPU Charging Method Clip / 2-pins POGO pin
Strap length
6.4-9.3inch / 162-235mm Battery Life(Note 1) Typical usage scenario: 15 days
Strap width 0.6inch / 15.55mm Power-saving scenario: 25 days
Accessories Clip dock, user manual Standby time: 90 days
Waterproof
5 ATM Supported devices Android 5.0 or iOS 10.0 and above
rating3 Display
1.1" full color AMOLED, resolution 126x294
Touch screen
2.5D glass + anti-fingerprint coating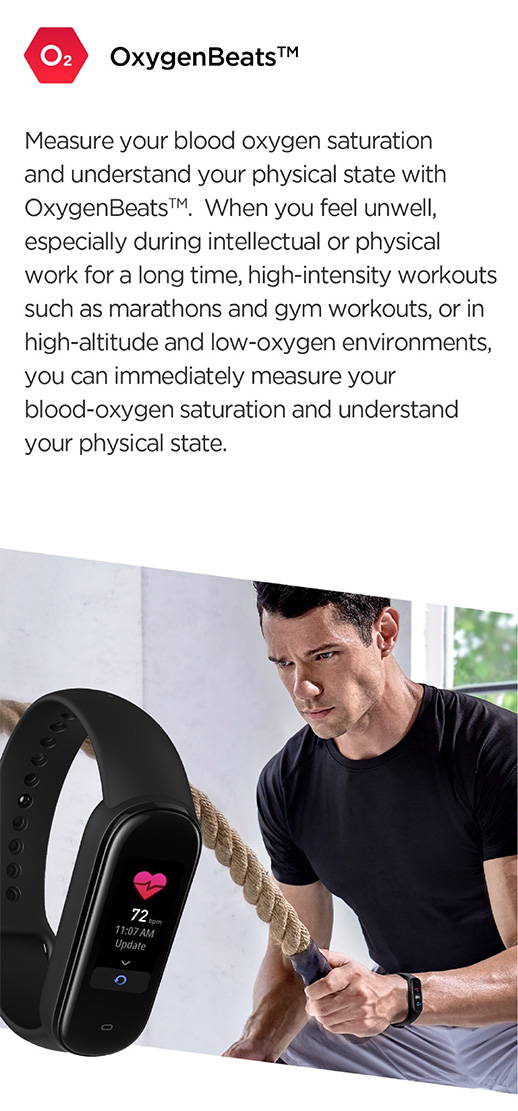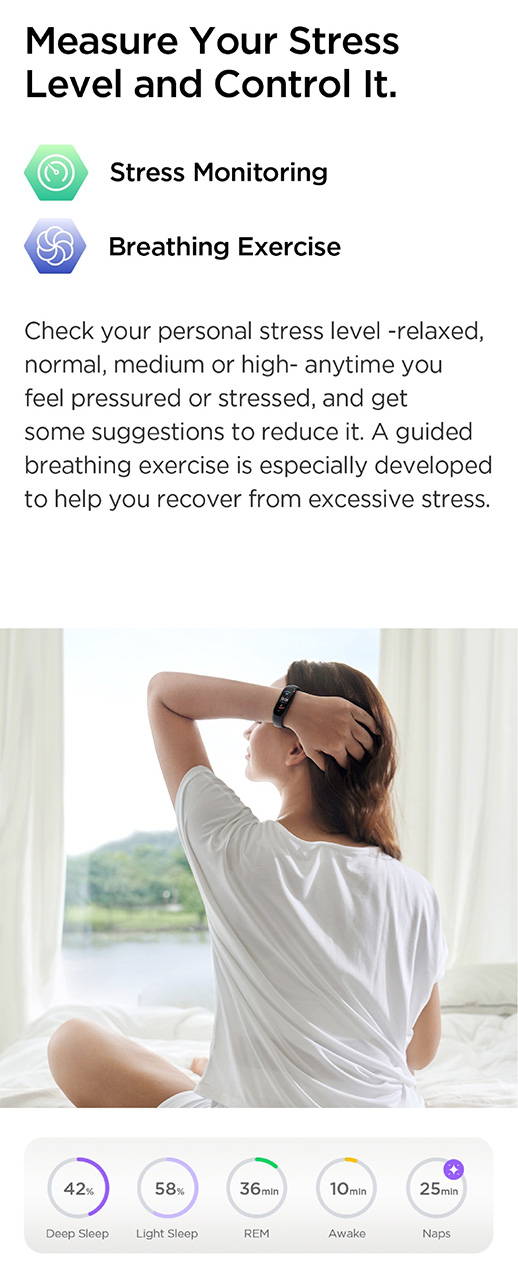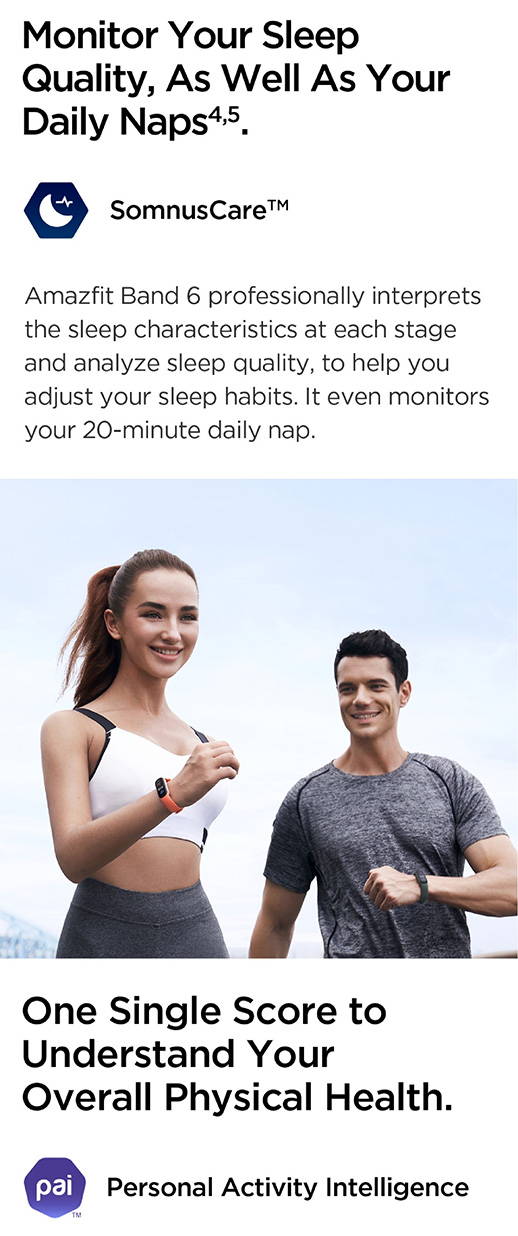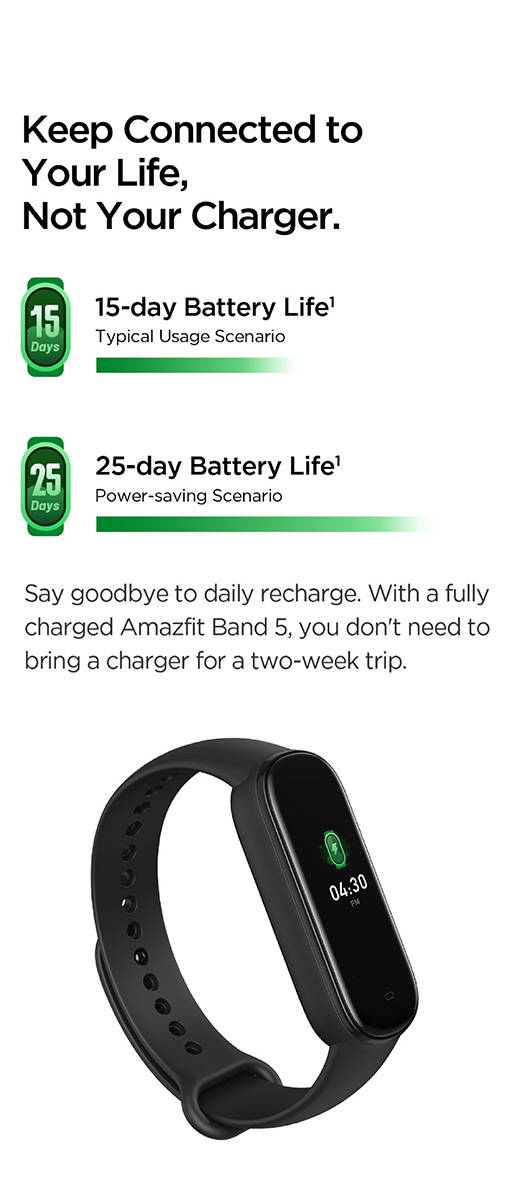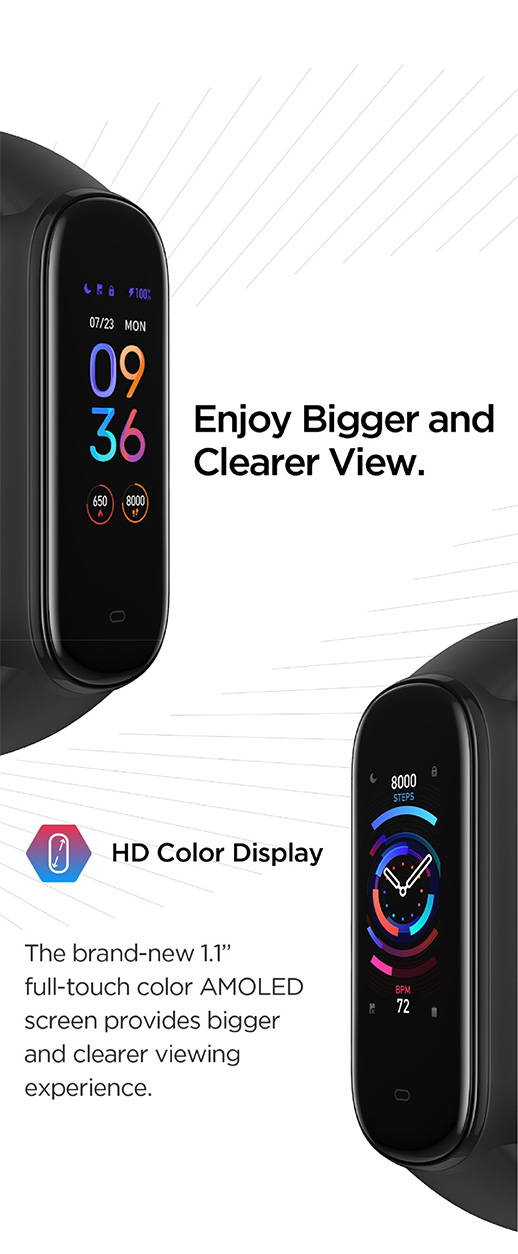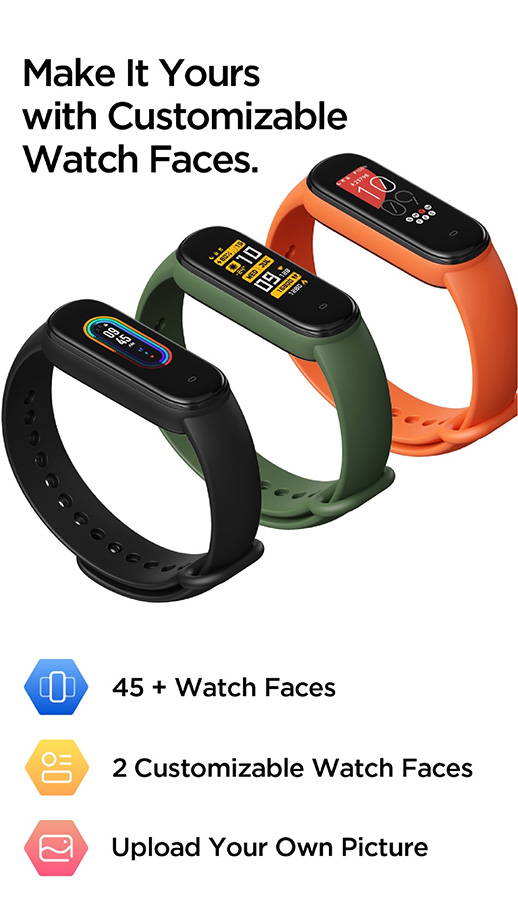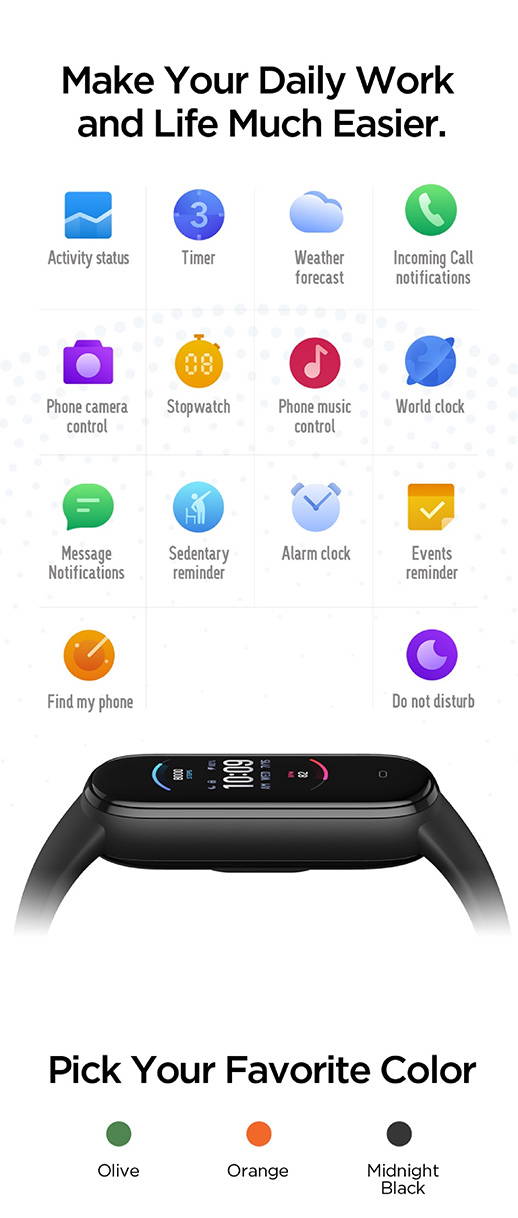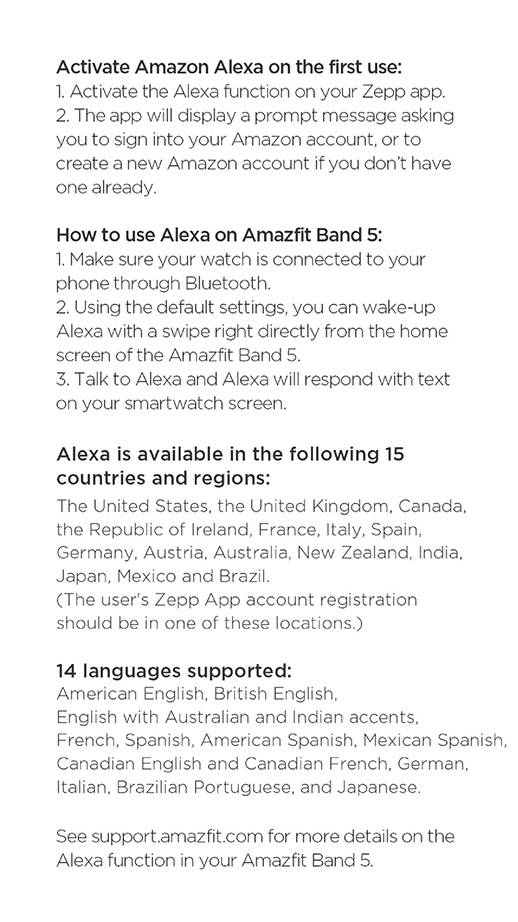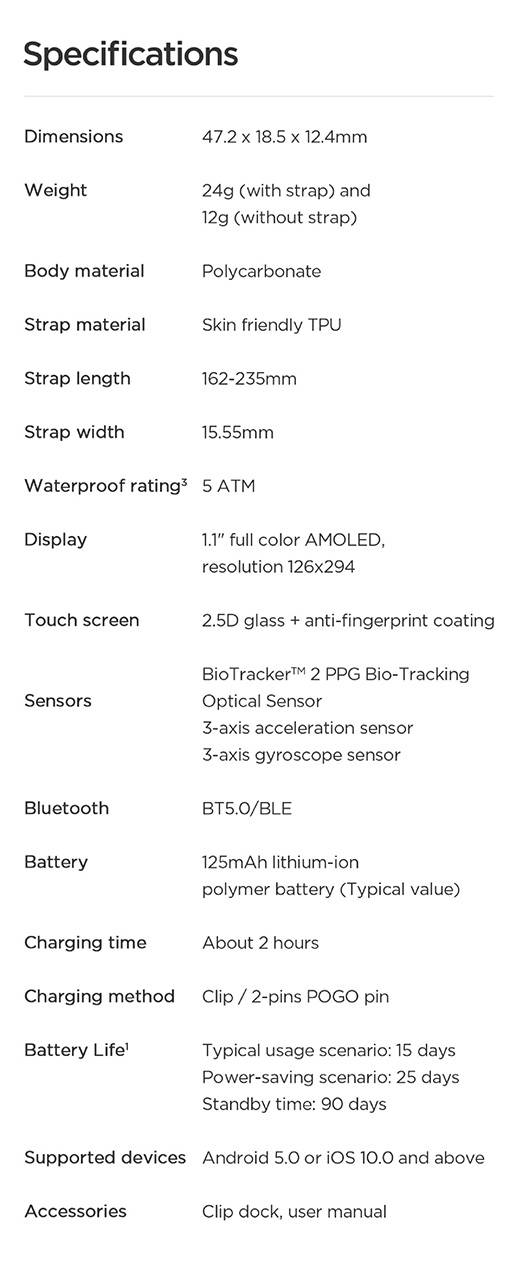 Customer Reviews
99
reviewers would recommend this product
Write a Review
I recommend this product
Amazfit band 5
It's a great device, lots of tech in a small and very reasonably priced item!
06/03/2022
john p.

United States
Awesome
Very pleased with the cost and durability
04/23/2022
Kelsie G.

United States
I recommend this product
Excellent Fitness Band
Bought it for my husband. He fell in love with it and hasn't stopped wearing it since. He even got himself an assortment of different colored bands to match every outfit. He's a huge fan of the sleep monitor, fitness tracker and the idle reminder. Plus the text and call notifications are a huge bonus he says. Definitely getting myself an Amazfit next!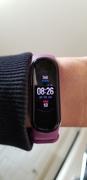 02/28/2022
Richard E.

United States
I recommend this product
Compact size...tracks most everything...Low cost...High quality
Perfect choice for getting the data you want to track...Very flexible applications and a surprisingly reasonable price...Good battery life and clear display...date display is a little small but is readable...the rest of the data display easy to read...Glad I purchased the Band 5!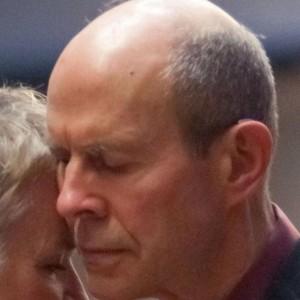 DP
02/15/2022
David P.

United States
I recommend this product
One fatal flaw for me
When I upgraded my phone I discovered that the app for the Pebble watch (acquired and killed off by FitBit) was no longer available. Attempting to side-load things from the user community led to me bricking my beloved Pebble. For $50 I took a chance on the AmazFit Band 5. I do like the watch, and it is giving me useful service each day. It does at least twice as much as my old Pebble ever could, and it seems like the battery life is at least as good. Two annoyances. One, you can't read the screen in sunlight. I expect that has to do with keeping the battery drain low. Putting the watch in shadow with the other hand or the body makes the watch readable. Two, the strap is a huge pain to refasten. Although the watch is water resistant, I prefer to not wear it while showering. But it is such a pain to refasten, I've mostly given up on taking it off. Fatal flaw. I teach Argentine tango, and I used my Pebble to control our music. But not with this AmazFit. If I have music playing on my paired phone, then select Music on the watch, I get the title of the song, volume control, and jump to Previous/Next. There is also a Pause/Play button. But if I pause the music *With The Watch*, after a few seconds the song title disappears, the Play button does nothing, and the watch says there is no music playing. (Well, "Duh!") I have to restart the music using the phone. I don't care about all the health and exercise stuff, but I can see how it could be very useful and interesting to others. I like the quick and easy time, date (I miss the one month calendar the Pebble showed), heart rate, temperature, and steps. Aside from that typical watch information, I rely on it for Alarms and Timers. I use in in vibrate mode. The vibration is somewhat weak (more battery saving), but strong enough to wake me. On the whole, it is an amazing piece of technology and utility for that price.