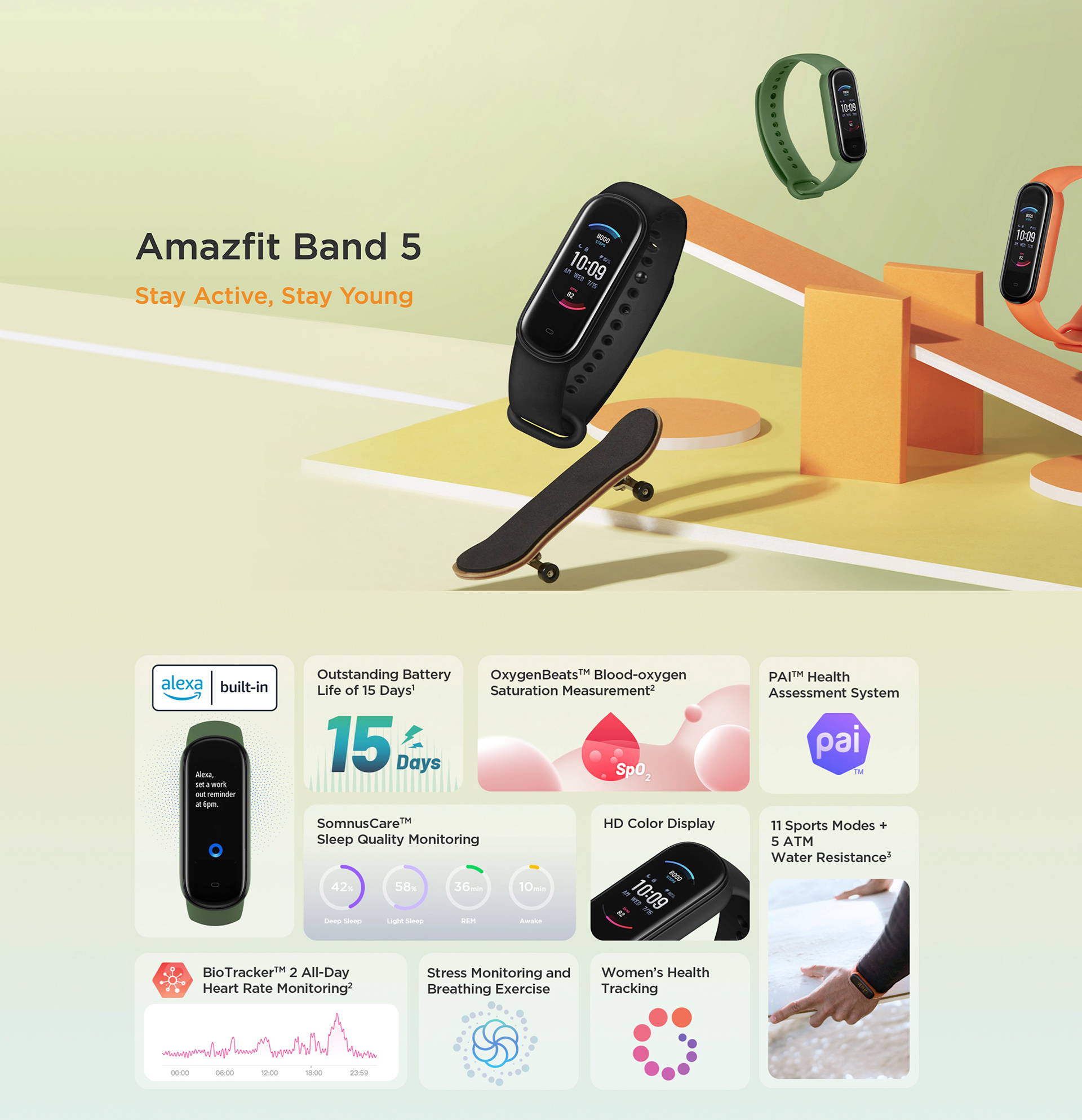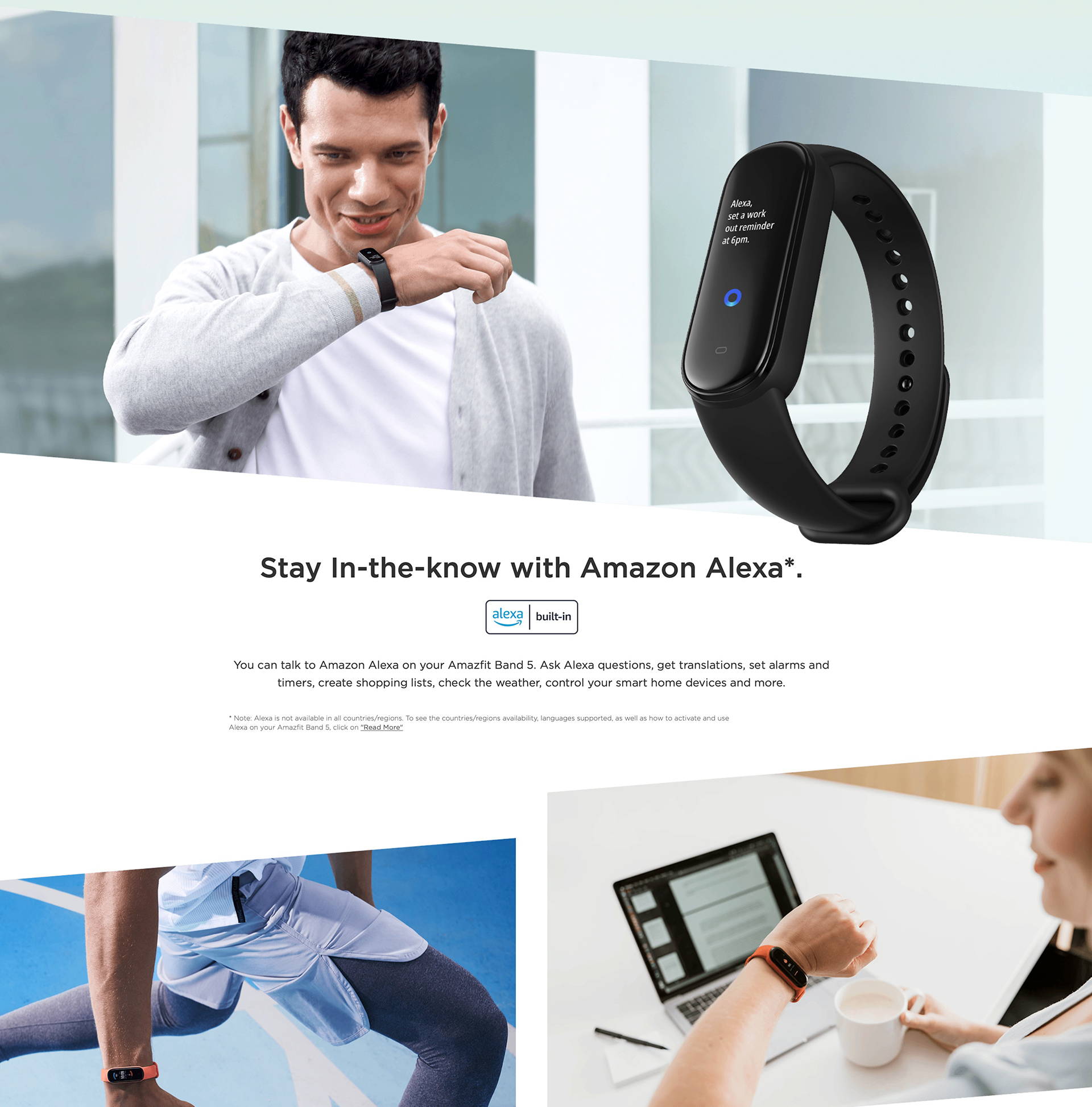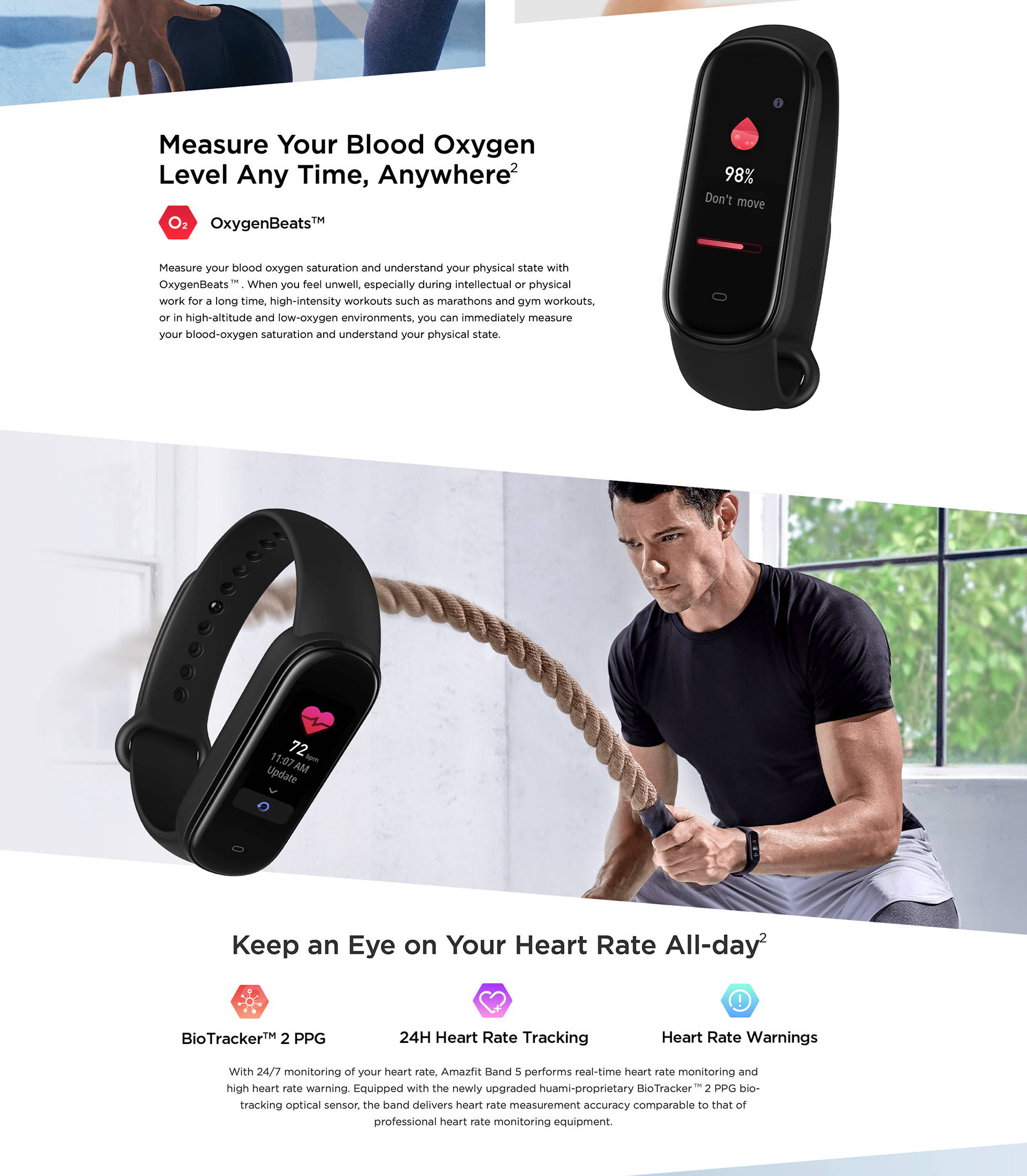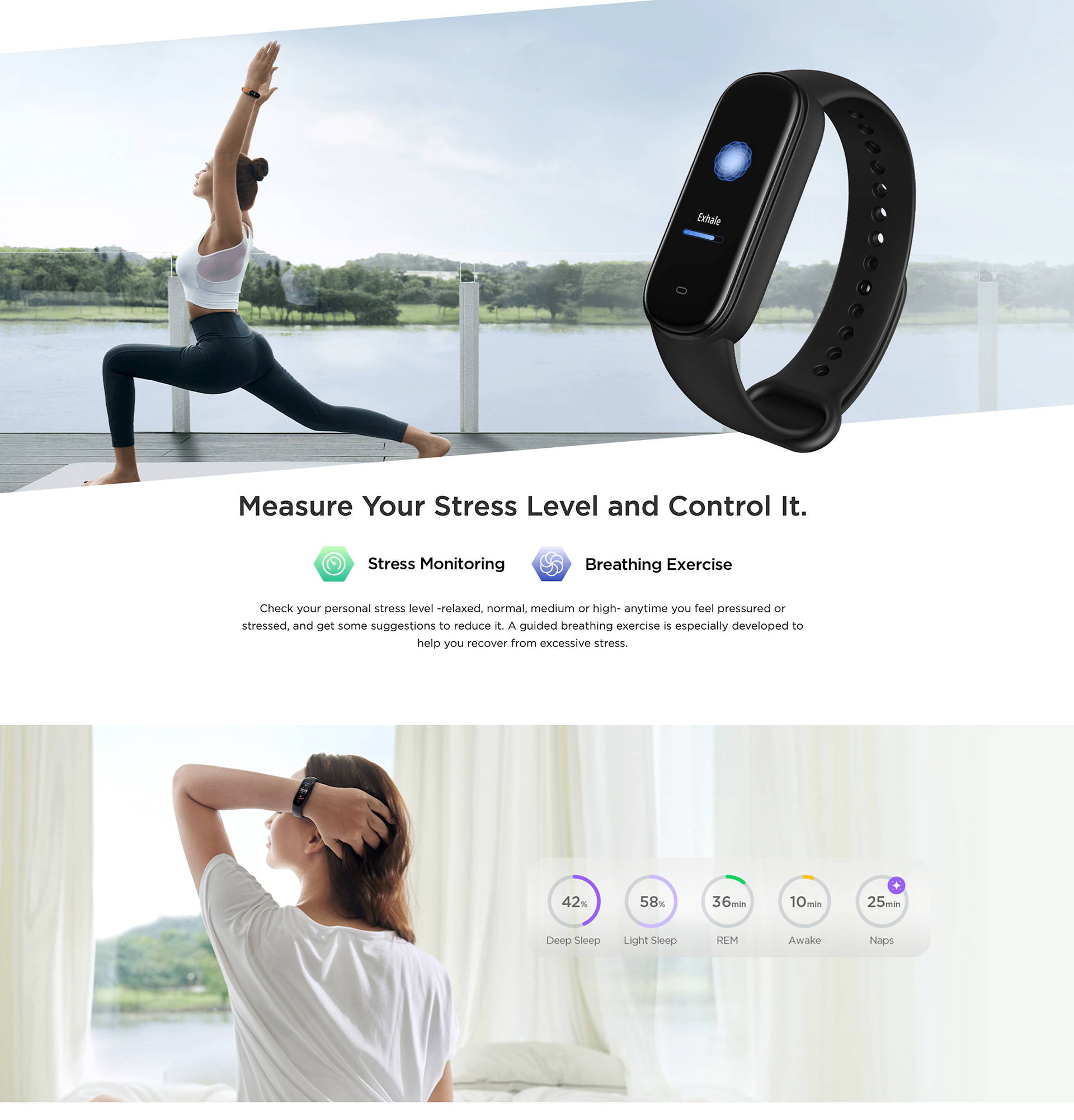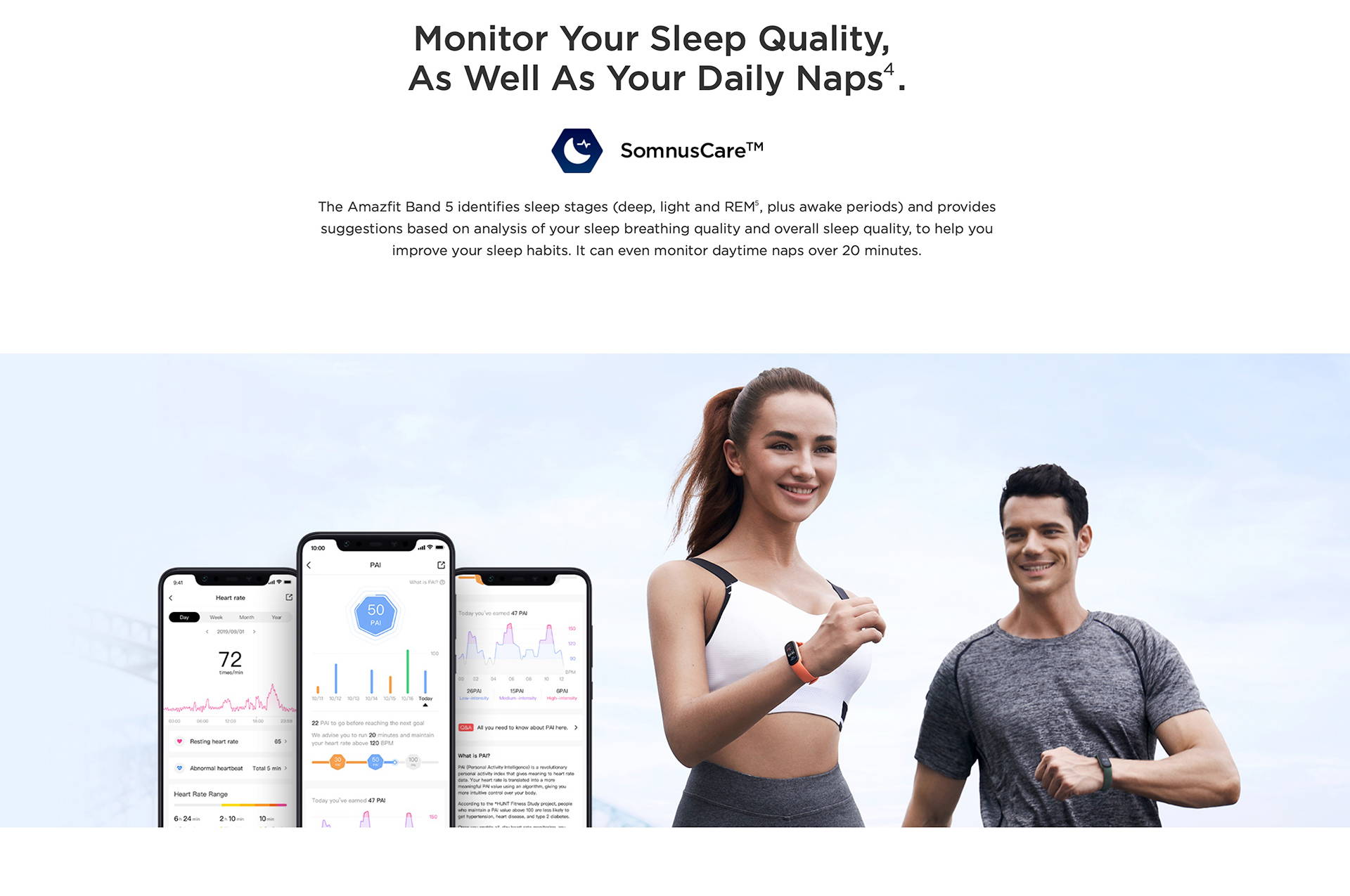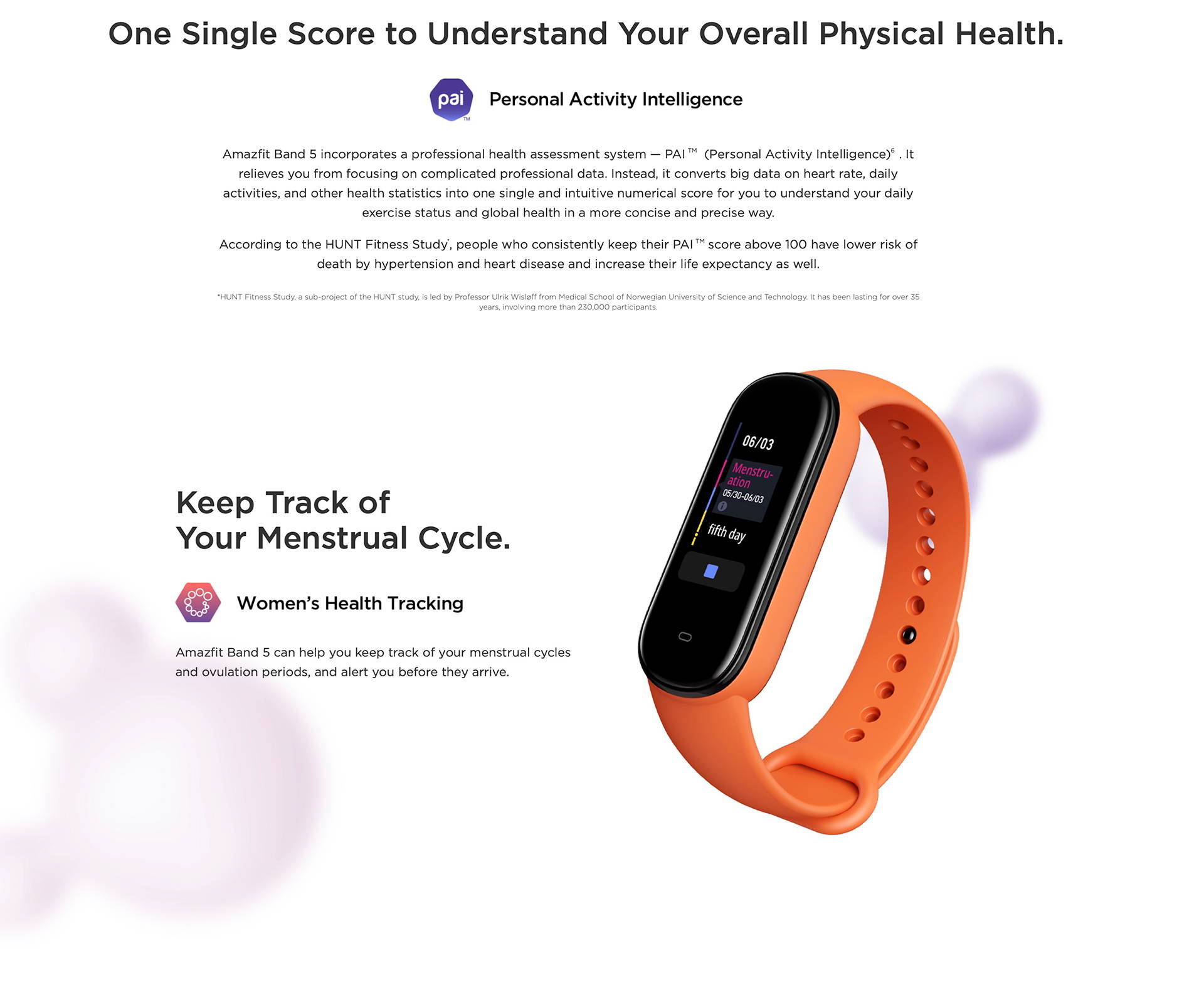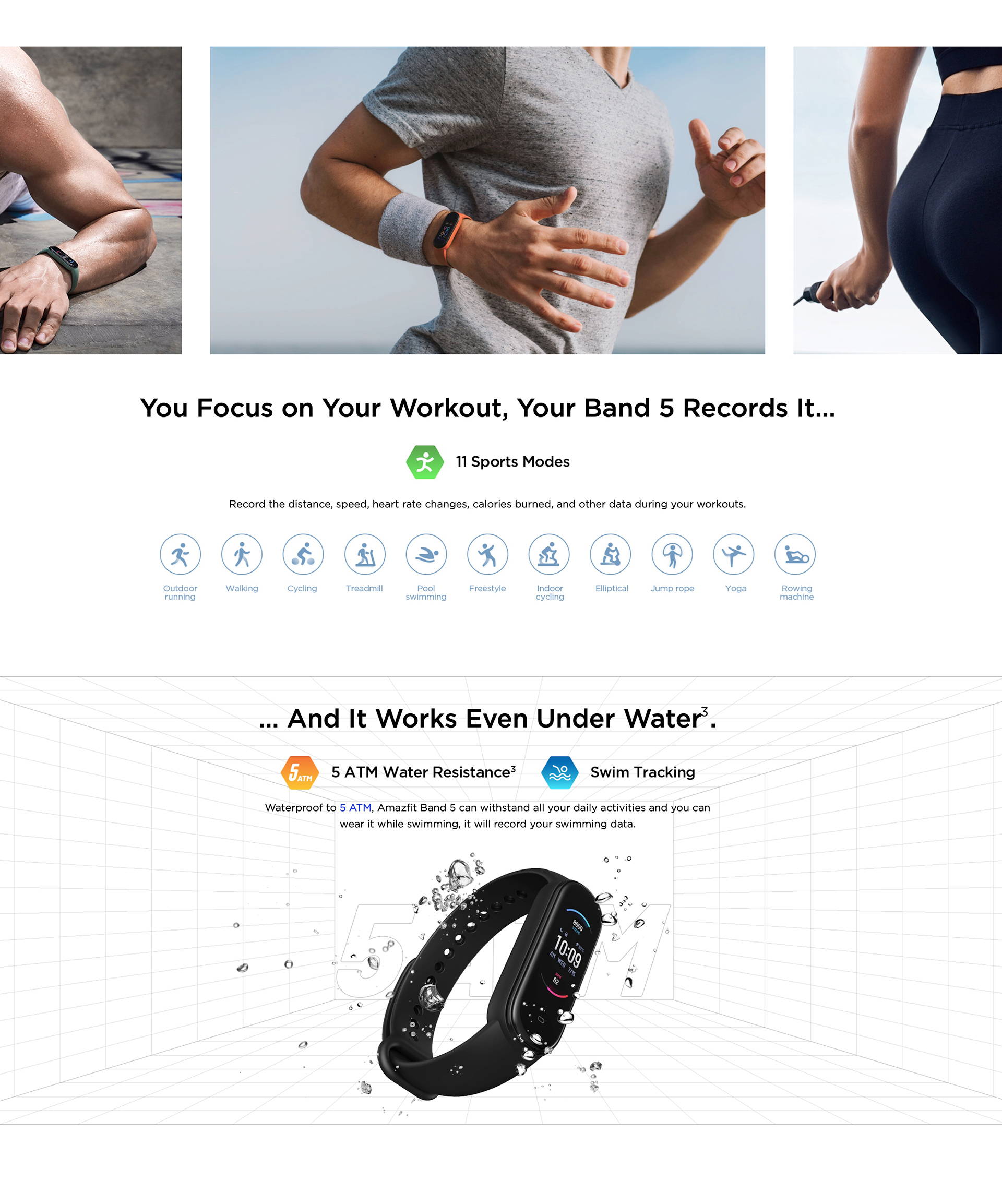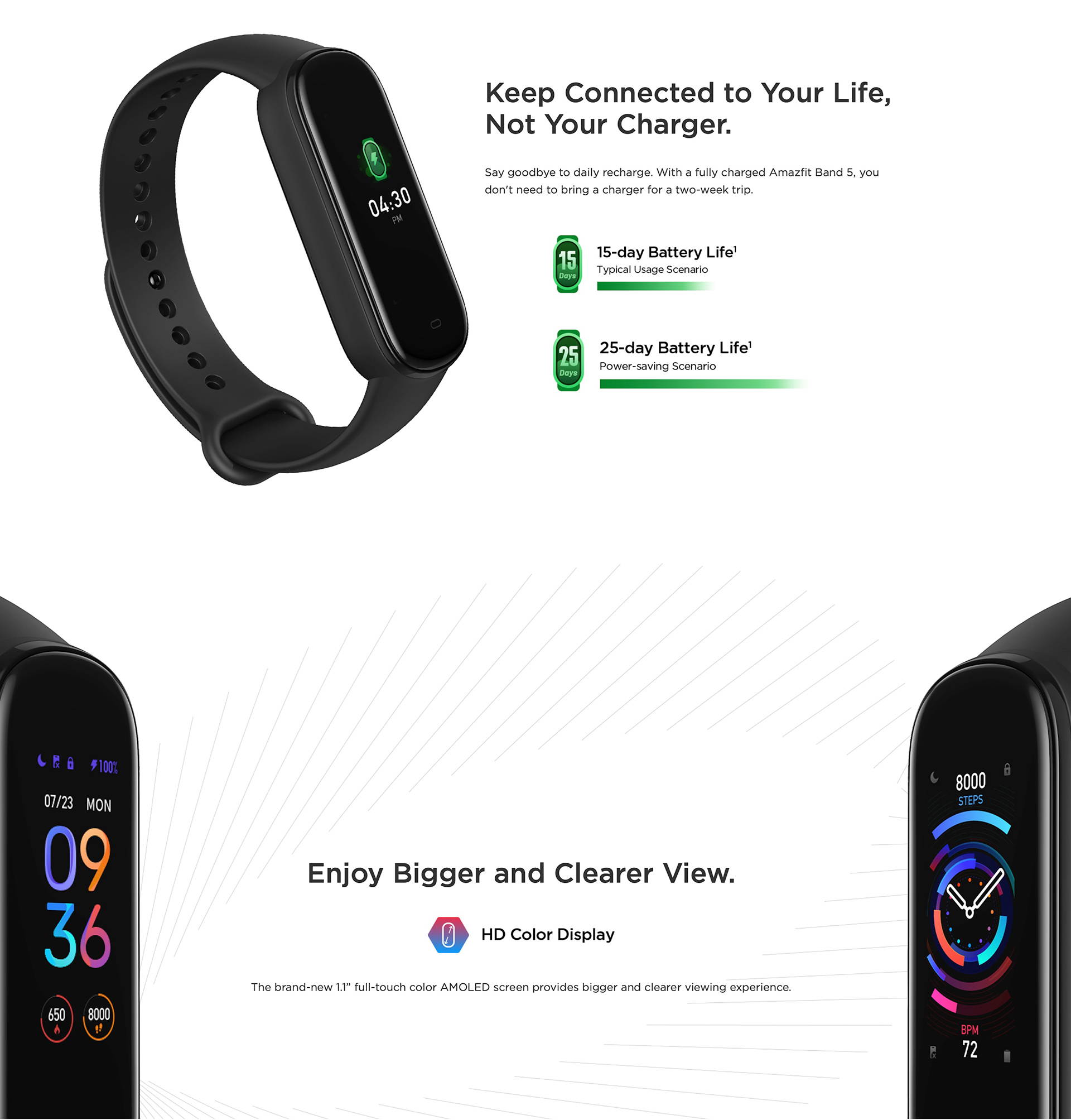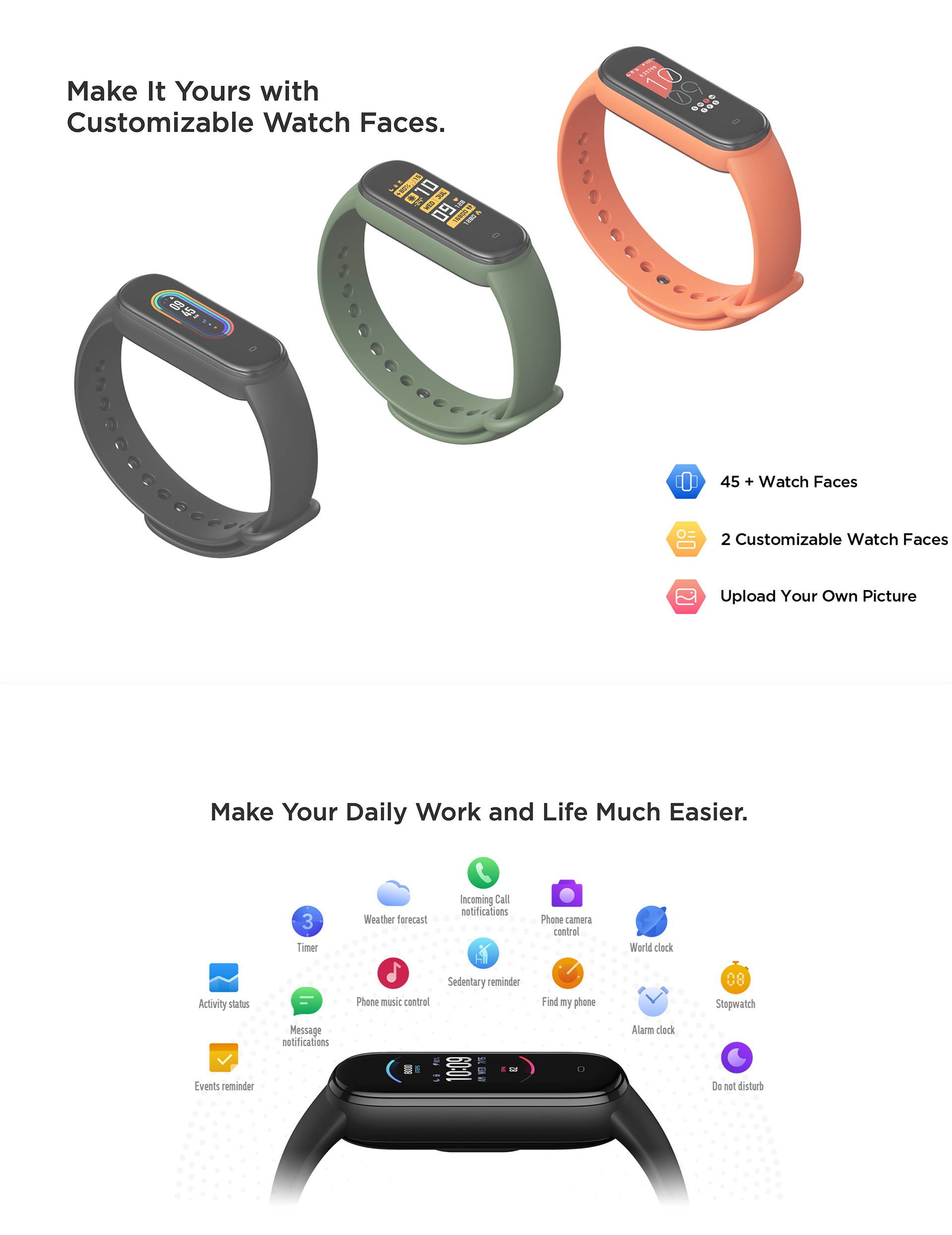 Note:
1. Test conditions for 15-day battery life in normal mode are as follows: the device is fully charged; the automatic heart rate measurement feature is enabled (measured every 30 minutes. the "screen activated by on raise wrist" feature is enabled, and other settings are kept default. Each day involves the following operations: 100 notifications are received and displayed, 2 alarms (each with 5 seconds of vibration), 30 times of screen activation by raising the wrist, and one time of app data synchronization. Exercise twice a week, each time for 30 minutes.
Test conditions for 25-day battery life in power-saving mode are as follows: fully charged; automatic heart rate monitoring disabled; sleep monitoring disabled; lift-wrist-to-wake function disabled; notifications disabled; 2 alarms per day, each with 5 seconds of vibration; 10 taps of the touch button per day to display the time; syncing with the app once per day;
In actual use, battery life is related to various factors such as settings, operations, and operating conditions, and therefore may differ from laboratory data.
2. This product is not a medical device. Its test data and results are for reference only and cannot be used for diagnosis or monitoring of any medical conditions. Due to external factors (such as hairy arms, tattoos, and dark skin), there may be cases where measurement results are inaccurate or even unavailable.
3. According to ISO 22810:2010 standard, Amazfit Band 5 delivers a water resistance level of up to 5 ATM and has passed the test conducted by the BUREAU VERITAS CONSUMER PRODUCTS SERVICES. The report number is XRX-ESH-P2004221635.
4. Amazfit Band 5 will monitor daily naps time above 20 minutes only.
5. To monitor your REM cycle, the sleep assistant mode and heart rate tracking must be enabled. During REM sleep, your eyes move quickly in different directions. Dreams typically happen during REM sleep.
6. To use this function, all-day heart rate monitoring must be enabled.
7. The product images and screen contents on the pages above are for the purpose of illustration only. The actual product (including but not limited to appearance, color, size) and screen display contents (including but not limited to background, UI, and pictures) may be slightly different, so the actual product shall prevail.
8. The data on the pages above are theoretical values. All data, unless otherwise specified, is provided by internal laboratories or suppliers, and is obtained under specific test conditions. Actual use may vary slightly due to individual product differences, software versions, use conditions, and environmental factors, so actual usage data shall prevail.
9. To provide the most accurate product information, specifications, and product characteristics, our company may adjust and revise the text descriptions, images, and other content on the pages above at any time to match actual product performance, specifications, indexes, parts and other information. Because of real-time changes in product batches and production and supply factors, we will not specifically notify you in the event of the modifications and necessary adjustments described above.
Dimensions
1.9*0.7*0.5inch / 47.2 x 18.5 x 12.4mm Sensors BioTracker TM2 PPG Bio-Tracking Optical Sensor
3-axis acceleration sensor | 3-axis gyroscope sensor
Weight
0.05lb (with strap) and 0.03lb (without strap) Bluetooth BT5.0/BLE
24g (with strap) and 12g (without strap) Battery 125mAh lithium-ion polymer battery (Typical value)
Body material
Polycarbonate Charging time About 2 hours
Strap material
Skin friendly TPU Charging Method Clip / 2-pins POGO pin
Strap length
6.4-9.3inch / 162-235mm Battery Life(Note 1) Typical usage scenario: 15 days
Strap width 0.6inch / 15.55mm Power-saving scenario: 25 days
Accessories Clip dock, user manual Standby time: 90 days
Waterproof
5 ATM Supported devices Android 5.0 or iOS 10.0 and above
rating3 Display
1.1" full color AMOLED, resolution 126x294
Touch screen
2.5D glass + anti-fingerprint coating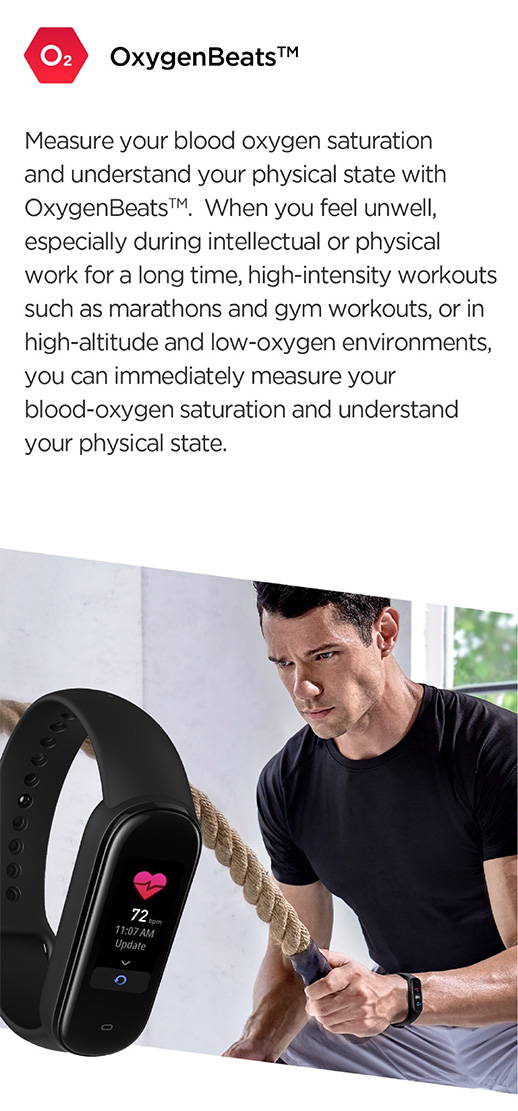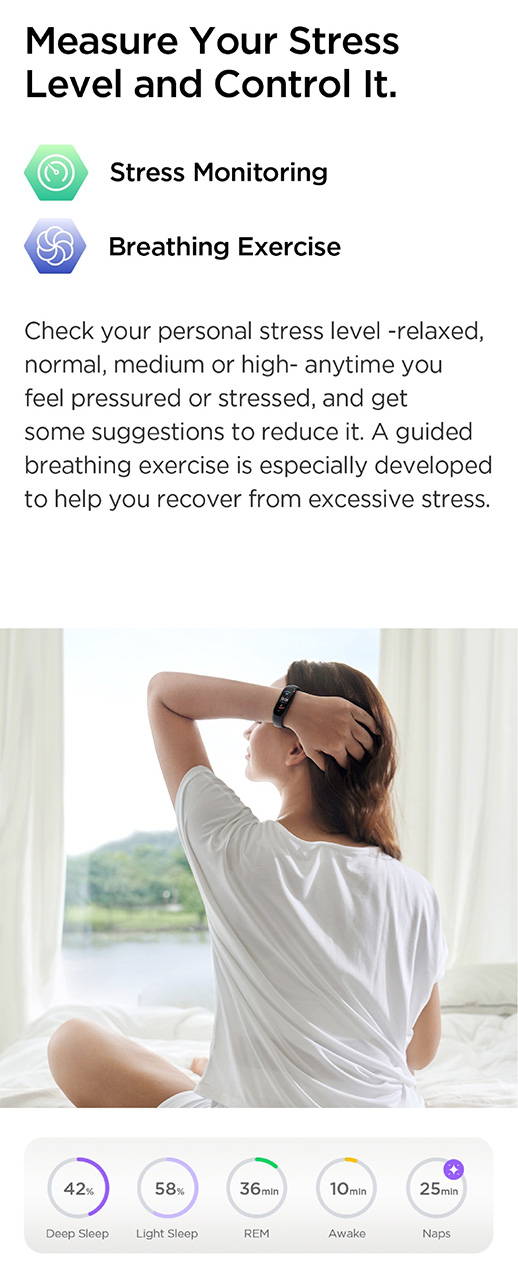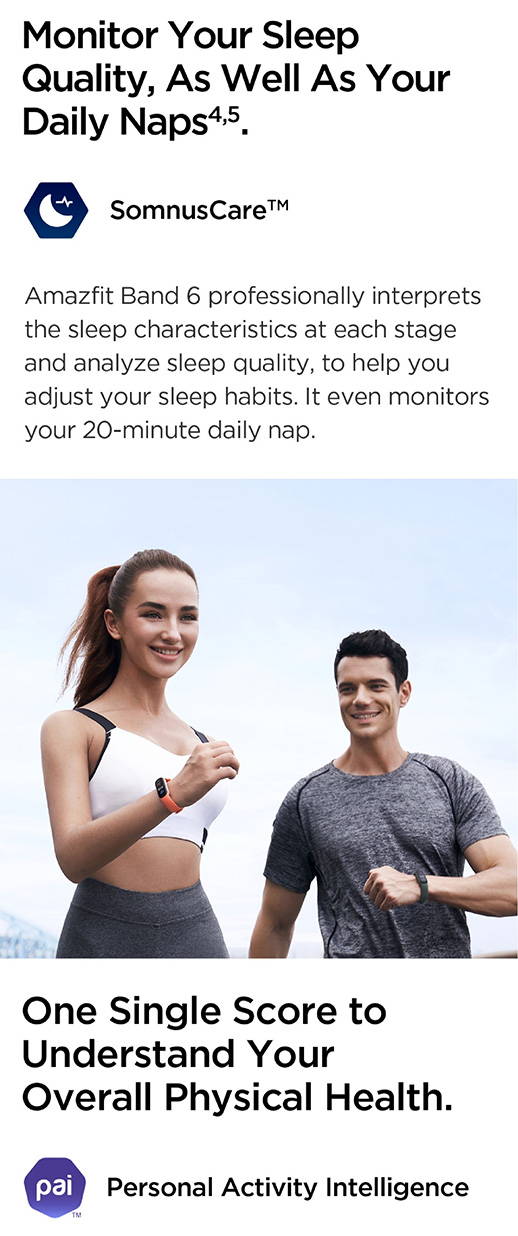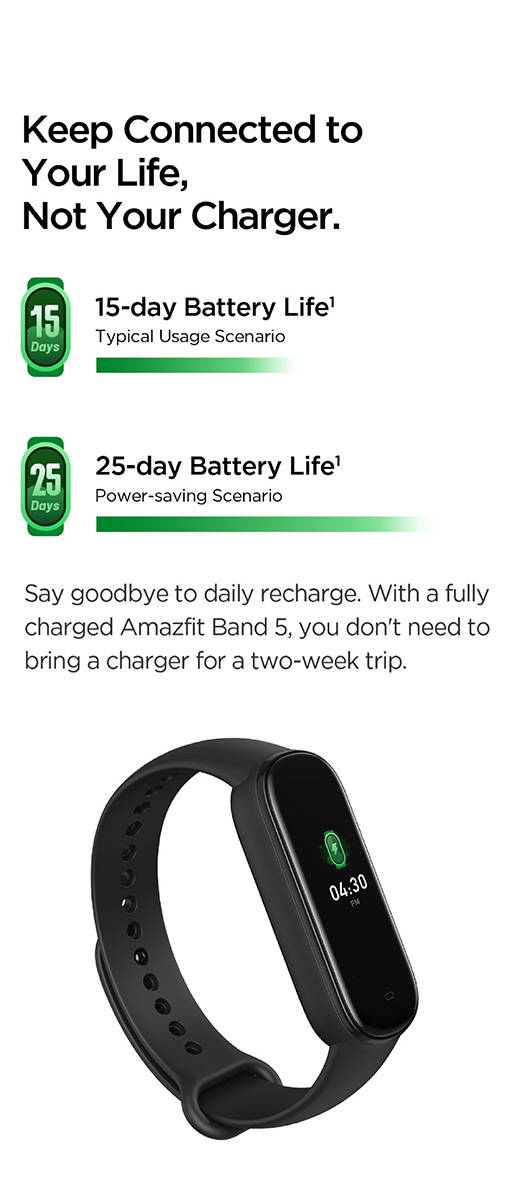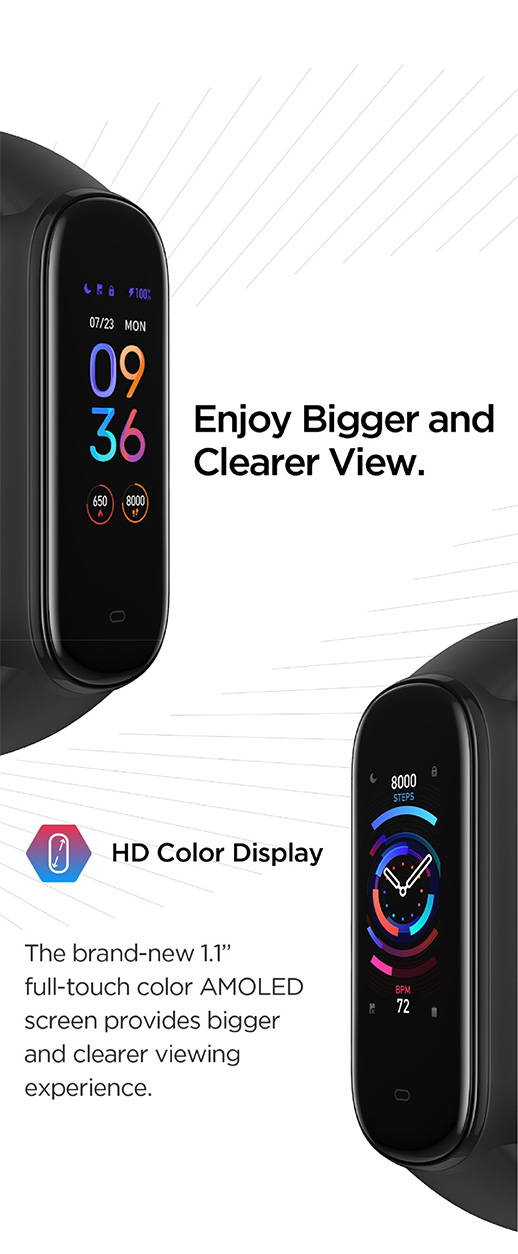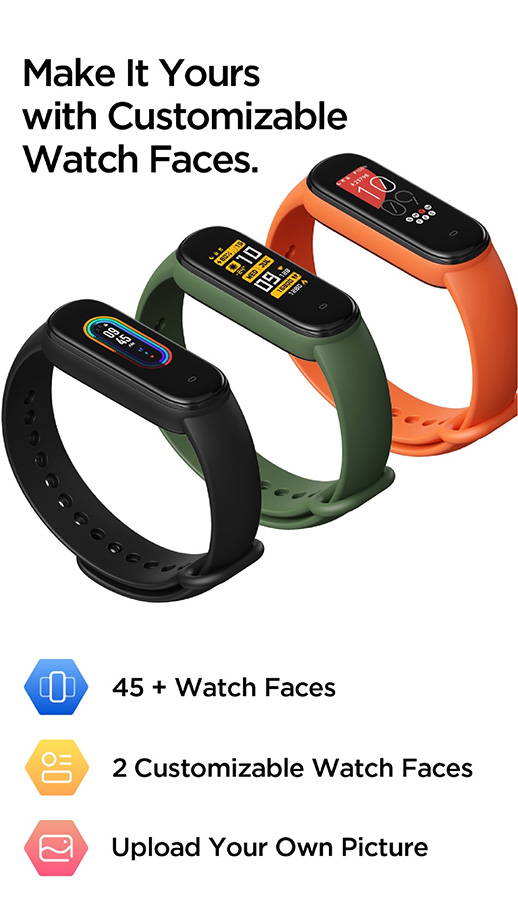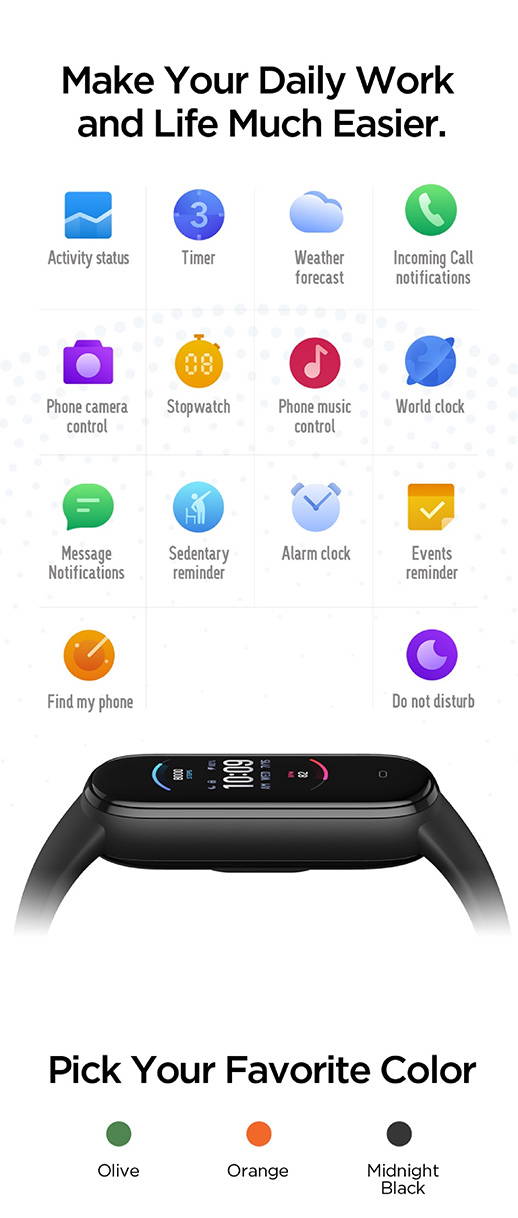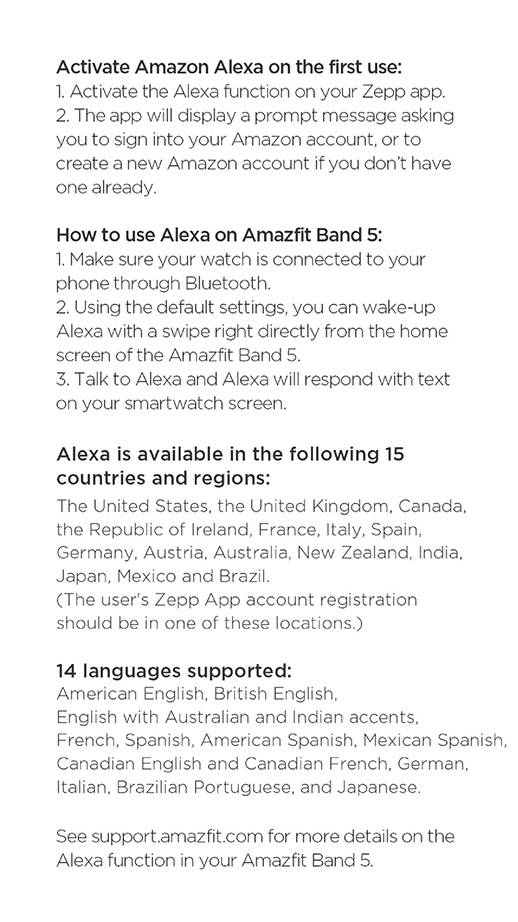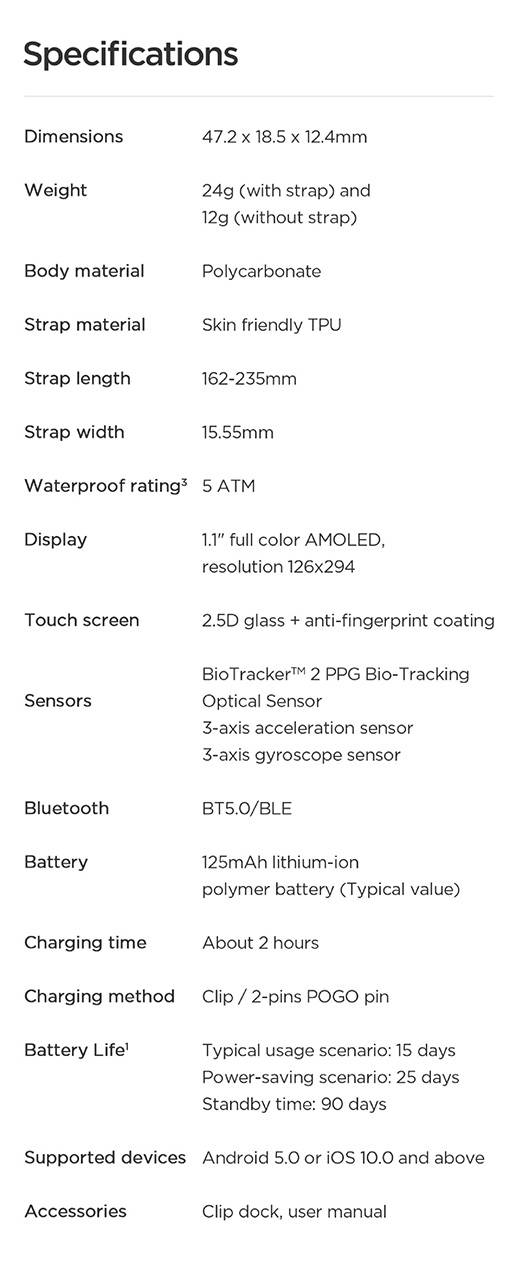 There is no related products to display.
Customer Reviews
Write a Review
Ask a Question
08/21/2023
Anonymous

United States
I recommend this product
Just what I wanted -- and it's great!
I don't know what I was supposed to expect from a health tracker, but this does everything I want it to. No, I can't make a phone call or listen to music (at least, the way I have it set up), but I don't want that, anyway.The watch interface and app are easy to use, and the information *seems* accurate. It's basic, I guess, but informative and fun. It definitely has motivated me to exercise more and sleep better.
07/28/2023
Anonymous

United States
I recommend this product
Second time around
It was as good as the first one. I wish the band did not come apart so easily. I have to refasten it several times a day.
07/13/2023
Anonymous

United States
I recommend this product
Meh
According to Amazfit website, the Band 5 battery life is 15 days (assuming 30 minutes for automatically heart rate detection, 100 notifications, 30 wrist lifts, and 5 minutes of other operations every day. 30 minutes of running every three days). I had to return my first one because it wouldn't hold a charge - after 2 hours it was down to 85%. It took (as noted on the website two days) for someone to get back to me via email. I tried calling without any success. It was no problem to request a replacement but they would/could only send a digital copy of the return postage label. It took me a bit to figure out a way to get it printed since I don't have a printer (a common issue for customers I imagine where so much can be done digitally without needing to print). Once I was able to get the itemed shipped (returned). It was pretty quick for a new one to be sent out to me. But already, I'm noticing the battery doesn't hold a long of charge as advertised. After a night's sleep (approx. wearing it for 10 hours) the band was already down to 85%. Better than the first band 5 sent me - but still not great. At this rate I don't see how a battery charge can last 15 days based on use they describe. I'm interested to see how long, overall this band/watch lasts. I switched from Fitbit because I was annoyed that their watches only lasted about 18 months before giving out completely. I might have to switch back to Fitbit because at least with their trackers I can get at least a week's worth of use on a charge.
06/28/2023
Anonymous

United States
I recommend this product
Trouble getting to work
Have to tap it many times to t rigger it to turn on. My sleep cycle registers the wrong time… like when I go to sleep at 11, my app says I was asleep at 9:30am. Never shows any REM sleep… can that be?
06/26/2023
Dianne C.

United States
I recommend this product
My Second
I previously had one and liked it so much that when it finally died, I ordered another on. I like the information it provides daily and weekly. I like the size most of the others seem too huge for my wrist.